This New Bill Honors Kobe Bryant, Daughter Gianna, While Protecting Future Helicopter Occupants
The loss of Kobe Bryant and eight others triggered a wave. Many grief-stricken fans laid trinkets at makeshift memorial sites. That aside, laws are also changing to prevent another accident like this from happening again. Here's what we know.
The company that owned Kobe Bryant's helicopter suspends operations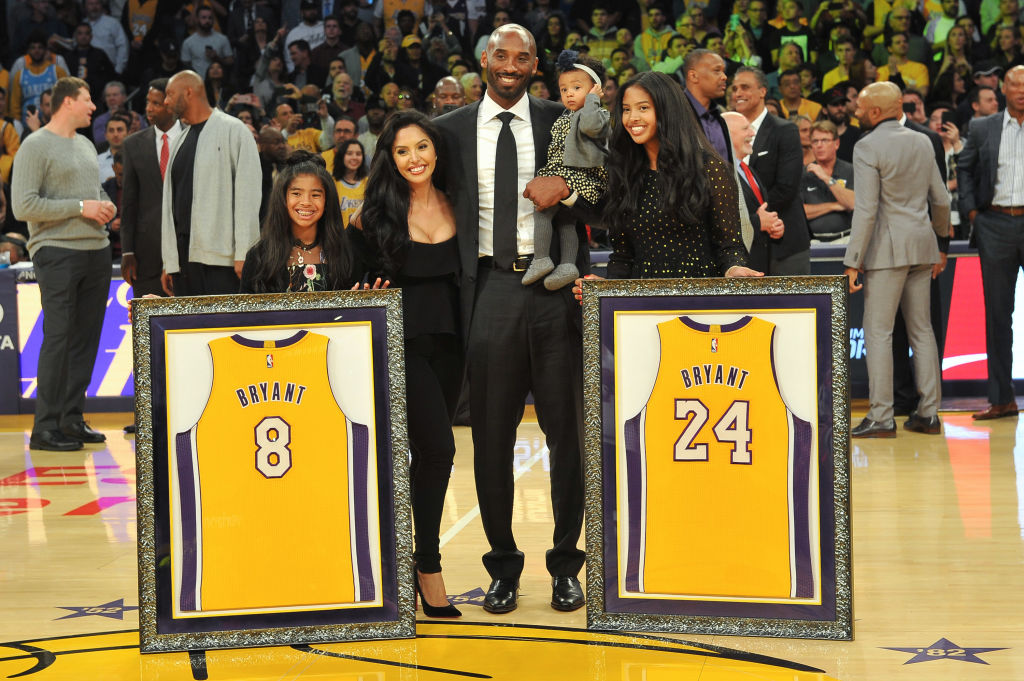 The sudden and tragic loss of nine lives, including Kobe Bryant and daughter, Gianna, in the Jan. 26 crash still consumes the hearts and minds of many. The company that owns the Sikorsky-76 helicopter, Island Express, announced all operations are suspended until further notice.
"The shock of the accident affected all staff, and management decided that service would be suspended until such time as it was deemed appropriate for staff and customers," the company statement said.
Since the accident, details about chief pilot, Ara Zobayan, have come to light. Per the New York Times, Zobayan held the necessary certifications for instrument flying rules (IFR). However, Island Express and other operators in the region did not. Despite Zobayan's need for the tools, he was restricted to visual flight rules (VFR).
Since the crash, Island Express has removed much of its previous internet presence.
"IEX Helicopters operates the West Coast's largest fleet of Sikorsky S76 passenger aircraft, the most-trusted name in helicopters," the company wrote via archives.
"It is the world's largest and most luxurious passenger helicopter, offering unparalleled speed, comfort, and reliability. Its proven safety record makes it the longest-standing leader of executive helicopters, trusted by countless Presidents, Heads of State and Fortune 100 companies around the world."
A California Representative filed a new safety bill
Investigations are ongoing. The National Transportation Safety Board (NTSB) determined the Sikorsky S76 didn't have a Terrain Awareness and Warning System (TAWS). Installation will cost between $25,000 and $40,000 per helicopter.
It may not have prevented what happened, though NTSB urged federal regulators to make them a requirement on all helicopters. The FAA didn't implement the recommendation.
California Representative, Brad Sherman, filed a bill into legislation to tighten safety standards. The Kobe Bryant and Gianna Bryant Helicopter Safety Act would make TAWS a requirement (not just in ambulances).
In short, the system would alert pilots when they're too close to the ground. Bryant's helicopter didn't have this system in place. The bill will also report to Congress to better make recommendations when the weather is low-visibility.
Experts explain what could've happened to pilot Ara Zobayan
Former pilot for Island Express, Kurt Deetz, explained that Zobayan — who logged over 8,000 hours of flight time — may have become spatially disoriented.
Even without TAWS, Deetz said Bryant's helicopter did have a warning system similar to TAWS. He added it was too sensitive at times and may have been shut off.
Others agree with the disorientation theory. William Lawrence, an aviation consultant and accident investigator said Zobayan may have lost his awareness as he rose into the clouds before plummeting.
Likewise, pilot, Ted Rosenberg, told WFMZ vertigo may also have caused the disorientation.
"Introduce vertigo into that situation and all of a sudden you feel like you're turning right, but you're turning left and start making stronger and stronger inputs to try to counteract that feeling you have and you lose control of the aircraft," he said.
Other factors that may have contributed include a sudden change in visibility or busy air traffic controllers who couldn't help in time. Regardless of what happened, the nine victims on board — including Zobayan — will be missed by many.