'New Girl' Cast 'Dreaded' the 'True American' Scenes for 1 Big Reason
New Girl fans loved when the cast played the 'True American' drinking game, but it turns out the stars of the TV show weren't so fond of it. Find out why these scenes were the most challenging ones to film on New Girl.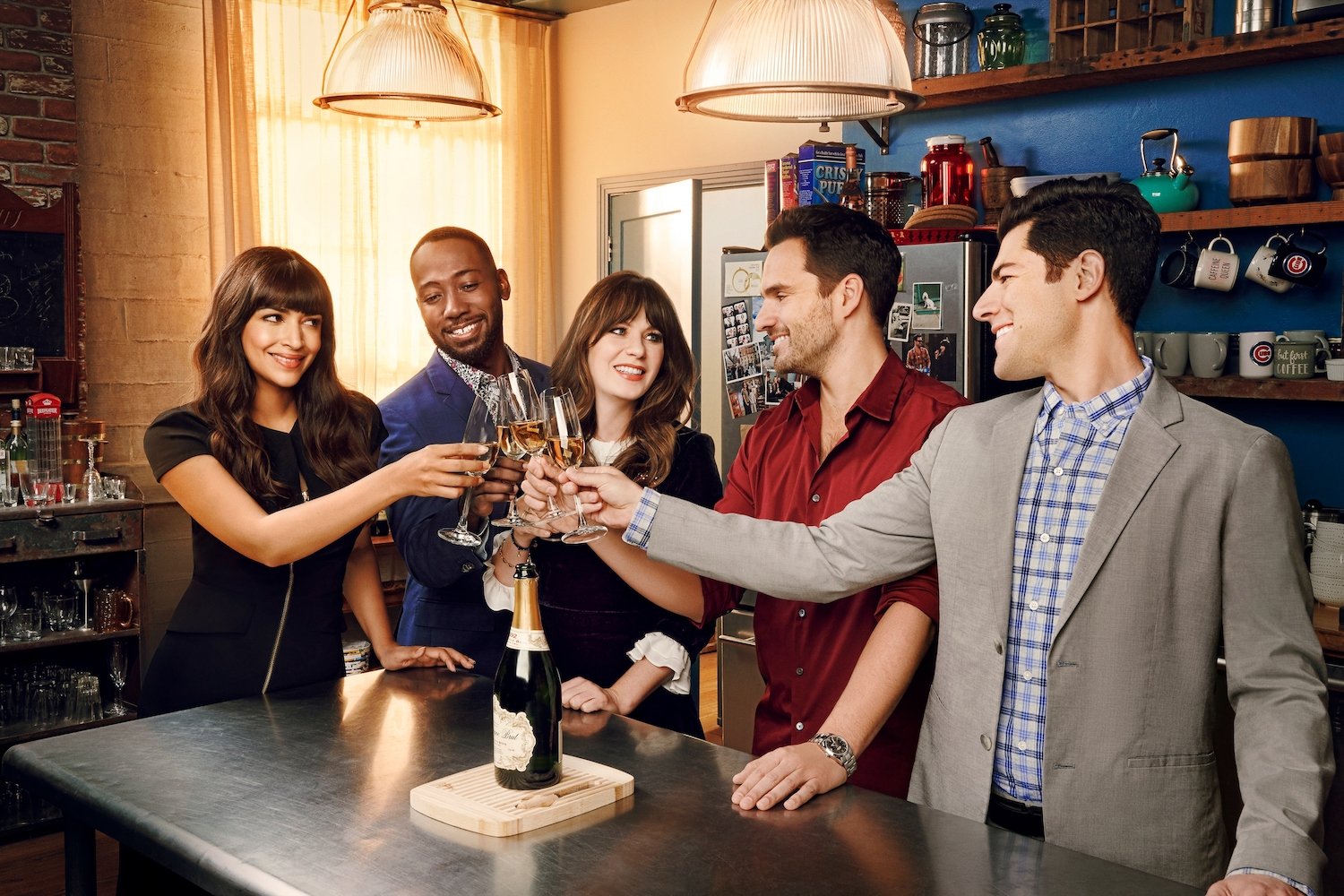 How to play 'True American'
New Girl fans could always count on some confusing chaos to go down when the loft-mates and friends played 'True American.'
Since the 'True American' rules were never explained, it was confusing to figure out what was going on. Jess (Zooey Deschanel) described it as "50% drinking game, 50% life-size Candy Land."
The game kicked off with everyone shouting "JFK! FDR!," the floor was lava, and there was plenty of American history in the mix, but otherwise, 'True American' didn't seem to follow any guidelines.
In a 2016 interview with EW, the New Girl cast were asked for more specifics about the drinking game and, no surprise, there were no consistent answers. There were, however, some theories.
Lamorne Morris, who played Winston, explained, "The first person to get drunk wins."
"Obviously, there are no rules for 'True American,'" he continued. "It's just an excuse for a bunch of alcoholics to get together and say 'But we're having fun, we're playing a game!'"
"Nah, y'all are alcoholics," Morris added. "You should be ashamed of yourselves."
RELATED: 'New Girl' Guest Star Claims Zooey Deschanel Was 'Slightly Annoyed' With Him: 'It Was Disrespectful, What I Was Doing'
The 'New Girl' cast dreaded shooting 'True American' scenes
Despite the lively drinking game appearing to be so much fun to play, it wasn't always that easy for the actors to shoot these scenes.
"We'd always be like, 'Oh, noooo,'" Deschanel told EW in 2018. "I mean, it's fun, no doubt, but everyone kind of dreads the scenes where everyone's in the room. They take forever to shoot."
During a 2018 interview with E! News, Deschanel gave a peek behind the scenes of what it takes to pull together the chaotic goings-on for 'True American.'
"We always dreaded 'True American,'" Deschanel explained. "It was like, ugh, god, 'True American.' The first time we did it we made up so much of it. Like, 'JFK! FDR!,' that was just something I shouted once."
"I was like, 'George Washington! Cherry Tree! Those were just things that were being shouted," she recalled. "And I like American history, so I was like, oh, we can just rattle off a bunch of American history things and make it sort of opaque enough so no one can figure out the rule to this, even though we didn't know any rules because it's not a real game, but then everybody liked it so much."
Max Greenfield, who played Schmidt, confirmed that it was not a favorite scene for the New Girl cast to film. "They're gonna yell at you to just say things," Greenfield explained of shooting the scenes. "The writers will just be like, OK, now say this, 'cause it's all such an editing thing that I think if there's anything Zooey found difficult about the shooting is it's just like being barked at."
"I think earlier on, there were probably elements that resembled a real game, and then they slowly faded away towards the end, because they realized how to actually shoot it," he added.
The hardest part was how long it took
Deschanel acknowledged that it was fun for fans watching the show, but there were challenges in bringing it to life. Most notably, it took a while to film.
"So it was a complicated relationship to 'True American,' because people seemed to like it so much and yet we had such a hard time shooting it, because it was so chaotic and always took so much time to shoot," Deschanel noted.