Why Did 'New Girl' End? Jake Johnson Said 'We Got Fired at the End of Season 6'
The hit sitcom New Girl remains a popular rewatch for Netflix users years after it ended. But according to one of the series' stars, it almost didn't have the happy ending that fans loved. So why did New Girl end? And what did the actors do to make New Girl Season 7 a reality?
'New Girl' aired from 2011-2018 on Fox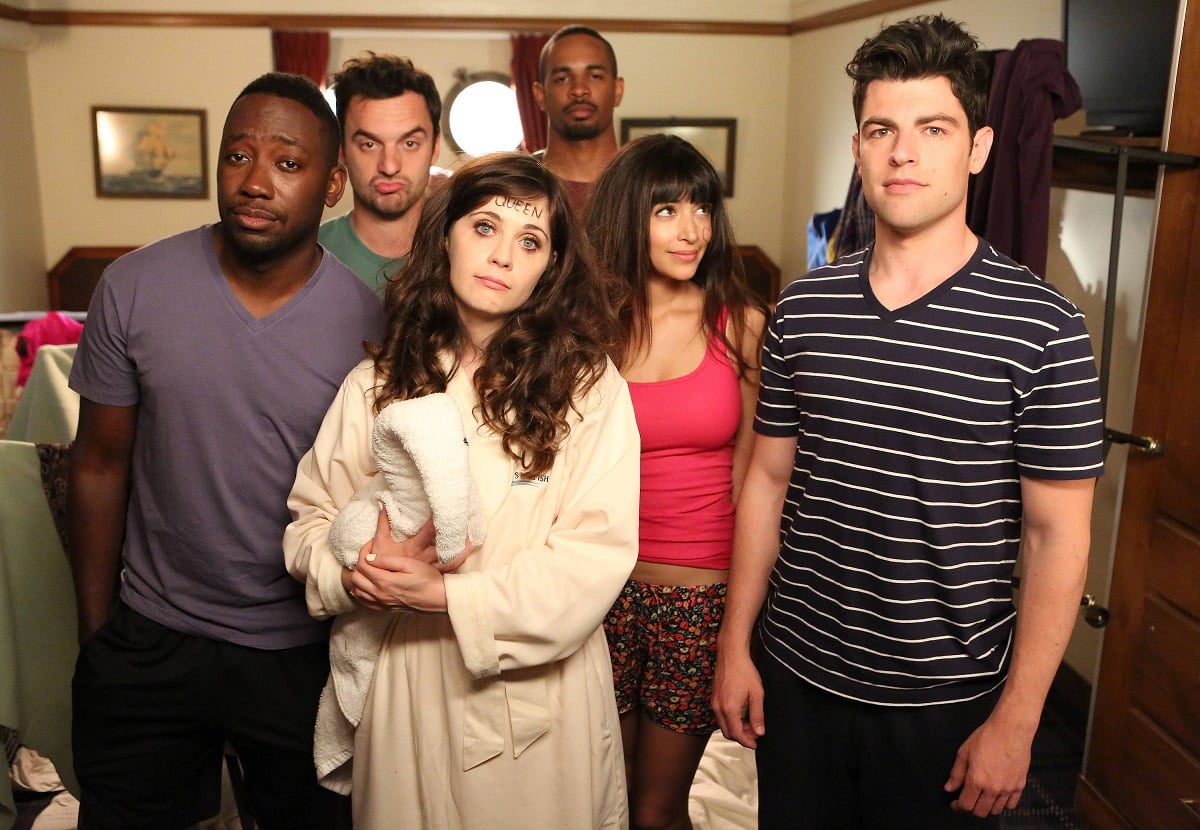 New Girl premiered on Fox in 2011. The series starred Zooey Deschanel as Jess, a teacher who needs to find somewhere else to live after discovering her boyfriend cheating. She moved into a downtown Los Angeles loft with three roommates: Nick (Jake Johnson, Schmidt (Max Greenfield), and Coach (Damon Wayans Jr.) (Lamorne Morris' Winston replaces Coach after the pilot).
Though they find her difficult to deal with at first, the men and Jess come to love one another. Along with her childhood best friend, Cece (Hannah Simone), the group deals with new life experiences together, from career changes to romance (some of which occur within the group).
New Girl attracted a substantial audience throughout its seven-season run, in addition to critical acclaim and a handful of Emmy and Golden Globe nominations. While the show had to work to find reasons to keep the group living together in the loft, fans continued to enjoy their antics throughout their changing circumstances.
'New Girl' Season 7 jumped ahead in time
The first six seasons were all comprised of the standard 22-25 episodes for a network series. However, New Girl Season 7 lasted just eight episodes. It takes place three years in the future, and a lot has changed for the characters. Fan-favorite couple Nick and Jess are together, Schmidt and Cece have a baby, and Winston's wife Aly is expecting.
Despite all of this positive news, plenty goes wrong in the final episodes. Winston's estranged father isn't who he thinks he is, Schmidt and Cece debate having another child, and Nick and Jess deal with hiccups on their way to the altar. But fans loved every minute of it. New Girl Season 7 is rated 100% on Rotten Tomatoes.
Why did 'New Girl' end?
RELATED: 'New Girl': Zooey Deschanel Thought the Show Could Have Had a Darker Ending for Nick and Jess
However, fans almost had to make do without New Girl Season 7. "We didn't quit. They fired us," Johnson said in a February 2021 virtual Q&A for Washington State University. "Everybody uses cool terms like canceled or creatively moving on," he added. "That was a job that we had that we all liked having, and then we got the call that they fired us."
But he took matters into his own hands. "We got fired at the end of season 6," Johnson explained. "Zooey and I wrote the president, Dana Walden of 20th Century Fox, and said, 'You guys might not feel the fan base because they're younger and they're not watching Tuesdays at 8 p.m. But they're watching this show. And if we just end now, it's such disrespect for the people who we've watched 140 episodes.'"