The New 'Halloween Kills' Michael Myers Costume Will Scare the Neighbors
It's the night he comes home (again)—Halloween's Michael Myers is relentless. He won horror fans' hearts in 1978 and is a favorite villain over 40 years later. With Halloween Kills coming out on Oct. 15, 2021, some viewers want to dress up for Halloween. In previous years, every Michael Myers costume was a simple white mask and a dark blue jumpsuit.
However, the modern Halloween trilogy changed the costume game. For fans who need new ideas, check out the new and improved Michael Myers look.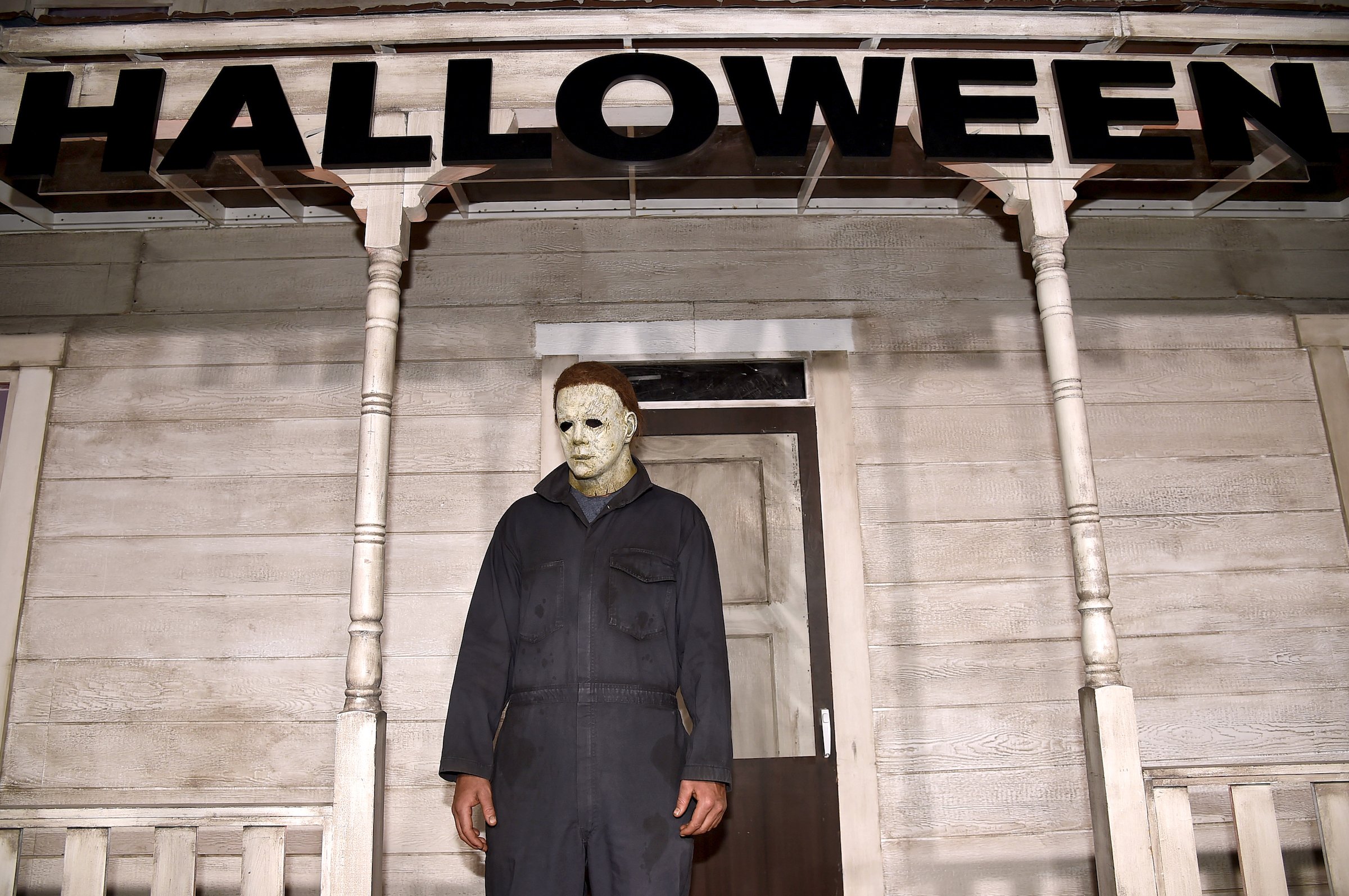 Past Michael Myers costumes reflect 'Halloween's earlier days
Although horror enthusiasts praise Halloween, many recognize the simplicity of the plain white mask. In fact, the iconic mask wasn't initially terrifying—it was a Captain Kirk mask from Star Trek. The 1978 film was a low-budget production, so the filmmakers had to embrace any available resource.
As the franchise became popular, the Michael Myers costume hit the shelves. As a result, many Michaels flooded the streets every Halloween.
However, when children began donning the mask, some fans thought Michael's costume lost its scary touch. But the modern trilogy changed the game.
The new Michael Myers costume embodies the modern sequel's horror
To recap, Halloween 2018 begins with an unmasked Michael. But of course, the camera doesn't show his face. Instead, viewers watch as he wreaks havoc, and retrieves his mask. Its plain white features are gone and scarred, looking more worn-in after 40 years since he faced Laurie. (As a reminder to viewers, the sequel trilogy rejects all sequels after 1978's Halloween).
So how does this pertain to the modern Michael Myers costume?
The Shape's new face reveals how old Michael is. In 1978, he was 21-years-old. Now, he's older and his iconic outfit should reflect that aging. Luckily, Party City offers this aged look, giving any trick-or-treater a more authentic image.
However, if fans want to get more creative with their Michael Myers costume, they should recall how Halloween 2018 ended. Michael burns after Laurie traps him in the basement, having set up her home to catch on fire. But Michael somehow escapes and resumes his vengeful terror in Halloween Kills.
Therefore, the Shape has a charred face from the fire. So if any die-hard fan wants to embody the 2021 Michael Myers, they could explore crafty ways to emulate his burned face.
'Halloween Kills' asserts vengeance from different perspectives
Now that fans are gearing up their costume choices, they're preparing to watch the highly anticipated Halloween Kills. After experiencing pandemic-related production delays, the final cut is reaching theaters and Peacock on Oct. 15.
One of the most noteworthy elements of Halloween Kills is the community's frustration. The "Evil Dies Tonight" chant conveys a new terrifying aspect: reality. Jamie Lee Curtis thinks the flick reflects modern America because of its mob violence and the dire need to terminate pure evil.
With that said, Michael now has a new vengeance. The Shape faces off with the entire town of Haddonfield. In a modern good-vs-evil standoff, Michael wants to prove his invincibility and the townspeople want payback. Can Michael fight off a whole town?
Fans can find out when they watch Halloween Kills. Afterward, they'll be asking what 2022's Halloween Ends will bring.
RELATED: 'Halloween Kills': Michael Myers Crashes Child's Birthday Party