Which New Kids on the Block Member Has the Highest Net Worth?
When you think of iconic boy bands some that come to mind are New Edition, *NSYNC, The Backstreet Boys, and of course New Kids on the Block. Long before BTS ruled the charts and had fans around the world screaming every time they got on stage, NKOTB did that.
The band split in the mid-90s but after 14 years released a comeback album titled The Block. And now, NKOTB is selling out shows just like they did in the '80s. Here's more about one of the most popular boy bands of all time and how much each member is worth today.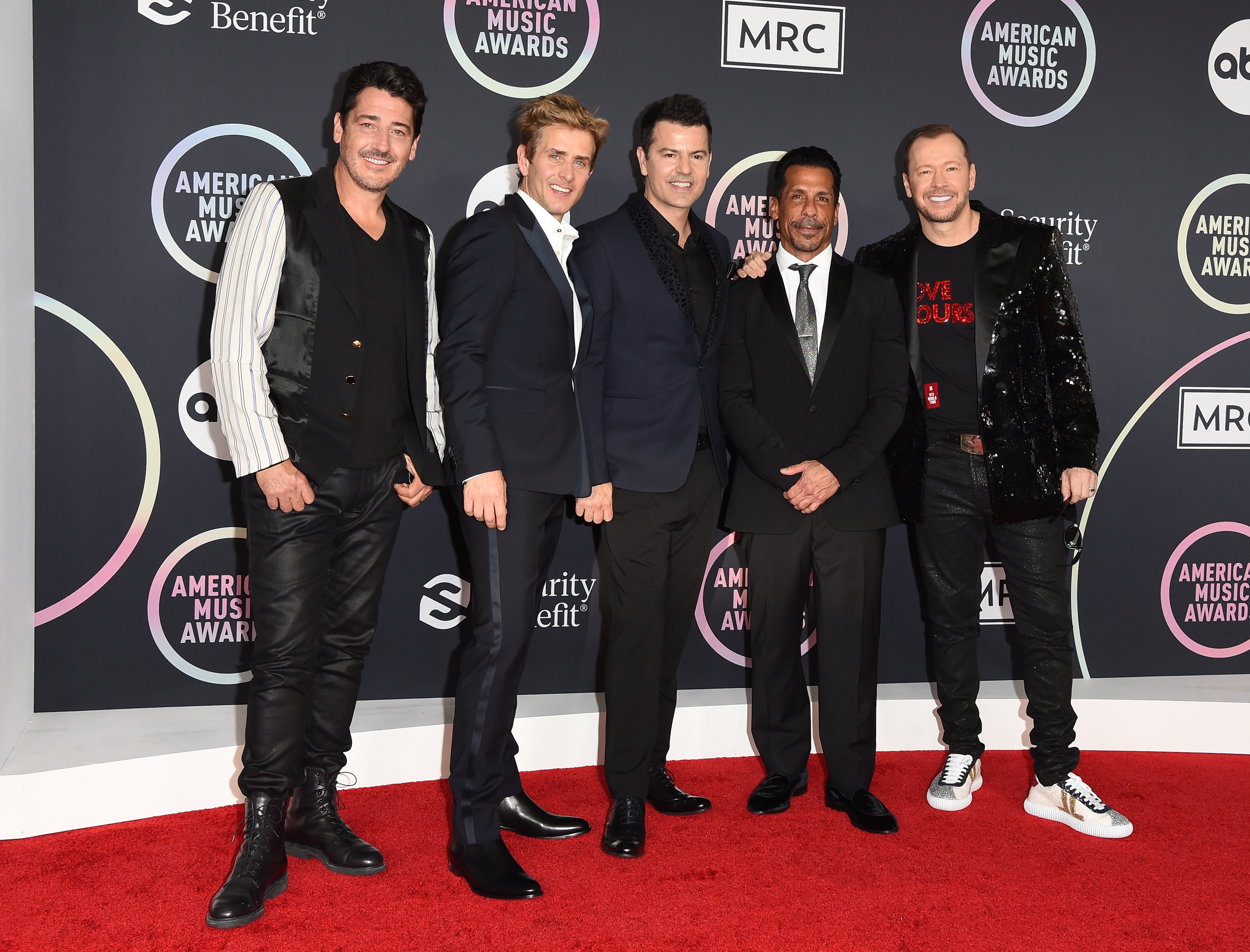 How New Kids on the Block started and who left the group after a few months
Donnie Wahlberg was the first member of NKTOB. At the age of 15 he auditioned for Maurice Starr and after impressing the music producer recruited his friends Danny Wood, Jamie Kelly, siblings Jordan Knight and Jonathan Knight, and his own brother Mark Wahlberg. However, after a few months, Mark and Kelly decided to leave the group. In search of one more member, Starr recruited 12-year-old Joey McIntyre.
NKTOB had a number of hits such as "Please Don't Go Girl," "(You Got It) The Right Stuff," "Step by Step," and "Hangin' Tough." The group sold more than 80 million records worldwide and over $400 million in merchandise.
Donnie once told Variety they never dreamed they were going to blow up and become as big as they did.
"When we started, our concept of being really famous was, like, being known in Boston," he explained. "That was our goal, to walk down the street and have the local pizza guy say, 'Hey Donnie good work. Hey, have a slice!'"
How much each NKTOB member is worth today
Before the band decided to officially split, Jonathan Knight left the group during the Face the Music tour in 1994. Following his departure, he worked in real estate and lived a relatively quiet life until NKOTB's comeback in 2008. In 2015, he was in the spotlight for something other than music, when he competed in The Amazing Race with his partner Harley Rodriguez. In 2021, Jonathan began hosting the HGTV television show Farmhouse Fixer and today has a net worth of $14 million, according to Celebrity Net Worth.
In addition to his music with New Kids on the Block, Wood also recorded several solo albums including D-Fuse: Room Full of Smoke, D-Wood: Room Full of Smoke Vol. 2, Second Face, Coming Home, and Stronger: Remember Betty. Wood has three children and in 2019, announced via Instagram that he became a grandfather. Today, he has a net worth of $16 million per Celebrity Net Worth.
Jonathan's younger brother, Jordan Knight, also launched a solo career when the band broke up. He recorded a handful of Top 40 singles including "Give It to You." He's also made appearances in several reality competitions over the years. Today, Jordan is married to Evelyn Melendez and has two sons. Celebrity Net Worth estimates that he's worth $18 million.
McIntyre followed up his success with New Kids as a solo artist selling over 1 million records. He worked in TV and as a stage actor on and off Broadway as well. He married his wife Barrett Williams in 2003 and they have three children together. Celebrity Net Worth notes that these days his net worth is $25 million.
Donnie Wahlberg is well known outside of his NKOTB days for his acting. He's been in numerous TV shows and movies and stars in the popular series Blue Bloods. He also co-owns Wahlburgers restaurants with brothers Mark and Paul. He's been married to Jenny McCarthy since 2014 and has two sons from his first marriage. Donnie is tied with McIntyre for the highest net worth among his NKOTB bandmates at $25 million, according to Celebrity Net Worth.