New Report Claims Kanye West Faked Support for Donald Trump to Benefit Black People
Kanye West shocked the world in 2018 when he came out in support of President Donald Trump.
Fans just couldn't wrap their minds around how he went from declaring George W. Bush didn't care about black people to supporting someone arguably even more controversial. But he did, going on a Twitter rant in which he called Trump his "brother" and fellow "dragon energy" wielder before posting a photo wearing a MAGA hat.
New reports, however, claim that it was all just a ruse to benefit Black Americans.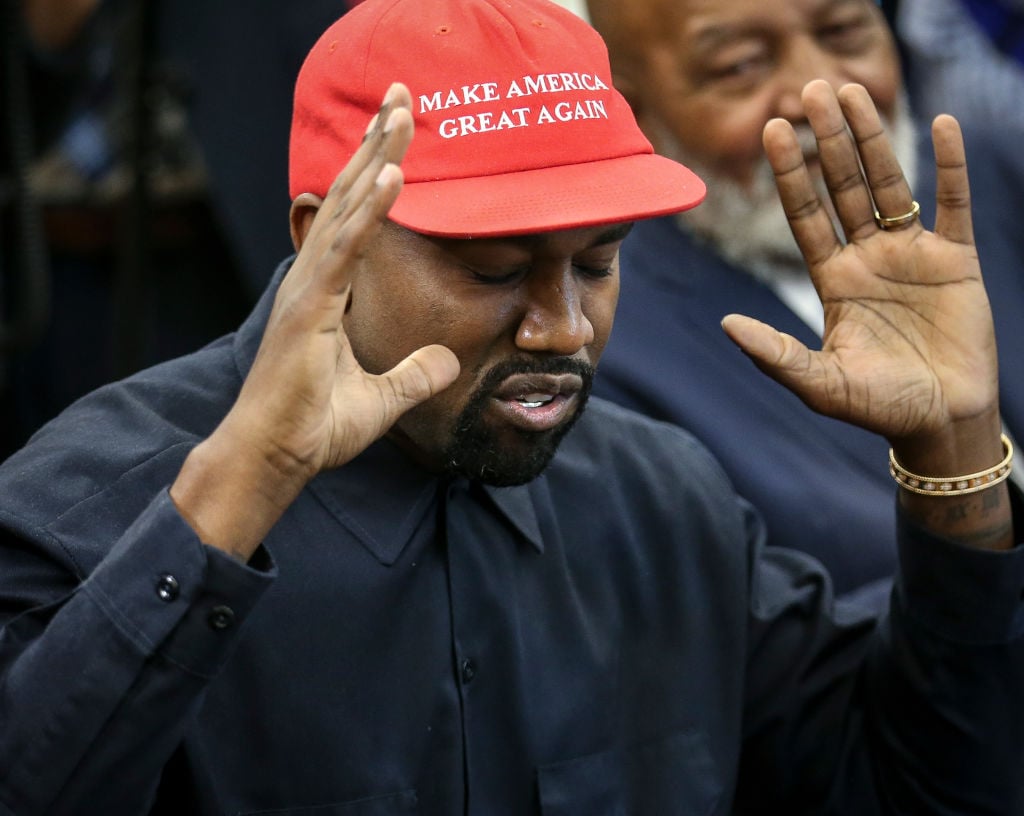 The latest report on Kanye West
According to Ace Showbiz, the entertainment blog High Snobiety recently shared a post alleging West had been "wearing his MAGA (Make America Great Again) hats so that he could get people out of jail."
The account also said rapper GLC, who is signed to West's G.O.O.D. music label, "claims that Kanye has gotten rid of all his MAGA hats & was reportedly just wearing them to get innocent people out of jail."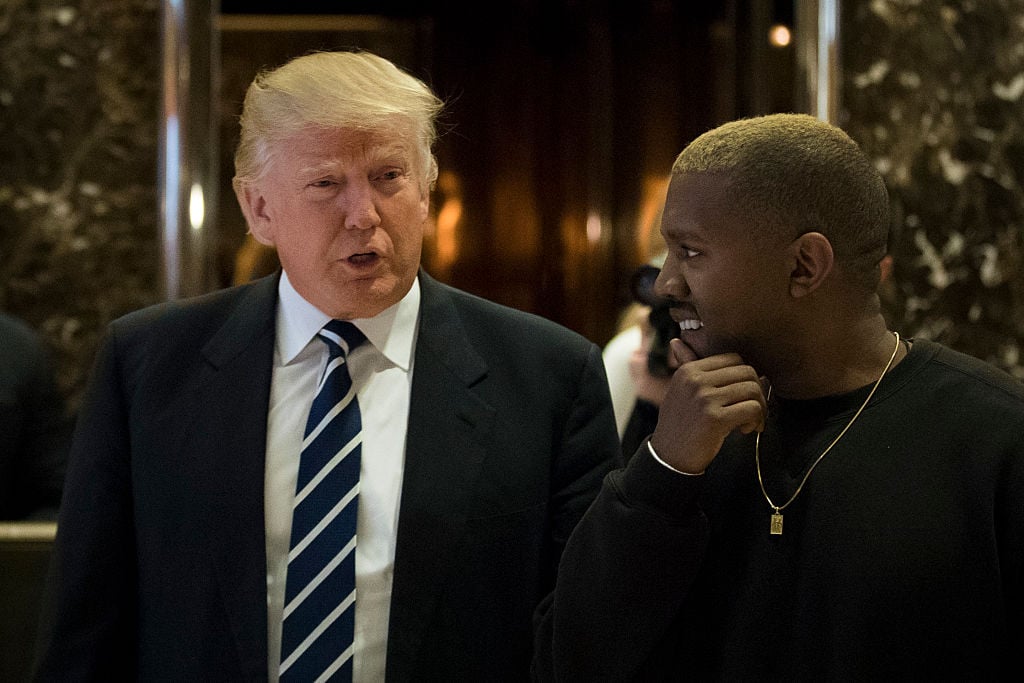 RELATED: Does Kanye West Hate Liberals? He Claims They 'Bully' Trump Supporters
GLC himself said in a 2019 appearance on The Red Pill Podcast with Van Lathan that "Kanye actually gave me the boxes of hats. He said, 'I'm never wearing these again.'"
GLC also recalled West as saying, "Bro, I'm just telling' you that we got that amazing woman out of jail in Florida, right?…" We didn't really get to have that meeting until I put the hat on. So he lookin' at like it as, more so, 'OK, I wear the hat, I get the stones thrown at me, I'll have people hating me, but people gonna get free.'"
High Snobiety also alleged the rapper is "back to the old Kanye" and intends to take Black Lives Matter protests globally. The report comes just days after West was seen protesting police brutality in his native Chicago.
What has Kanye West said about the report?
West has yet to address the report, but we wouldn't put too much stock into it due to his latest comments on the president. In GQ's May issue, West implied he would be voting for Trump in the upcoming presidential election.
"I'm definitely voting this time and we know who I'm voting on," he said. West previously announced he did not vote in the 2016 presidential election but said he would have voted for Trump if he did.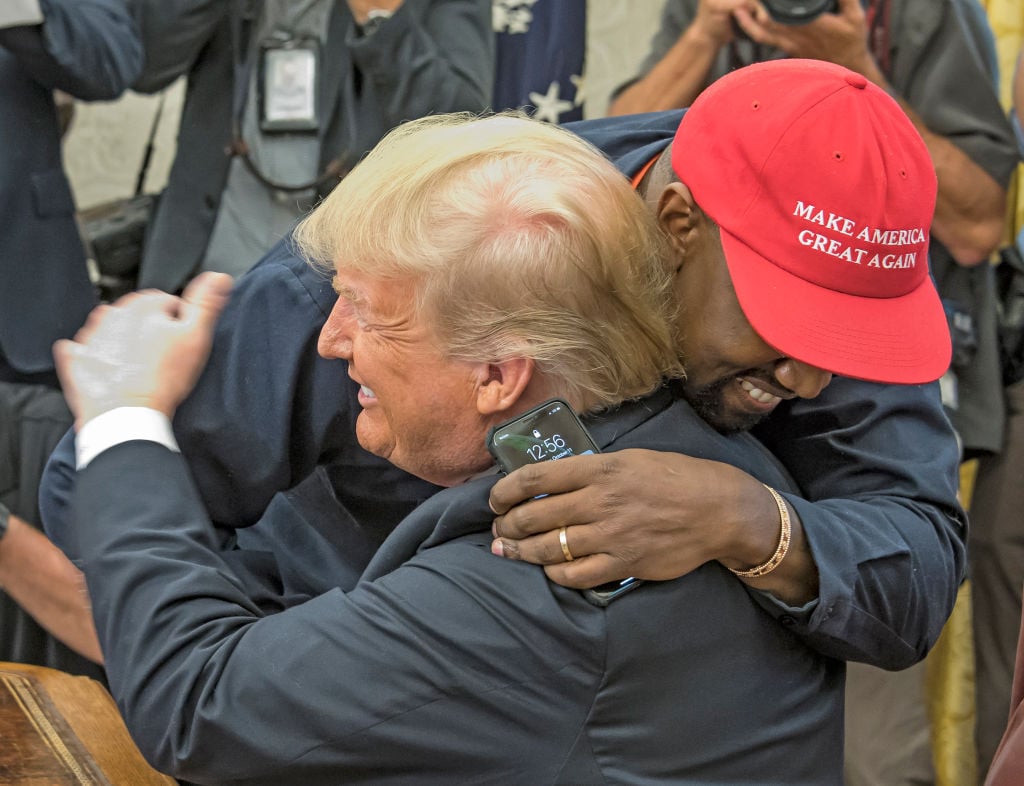 RELATED: Kanye West Gets Dragged for 'Playing Both Sides' After Chicago Protest
Kanye West's support for Donald Trump explained
West has never shared why he aligns with Trump, but his wife, Kim Kardashian West, attempted to explain in a 2018 interview with Van Jones.
She first acknowledged the rapper is "not political, actually."
"He just happens to like Donald Trump's personality but doesn't know about the politics," she continued. "He will always say he was friendly with (Trump) before, and he's the same person and friendly with him now."
"I know it's very confusing because when you see someone wearing a red hat, you would think that they are supporting that," she continued, "but he's just fighting for free thought and the freedom to like a person, even if it's not the popular decision."
West continued to praise Trump in a January 2019 Twitter rant before teasing his own presidential run in 2024. As of writing, it is unclear whether he still intends on seeking the nomination.