Nick Jonas Does This 1 Thing Priyanka Chopra Finds 'Annoying' and 'Awkward'
Priyanka Chopra gets annoyed when her husband, Nick Jonas, does one thing she finds "awkward" yet "wonderful" at the same time.
Priyanka Chopra finds her husband of about nine months, Nick Jonas, "annoying" when he does this one "awkward" thing. 
After meeting in 2016 (the story of how they met is equal parts modern and romantic) got engaged in July of 2018 and married in an extravagant days-long wedding celebration (with two ceremonies – a traditional Indian wedding and a Christian wedding) in Dec. of 2018 gush over each other on Instagram posting pictures of themselves usually with lots of heart emojis, cementing their status as one of Hollywood's most adorable couples. 
But for all the love we see between Jonas, 26, and Chopra, 37, on Instagram, — see this picture, this picture, and this picture for evidence — they're like every other couple in that they do get annoyed with each other. Well, at least, Chopra admitted to being annoyed with Jonas when he does one thing despite her many Instagram posts with the hashtag, #husbandappreciationpost.
What's the one thing? Looking at her. That's right, Chopra doesn't like it when her husband looks at her … or more accurately, when he stares at her, in the morning. 
In an interview with Entertainment Tonight at Beautycon Festival LA, Chopra revealed what Jonas does that bothers her while explaining when he finds her most beautiful … yes, really. 
"It's actually really annoying, but he insists on looking at my face when I wake up," Chopra said. "I'm just like, 'Wait one minute. Let me just go get a little mascara on, let me put on my moisturizer,'" she added. 
"I'm, like, sleepy-eyed face right now, but he's just … it's amazing and super sweet," she continued. "That's what you want your husband to do. But it's also, like, a little awkward. OK. He's like, 'Let me stare at you, you aren't even conscious yet.' Like, literally, I'm not even, I'm not joking. It's really wonderful," she said. 
Priyanka Chopra and Nick Jonas don't go 'a week and a half' without seeing each other
Jonas is currently on a world tour with his brothers Kevin and Joe Jonas as the Jonas Brothers to promote their newest album in a decade, Happiness Begins, which means he has to spend a lot of time away from his wife. But, as Chopra explained, she and Jonas have made it a priority to see each other.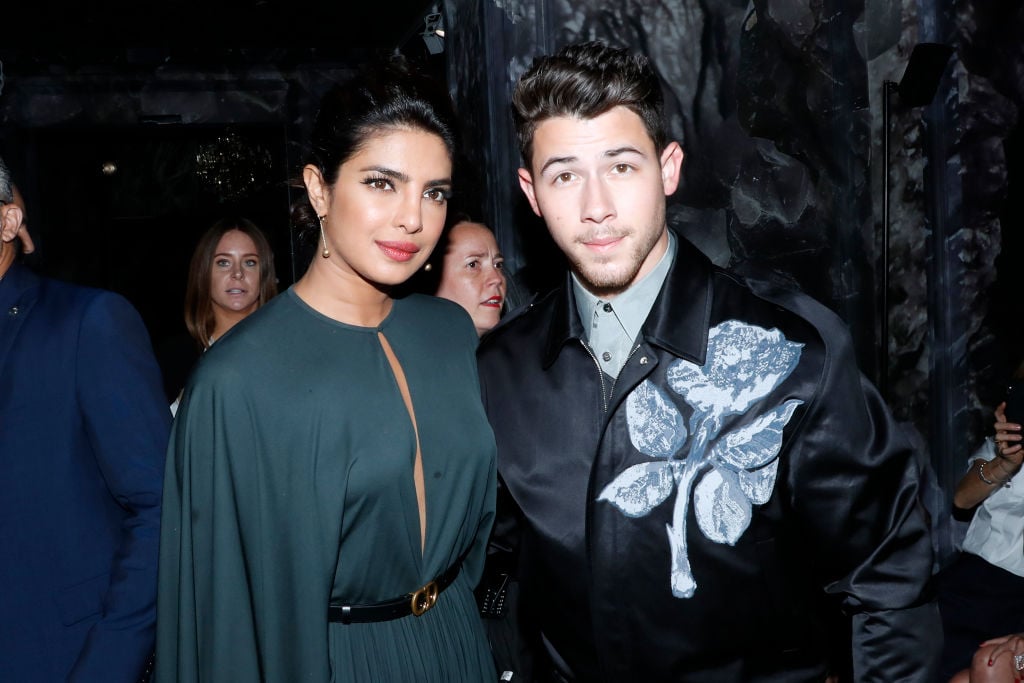 "But we have a rule. We don't go beyond, like, a week and a half of not seeing each other," she said. "Both of us have such individual careers that we make a deliberate attempt to at least always [meet] wherever in the world we [are]," Chopra said after saying she spent most of the previous weekend with Jonas on tour. 
They may have kids once the Jonas Brothers world tour is over
Earlier this year, a source told Hollywood Life, Jonas and Chopra want to start having children once the Happiness Begins tour ends in Feb. 2020. In recent interviews, both have mentioned a desire to have kids, but it's been reported that children aren't their priority at this exact moment. 
We know they want kids and may try for a family once Jonas is done touring but only time will tell. Meanwhile, we'll look at their adorable Instagram posts of each other.