Did Nick Viall Date An Actor from 'The O.C.' Before Making Things Official with New Girlfriend?
Nick Viall from The Bachelor is known for his dating life. He broadcasted multiple attempts to find love on various reality television shows on ABC. Despite his on-air relationships with Andi Dorfman, Kaitlyn Bristowe, Jen Saviano, and Vanessa Grimaldi not working out, he has found love with his new girlfriend, Natalie Joy. But before his current relationship, rumors circulated that he was involved with an actor from The O.C. Read on to find out if Viall dated an actor from The O.C. prior to making it official with Joy.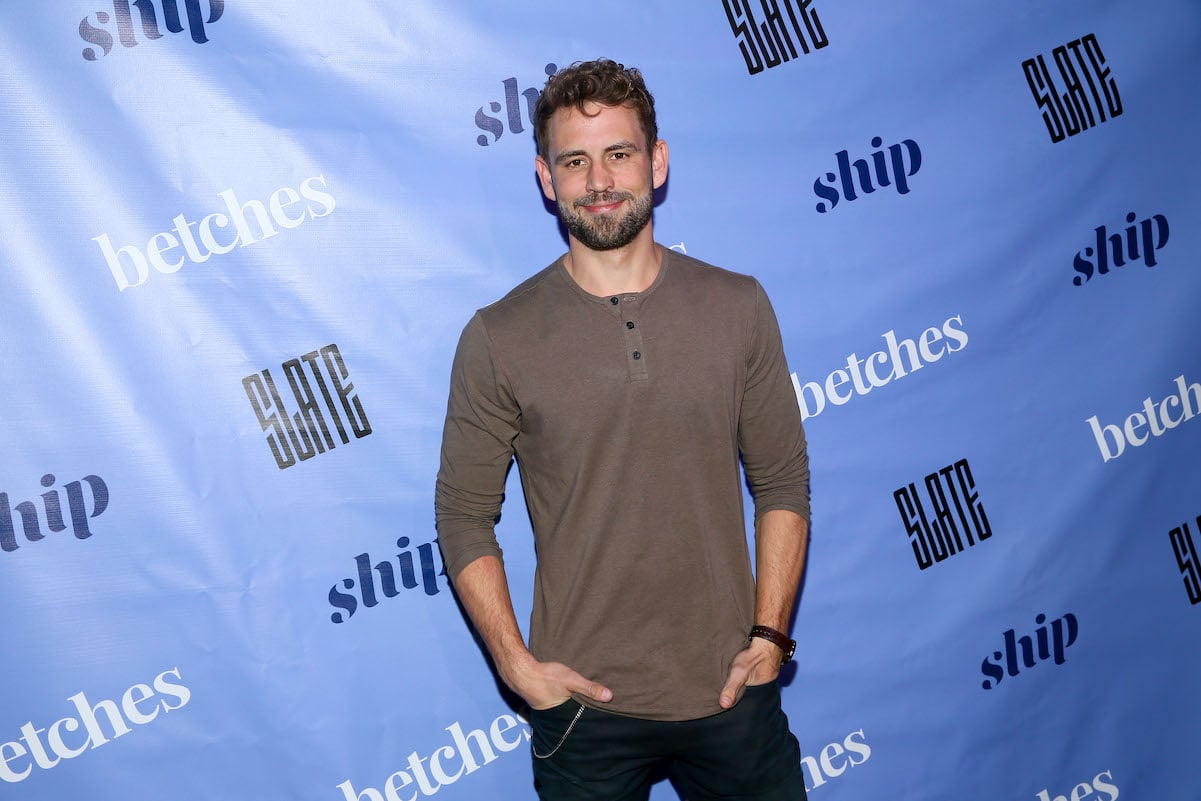 Nick Viall announced his new girlfriend on his podcast
After rumors swirled that Viall had a new girlfriend, he confirmed that the rumors were true in a new episode of The Viall Files on Feb. 8. Viall confirmed that he is dating surgical technologist Natalie Joy. The pair met when she initiated communication by privately messaging Viall.
He said he loves how she's a good person and that she's "passionate" about her career. Unlike Viall's public relationships with those from Bachelor Nation, Joy works outside of the entertainment industry, in the medical industry.
The two have reportedly been together since last year
While Viall made the announcement that he and Joy are together, the pair have actually been together since last year, per People.
"She's great for him," a source told the magazine.
Joy posted videos of her and Viall on her Instagram story, and he shared a video of her on his feed, as well. The clip showed Joy relaxing on a couch in a living room with a towel in her hair.
But who else has Viall dated outside of Bachelor Nation — and does that include a former star from soapy teen hit show The O.C.?
Did he date an actor from 'The O.C.' before dating his new girlfriend?
In 2019, Viall and The O.C. star Rachel Bilson got people talking when they began leaving flirty Instagram comments to one another. Bilson even appeared on The Viall Files as a guest co-host in July 2019, which made people wonder if the two were an item.
Viall shared a photo of himself and Bilson on Instagram at his podcast recording studio. He captioned the picture: "Will we choose to forgo our individual rooms…" and Bilson replied: "He slid into her…..dms #sheaccepted."
After fans were excited about the potential new pair, Bilson cleared the air about her and Viall in an US Weekly interview in December 2019.
"We're just friends," Bilson revealed. "We've always just been friends. He's a really nice guy." In the same interview, Bilson encouraged Viall to go back on reality television to find love.
"He should," Bilson continued. "He's very entertaining. I tease him about it, but I don't think he would ever do it."
Soon after Bilson cleared the air regarding her and Viall, she was seen hanging out with Saturday Night Live star Bill Hader. Bilson and Hader dated for six months, per Refinery29.
Luckily, Viall didn't have to return to ABC to find his girlfriend. And even though Bilson and Viall weren't an item, fans definitely were entertained by their fun and flirty friendship at the time.