Nicki Minaj Disappoints Fans After Supporting a Convicted Rapist
Nicki Minaj is under fire for her connection to and support of not one, not two, but three sexual offenders. She seems to be absolutely surrounded by men who are not only accused of sexual assault but tried and convicted. The latest of which is her own older brother: Jelani Maraj. In the aftermath of his conviction, even some of her die-hard fans are beginning to question her judgment, and for good reason.
What was Nicki Minaj's involvement in her brother's trial?
Minaj's brother was arrested in December of 2015, and eventually found guilty of predatory sexual assault on a child younger than 13 and endangering the welfare of a child.
Upon Maraj's arrest, it is rumored that Minaj posted his $100,000 bail, or at the very least that some of her properties were used to back it. The allegations alone should give anyone pause.
But at first, it seemed Minaj wasn't bothered, thanks to her Instagram activity. Once he was out on bail, he was welcomed out for a night of bowling with the family and was included in a group photo on her Instagram.
Prior to the allegations, the two seemed close. In August of that year, before his arrest, she had attended his wedding, making an Instagram post stating in part: "Tonight has been one of my favorite nights of all time. I do anything to see my brothers smile."
Nicki Minaj is married to a convicted sex offender
Maraj's trials recently concluded and he was sentenced to 25 to life, in a rare moment of real justice for sexual assault victims. To be fair to Minaj, you can't choose your family, and it seems she backed away from her connection to her brother when it started to become clear he had in fact committed these crimes. There was undeniable DNA evidence in his case.
The problem is, there are sex offenders in her life that she has chosen to be connected with, not the least of which is her new husband, Kenneth Petty.
Petty has an extremely dodgy past. In 1995 he was convicted of attempted first-degree rape, and it should be noted that there was a knife used during that crime. He ended up serving four years for the rape, but that wasn't his last stint in jail. In 2006 he served another seven years for first-degree manslaughter. This is all public record, and Minaj must certainly be aware.
What exactly is Minaj doing, marrying him and calling him "da Clyde to [her] Bonnie"? She even defended him in a response to an Instagram commenter stating: "He was 15, she was 16… in a relationship. But go awf Internet. y'all can't run my life. Y'all can't even run y'all own life. Thank you boo."
Nicki Minaj recorded with Tekashi 6ix9ine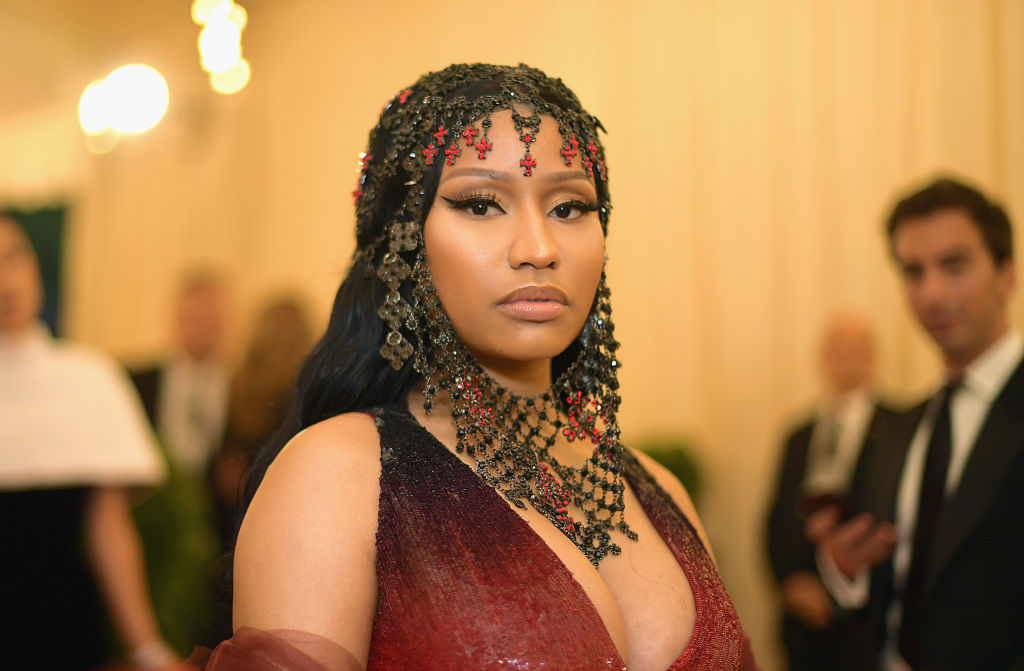 To round out the trio of sex offenders in her life, there is the rapper Tekashi 6ix9ine who pleaded guilty to "use of a child in a sexual performance." Minaj did a song collaboration with him after the conviction.
Fans have been vocal on Reddit and Twitter about their disdain for who she has chosen to surround herself with. One Twitter user posted: "Nicki Minaj: the first female artist to have a rapist friend, a rapist brother and a rapist husband! Congratulations to the queen of Rap-ists!"
Another wrote: "Nicki Minaj's brother was sentenced to prison for child rape. Nicki Minaj's husband ain't allowed near school zones… Something ain't right….."
This Twitter user summed up all three cases writing: "i'm literally so fucking exhausted of seeing nasty ass women defend nicki minaj after seeing DEADASS proof of her dating a convicted rapist who raped a 16 y/o. defending her pedophile brother. and also including tekashi 69 in her song. i'm just so taken aback that they dont care."
It seems there is still a long way to go when it comes to #MeToo and holding those responsible for crimes (as well as their sympathizers) accountable for their actions.