Nicki Minaj Gave the 'RHOP' Children Designer Gifts for Christmas
Rapper Nicki Minaj appeared as a guest host for the final part of The Real Housewives of Potomac season 6 reunion. While sitting in the middle seat, she asked the women tough questions, but Minaj still has a soft spot for the kids. She gifted Gizelle Bryant's three teenage daughters their first designer bags and gave Robyn Dixon's sons Gucci wallets for Christmas. The OG Housewives posted videos and pictures of their kids with the gifts to their Instagram account and thanked the rapper for her generosity in their captions.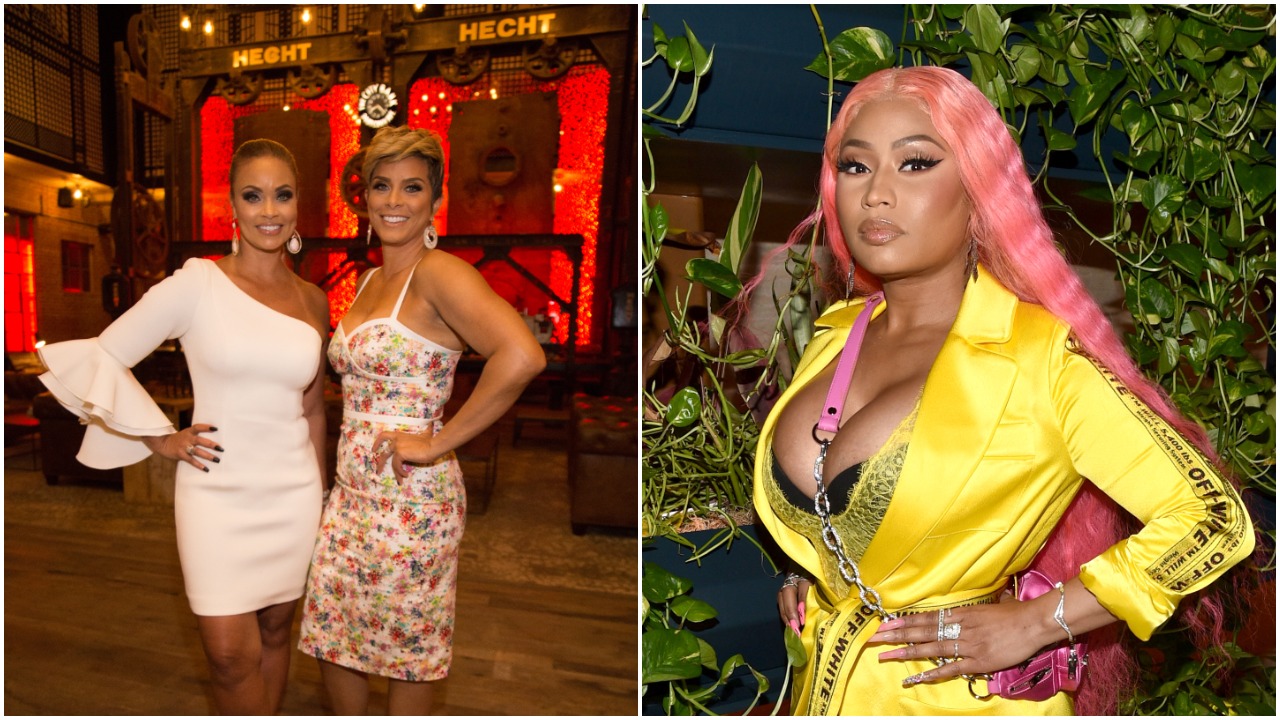 Nicki Minaj gave Gizelle Bryant's daughters their first designer bags
Around Christmas 2021, Nicki Minaj sent designer Gucci purses to Gizelle Bryant's daughters as a gift. The Real Housewives of Potomac OG posted a video of the teenagers holding the bags and thanking the rapper.
In the caption, Bryant explained she initially hadn't bought designer purses for her daughters as she wanted them to remain "humble."
According to the Potomac socialite, she "always felt like humility and gratitude is way more important than stylin' and profilin' for children." She went on to thank Minaj for gifting her daughters their first Gucci handbag, noting, "you have made their year!"
The guest host responded in the comments, explaining she planned to send the oldest, Grace, a different purse. Additionally, Minaj noted she felt they "deserve gifts for being respectable young girls on TV and not showing out for camera time."
She also gifted Robyn Dixon's sons designer wallets
The popular rapper also gave Robyn Dixon's sons Gucci wallets for Christmas. Dixon uploaded videos and pictures to her Instagram, showing the boys struggling to read her cursive writing on the envelope and posing with their new gifts.
The last video included Corey and Carter opening their wallets and finding $200 already inside. She referred to her sons as "lucky and blessed boys" and then thanked Minaj for "creating a truly awesome moment for life" for her kids.
The OG Housewife also shouted out the guest host's penmanship as her sons initially had difficulty reading her signed name, adding, "please bring back cursive instruction in the schools."
Minaj replied, "oh, hi, handsome boys." She also gave designer gifts to Ashley Darby's sons and Wendy Osefo's children.
Minaj appeared as a guest host on 'RHOP' season 6 reunion
During the final part of the RHOP season 6 reunion, Minaj surprised the cast and viewers when she took Andy Cohen's seat and asked the ladies hard questions.
She questioned Bryant and Dixon's friendship and wondered if they were secret lovers.
Additionally, the guest host hammered Dillard about her singing career, boundaries with her mother and forced her to sing "Drive Back" acapella on the spot.
The rapper, and superfan of the show, also questioned Ashley Darby's intentions and wondered if she got caught up in drama to get more screen time. Overall, fans seemed to enjoy Minaj's presence on the show as she asked questions from the viewer's side. The Real Housewives of Potomac airs on Bravo.