Nicki Minaj's DJ Appears to Confirm Her Rumored Pregnancy
Is Nicki Minaj pregnant? That's what fans have been trying to figure out for the past couple of months. Although the "Feeling Myself" rapper has pretty much dodged all related questions, her DJ recently left a comment on Instagram that suggests Nicki Minaj is indeed expecting.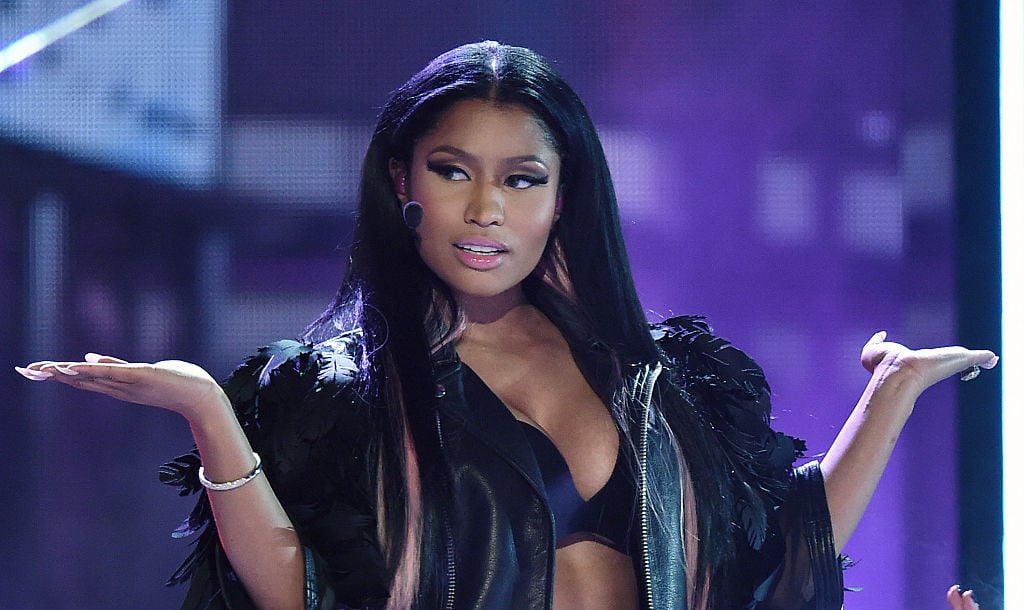 What Nicki Minaj's DJ, DJ Boof, said about her alleged pregnancy
The comment came after Nicki Minaj shared a revealing photo from the set of the "TROLLZ" music video, which came out on June 12. The picture shows the rapper wearing star-shaped pasties and high-waisted shorts that bend around her stomach area. Underneath the photo, DJ Boof wrote: "Am I still deejaying the baby shower[?]"
As the comment started gaining traction on the Internet, DJ Boof deleted the comment, which only fueled pregnancy speculation. Amid mounting rumors, he went on Instagram Live and refuted them, saying he didn't know anything about a possible pregnancy.
"I don't know what you talkin' 'bout," he said in the video. "Who knows if she's pregnant or not. I don't know nothing. I haven't seen this woman in a very long time. I don't know nothing." 
Explaining the reason he deleted his comment, DJ Boof added: "I just took it down because I don't want people going around spreading rumors and gossip and I was just saying stupid sh*t. That's like saying, 'Hey, um, am I still gonna DJ your wedding?' Knowing that she got married already. I'm just saying. Think about it."
Fans aren't buying it
Fans doubted his remarks in the comment section, with one person musing: "He can't even lie straight."
As the speculation continues to swirl, Nicki Minaj has been keeping quiet. If true, this would be the rapper's first child and the reported sixth for her husband, Kenneth Petty. Nicki Minaj, whose real name is Onika Maraj, married Petty in a secret ceremony on Oct. 21, 2019, after dating for less than a year.
Us Weekly previously reported that the two were childhood friends who reconnected in November 2018. The next month, Nicki Minaj confirmed their relationship on Instagram with a lovey-dovey photo of her and Petty.
"Our sources say Nicki and Kenneth still have great chemistry, despite all the years between their relationships," TMZ wrote at the time. "We're told she was very stressed out before they got back together, but she's much happier since rekindling their romance.
Fans have been critical of Petty due to his criminal history, which includes convictions for attempted rape and manslaughter. But Nicki Minaj has stood by his side throughout it all, telling fans that they don't know him like she does.
Nicki Minaj herself has been dropping pregnancy clues
All of this comes after Nicki Minaj started teasing a pregnancy on social media. The first clue came on May 7 when she tweeted about having cravings.
"Steak. Shrimp. Plus my famous cheeseburgers. So good. Been really having red meat cravings then salad cravings with extra jalapeños. Ordered chicken nachos that didn't come with jalapeños. Who does that? Wow," she wrote in part.
She then tweeted about having "nausea and peeing nonstop" before asking, "Omg what do u think this means guys???? Lmaooooooooooo."
When asked if she would post a photo of her baby bump, Nicki Minaj wrote: "Yea in a couple months. The world ain't ready yet."
The rapper has often expressed her desire to be a mother. She, for one, rapped in a 2019 song with Chance The Rapper that she was "'bout to walk down the aisle and be a mommy" after telling Wonderland the previous year that she wouldn't be putting off having kids "for much longer."
Fans will have to keep waiting for an official pregnancy confirmation but if it's true, congrats to her!
Read more: The Real Reason Nicki Minaj and Her Husband Got Into a Fight With Her Ex Meek Mill