Nicolas Cage Doesn't 'Regret' Any Movies He's Made: 'Everything Happened for a Reason'
Nicolas Cage has a variety of movies he's worked on -- beloved and otherwise. However, the actor doesn't even count the worst of them among his regrets.
While the subject of many memes, Nicolas Cage has also appeared in a lot of movies throughout his career. Like so many actors who've spent decades in the business, Cage made a name for himself onscreen, even earning an Oscar for his performance in Leaving Las Vegas. But it hasn't all been rosy for the Face-Off actor. 
A string of financial trouble and unsavory headlines tarnished his reputation. Some fans assumed some of Nicolas Cage's movie choices came from desperation. But these days, he's certainly making a comeback. And despite past roles that weren't so popular, Cage says he wouldn't change a thing about his career.
Nicolas Cage doesn't regret his movie choices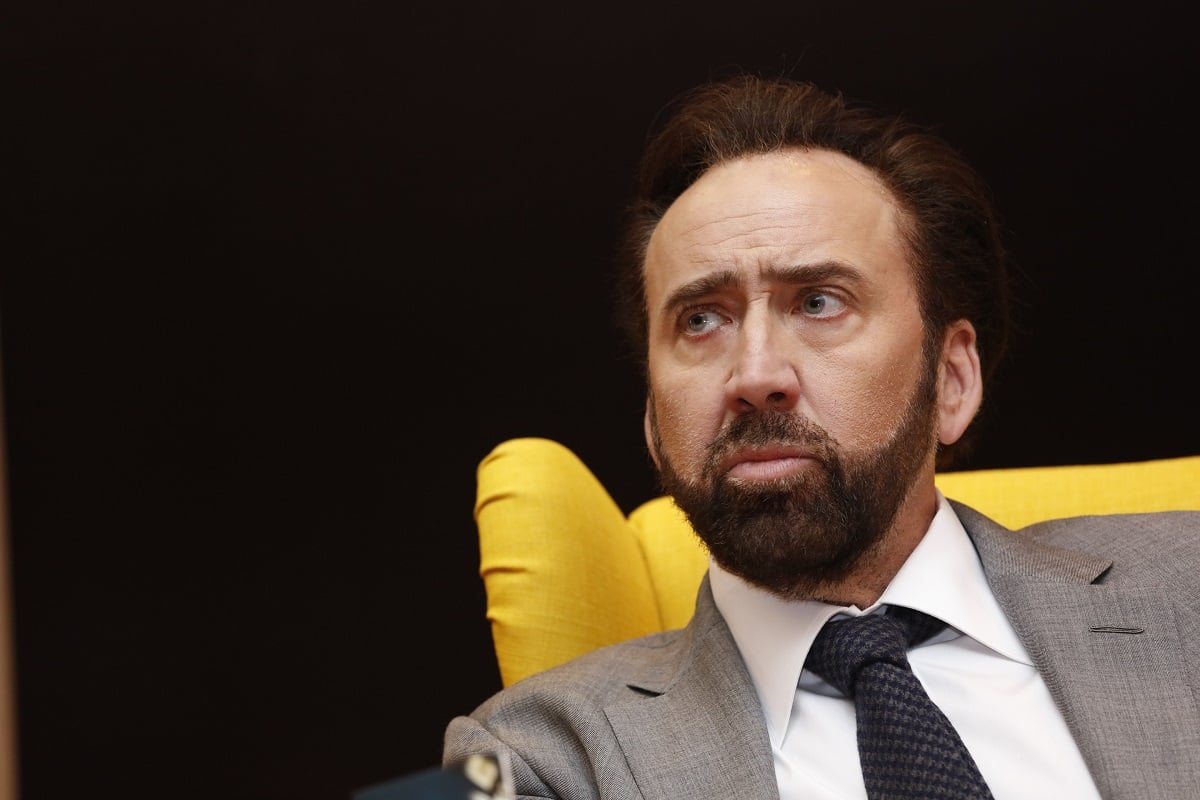 Nicolas Cage has experienced tremendous success with many of his roles. Some of his best include 2021's Pig, noir thriller Red Rock West, and the classic '80s rom-com Moonstruck.
The actor hasn't always been picky with his roles. But he turned down his 2022 film The Unbearable Weight of Massive Talent "three or four times," he told The Hollywood Reporter. In the movie, Cage plays a fictionalized version of himself. The action-comedy spoofs some of his real-life ridicule and career pitfalls. But Cage doesn't look back negatively on these times.
He told the publication there's a big difference between having "remorse and regret." "I don't have any regret," he noted. Despite the appearance of having taken subpar roles over the years to pay the bills, he says he's approached every acting job as an opportunity to "apply my mistakes" and to improve — to "be a better man." 
"Everything happened for a reason," Cage posits.
Some did leave a bad taste in his mouth
So far,  Cage's return to Hollywood marks a career-best for the star. But he's worked on a few flops, including some Cage himself spoke negatively about in public. He opted for a "mutual departure" from Hollywood, stopped attending award shows, and refrained from selling himself. But the phone never stopped ringing. This led to some wild choices, not all of which earned acclaim. Drive Angry, Sorcerer's Apprentice, and Ghost Rider are "flops," the actor admits. 
Insider lays out some of the Con-Air actor's worst-rated films. There's 1990's Fire Birds, a colossal flop with the critics. Pay the Ghost (2015) received negative reviews, as did 2011's Season of the Witch. Some of the absolute worst movies Cage worked on include Deadfall (1993), Grand Isle (2019), and Left Behind (2014).
Why Cage made some terrible movies
Fans want to know why Nicolas Cage would take on roles with such little potential when he's so good at what he does. According to the actor, it's all about improving his craft and engaging in continuous work. 
Regardless of what may have caused his financial woes in 2009, he decided to "work [his] way out of it." He may have taken on some lackluster roles, but he also says he turned down a lot of work. Cage maintains he always brings "something authentic" to every role. His mantra is: "I never had a career; I only have work." 
Whether you love all of his work or hate it, you can't fault a man for improving himself and his art. And with so many Nicolas Cage movies out there, good and bad, you'll likely find at least one you consider your favorite.