Nicolas Cage Was Kicked Out of Restaurant After Being Mistaken for Homeless Man
Nicolas Cage has had a relatively quiet 2021. The City of Angels star has recently found a passion for more low-budget, experimental independent films. This year he starred in three Independent movies in Willy's Wonderland, Pig, and Prisoners of the Ghostland. All three movies are quiet films that don't make the usual noise a Nicolas Cage blockbuster would in the 90s.
However, recently Cage did make noise in the entertainment industry for a mishap he had at a restaurant. And it was caught on camera.
Nicolas Cage was mistaken for a homeless man in a Las Vegas restaurant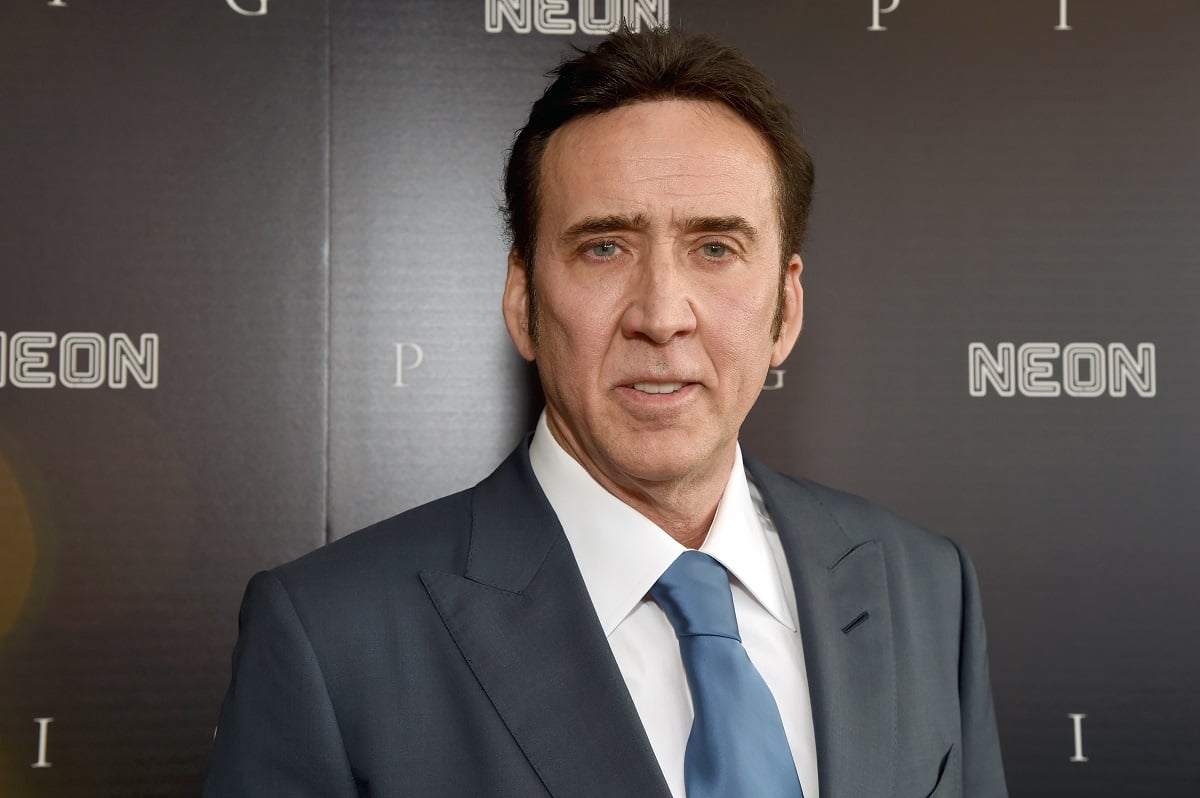 Oscar-winner Nicolas Cage was mistaken for a homeless man in Lawry's Prime Rib restaurant in Las Vegas. As seen in a video obtained by The Sun, who broke the news, Cage is sitting on the restaurant's sofa in an apparently drunken state.
"We were at that bar at Lawry's when we noticed what we at first thought was a homeless man completely drunk and being rowdy," an anonymous source told The Sun. "To our shock, it turned to be Nicolas Cage. He was completely smashed and was getting into a bit of a fight with the staff."
Even after being escorted out of the restaurant, Cage argues with a staff member while trying to get back in. According to The Sun, one of the restaurant's regulars took the star home.
Although the incident happened a few days ago, Cage, nor anyone close to him, has commented on his drunken tirade.
Nicolas Cage tries to avoid controversy
Nicolas Cage has spoken about how his work helps him avoid getting into situations like the one at Lawry's. In an interview with The Guardian, Cage explained the significance of keeping himself busy.
"If I don't have somewhere to go in the morning and a job to do, it can be very self-destructive," Cage once opened up to The Guardian. "Then I'm just going to sit and order two bottles of red wine and dissolve, and I don't want to be that person, so I have to work."
He's also credited his kids for his work ethic.
"I think my children are to thank for that," Cage said. "When you're a father, you can't behave like that."
Recently, this work ethic of his has proven to be a successful formula for avoiding scandals. But in his decades-long career, The Rock star has had more than a few missteps, some of which cost him a fortune.
Nicolas Cage's biggest scandals
Nicolas Cage has had his fair share of scandals in his illustrious career. Perhaps his most well-known scandal has been his excessive spending habits, which left the actor in dire financial circumstances. The actor, who was once worth over $150 million, is now worth $25 million according to Celebritynetworth. CNBC reported Cage blew much of his fortune on the property, exotic pets, fancy cars, and once purchased a whole deserted island for himself. In addition to his spending habits, Cage also owed $6.3 million in property taxes to the IRS.
His scandals have also occasionally spilled over to his relationships. According to TMZ, he was arrested following an argument with his then-wife Alice Kim in 2011. Before that, he was sued by another ex-wife of his, Christina Fulton, for $13 million. Fulton claimed the actor inflicted mental and physical abuse on her, although the claims were never proven to be true.
Nowadays, however, Cage has been keeping himself relatively clean and out of the tabloids.