Nicole 'Snooki' Polizzi and Jenni 'JWoww' Farley Clap Back at Internet Trolls
Everyone loves a good clap back, especially the Jersey Shore crew. The show's leading ladies, Nicole "Snooki" Polizzi and Jenni "JWoww" Farley were both trolled on social media recently. When it comes to being attacked, whether it's out at the bar or online through social media, it is unlike either of these women to stay silent. See how Polizzi and Farley clapped back at their respective trolls on Instagram.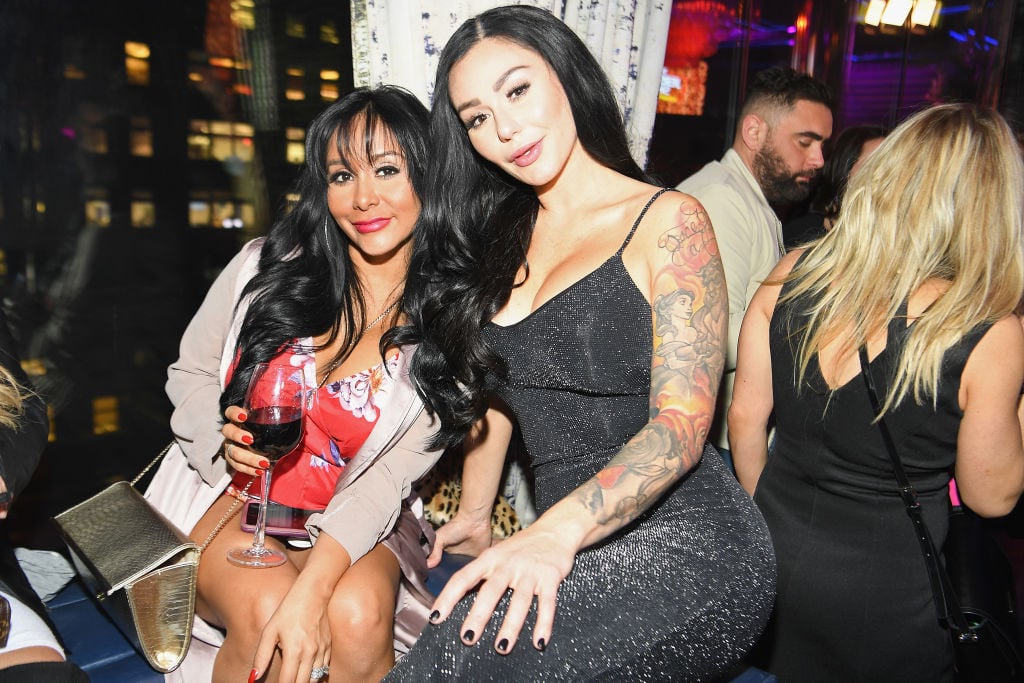 'Jersey Shore' gets social
While much of Polizzi and Farley's lives has already been heavily documented, they both continue to share updates with fans through their social media pages.
From her marriage to husband Jionni LaValle to the birth of her three children, Polizzi remains active with her fans on platforms like Instagram and Twitter. She often posts photos of her family, but Polizzi also uses social media to promote her boutique, The Snooki Shop.
The same goes for Farley, who often posts about her son Greyson Mathews, who was diagnosed with autism. Farley uses her Jersey Shore status as a platform to raise awareness around autism and KultureCity, a non-profit that seeks to create resources for families of children with autism.
Trolls question Jionni's whereabouts
When Polizzi recently posted a photo of her youngest son, Angelo, on Instagram, one troll commented: "I never see your hubby." The mother of three replied, "so go hang out with him, he's here," tagging her husband in the comment. Fans rallied behind Polizzi, responding to her comment with "Great comeback" and a slew of other supportive comments and emojis.
Jionni's take on the cameras
In a 2018 interview with In Touch Weekly, Polizzi said that LaValle "…doesn't like the cameras," which checks out because fans rarely saw him on Jersey Shore. LaValle even addressed his lack of a presence via Instagram, letting fans know that they wouldn't find him on his wife's show. Despite his desire to remain off camera, LaValle remains active on social media. He posts photos of their family as well as his passion, golf.
Jenni makes jokes
Farley also recently posted to social media, sharing a selfie with a caption that read, "Big day for me guys. I showered." Her lightheartedness was well-received, for the most part. One Instagram user felt compelled to question, "Why does she look so old? What's happening!!"
'JWoww' exudes confidence
Instead of releasing her inner "JWoww," Farley took the high road and replied directly: "Maybe because I don't use bunny filters to hide my aging and the fact that I'm turning 35." Farley made sure to address the hater head-on, as their profile photo featured a filter. She concluded with "…was that supposed to offend me?"
Despite that negative comment, Farley received a ton of love in other comments from her co-stars, fans, and of course, her best friend "Snooki" who commented "OK, mawma!!"
'Snooki' and 'JWoww' forever
A new season of Jersey Shore: Family Vacation will premiere soon, but this will be Polizzi's swan song. At the end of 2019, Polizzi announced that she was removing herself from the show to spend more time with her kids. Fans are wondering if Jersey Shore can continue without the energetic party that is Polizzi, but one thing is for sure — her friendship with Farley will remain.