Nicole 'Snooki' Polizzi Says Chrissy Teigen Once 'Ran the Other Way' When She Tried to Interact With Her
As a reality TV star, Nicole "Snooki" Polizzi has rubbed elbows with famous people of all kinds. During a recent episode of her podcast, Polizzi talks about the time she met — or tried to meet — Chrissy Teigen. Find out why Polizzi says Teigen "ran the other way" when Polizzi tried to interact with her.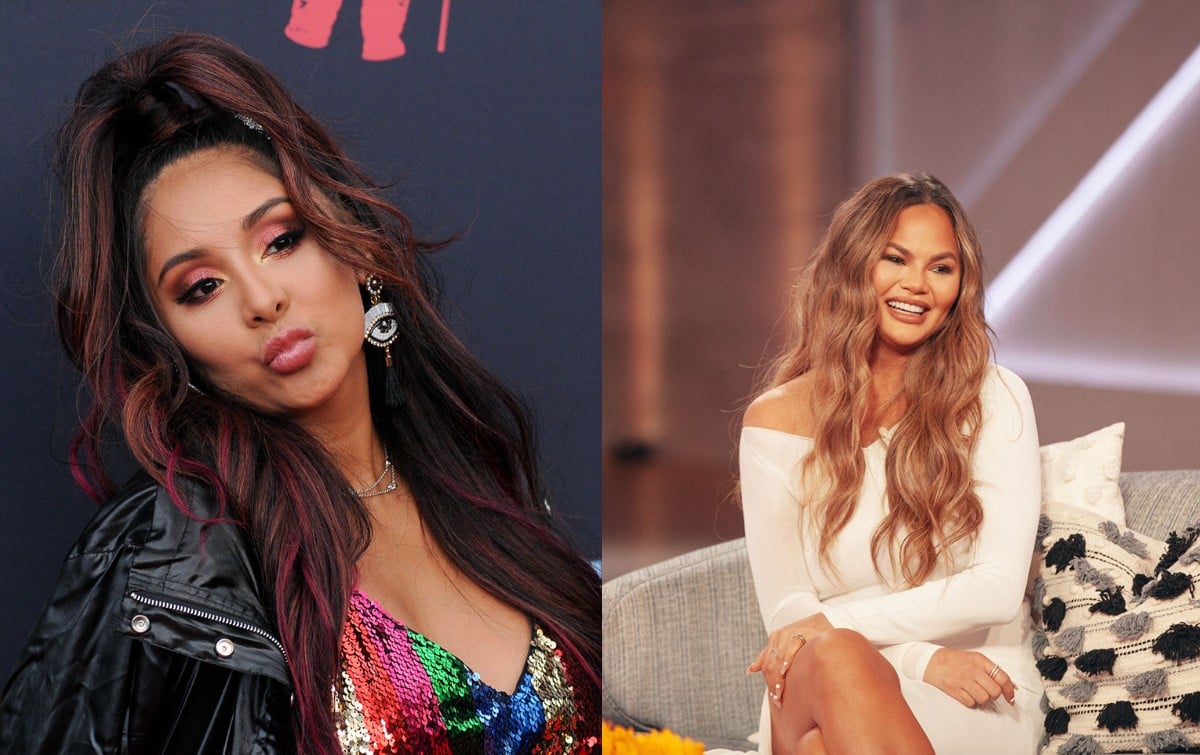 Chrissy Teigen apologizes for being a 'bully'
Teigen recently made headlines for her previous bullying scandals. Now, Teigen claims she's just a "troll," but the internet is calling the model out for taking some of her "trolling" too far.
Teigen's bullying dates back to her early days on Twitter. But one of the most talked-about incidents that got Teigen "canceled" was when she bullied 16-year-old Courtney Stodden. 
"She wouldn't just publicly tweet about wanting me to take 'a dirt nap' but would privately D.M. me and tell me to kill myself," Stodden remembers in an Instagram video. "Things like, 'I can't wait for you to die.'"
Now, Teigen's actions are all much of the world can talk about — including Jersey Shore: Family Vacation star "Snooki." 
Nicole 'Snooki' Polizzi tried to interact with Chrissy Teigen at a press event but she 'ran away'
During a special episode of the It's Happening With Snooki & Joey podcast, Polizzi and her co-star Joey Camasta talk about their experiences with the actor, model, and cookbook author. The two mention Teigen's previous tweets allegedly making fun of Lindsay Lohan and Farrah Abraham. 
"Did she ever make fun of us?" Polizzi asks. "I hope so," says Camasta.
Camasta recalls meeting Teigen once, as does Polizzi. "Snooki" was doing press for Snooki & JWoww, her and Jenni "JWoww" Farely's Jersey Shore spinoff, and Teigen happened to be at the same event.
"She was doing her photos in the step and repeat and then it was us," Polizzi recalls. "I wanted to go say 'hi' to her, but she kind of saw us and ran the other way. I was like, 'Oh, cool.'" Showbiz Cheat Sheet reached out to Teigen's representation for comment, but they did not reply by the time of publication. 
Camasta also shares a story about his interaction with Teigen. He met her when he was out with the "Food God" and friend of the Kardashian family Johnathan Cheban. Their meeting was brief, but Camasta says Teigen she was "nice" to them. "That's because you were with Jonathan," Polizzi adds. 
'Jersey Shore: Family Vacation' star 'Snooki' didn't read Chrissy Teigen's apology because 'it's too long'
Since Teigen's past bullying, she has had time to reflect on her actions. She recently published an apology on Medium, citing the "crushing weight of regret" she feels.
I want you to know I've been sitting in a hole of deserved global punishment. The ultimate 'sit here and think about what you've done.' Not a day, not a single moment has passed where I haven't felt the crushing weight of regret for the things I've said in the past.

There is simply no excuse for my past horrible tweets. My targets didn't deserve them. No one does. Many of them needed empathy, kindness, understanding, and support, not my meanness masquerading as a kind of casual, edgy humor.
RELATED: Chrissy Teigen Allegedly Told Michael Costello He 'Might as Well Be Dead'
Teigen's note came up during Polizzi and Camsta's podcast, too. "I didn't read it — it's too long," Polizzi starts. "I don't have time read the book report," Camasta admits.
"I just feel like she already did an apology and then she's doing another one," Polizzi concludes. It's unclear if she'll ever read Teigen's entire statement.