Nicole 'Snooki' Polizzi Explains All of Her Most Iconic 'Jersey Shore' Looks
Nicole "Snooki" Polizzi isn't part of Jersey Shore: Family Vacation anymore. But the reality TV star is extremely active on social media. When Polizzi asked Jersey Shore fans to send their favorite "iconic 'Snooki' outfits" on Twitter, she didn't disappoint. Find out what inspired some of "Snooki's" fashion choices on Jersey Shore, straight from the reality star herself.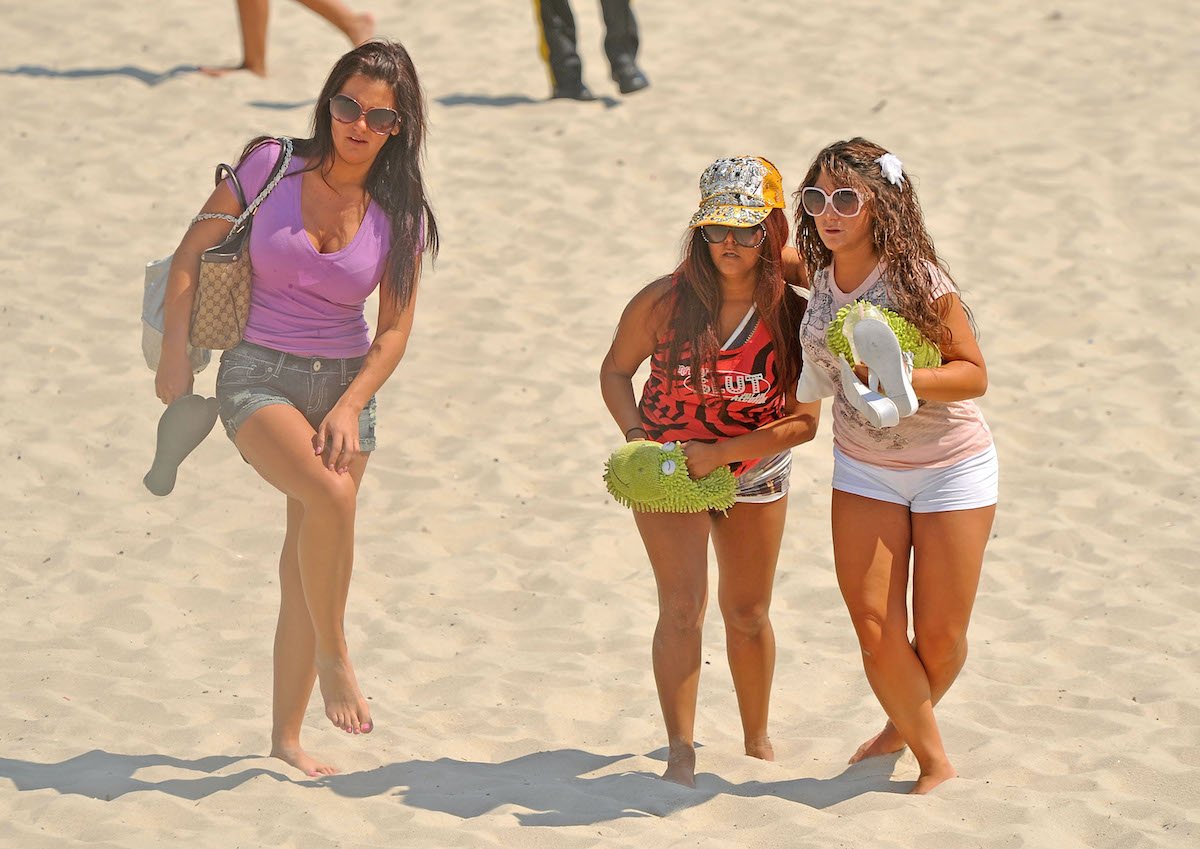 Nicole 'Snooki' Polizzi made some interesting fashion choices on 'Jersey Shore' 
From giant frog slippers to various animal prints, Polizzi made bold fashion choices during Jersey Shore's original run. Her outfits covered a range of styles. 
There was the club attire she would wear to hotspots like Bamboo and Karma. Then there was the Shore Store branded merch she was required to wear to work and everything in between.
Fans of the MTV reality series remember many of Polizzi's fashion well. When she asked Twitter to send their favorite looks so she could "explain what was going on," her followers went deep into her fashion archives. 
When 'Snooki' got arrested, she was in her dress from the night before 
As one of the most iconic moments in Jersey Shore history, it's hard for fans to forget what Polizzi was wearing when she was arrested. On that fateful afternoon, "Snooki" was taken into police custody for disturbing the peace, disorderly conduct, and criminal annoyance of others. But what most fans remember is her "iconic 'instant s*ut just add alcohol'" shirt and frog slippers. 
"So the dress underneath, it was the dress I wore the night before at Karma," Polizzi tweeted. "I didn't wanna feel like a gross, so I put the zebra tank on, not even realizing what it said."
Nicole "Snooki" Polizzi makes a neck brace fashion
Other fans had questions about one of Polizzi's fashion choices in Italy. She's wearing jean shorts, a low-cut top, fuzzy boots, and a neck brace in the photos. 
Some fans thought the neck brace was from when Polizzi hit a cop car. But the reality star clarified that she stole Mike "The Situation" Sorrentino's neck brace in an attempt to get out of work. 
During a blowout fight in season 4, Sorrentino slammed his head into their hotel wall. Hoping it was sheetrock, "The Situation" was shocked when his head didn't go through. It turns out the wall was concrete, forcing Sorrentino to wear a neck brace for a while. Luckily, Polizzi got some use out of the brace by turning it into an accessory. 
'Snooki' gets booed off a stage, but in style
Angelina Pivarnick's wedding wasn't the first time Polizzi was booed. In 2010 at the Wing Bowl in Philadelphia, Polizzi was met with a shower of boos. 
"Wing Bowl is a raucous annual eating contest displaying eaters and strippers — as well as some lovely ladies who don't dance for a living," wrote a local outlet. "It's a celebration of debauchery in every sense of the word — a booze-induced adrenaline shot of insanity." One that wasn't ready for the Jersey Shore star. 
"This was at an event where they announced me and the whole crowd of 7k people boo'd me," she wrote. It's unclear if the photo Polizzi explained on Twitter is from the 2010 Wing Bowl or another event. 
What's also unclear is what Polizzi was able to see wearing those glasses. "It was a mystery every time," Polizzi said in another tweet regarding her visibility.