Nikki Bella Reveals Multiple Reasons She Was Shocked by Her Pregnancy
Nikki Bella opened up about expecting a baby with Artem Chigvintsev. Find out why they were shocked by the news and more.
Sisters Nikki and Brie Bella revealed they are both pregnant at the same time. Nikki revealed that her pregnancy was a shock to her and her fiancé for multiple reasons. Find out what the Total Bellas star had to say and more.
Nikki Bella and Artem Chigvintsev revealed they're expecting and are engaged
The wrestler and dancer previously competed on Dancing with the Stars together in season 25. At the time she was engaged to John Cena, but they later broke up. Bella and Artem Chigvintsev eventually started dating.
Chigvintsev is no longer a professional dancer on the competition show. However, he has been appearing more on Total Bellas.
Bella recently announced their engagement on social media. "Excited for 2020 and the next decade with you @theartemc I said yes in France in November! We have been trying to keep it a secret but really wanted to share our excitement for the New Year!" she wrote in the caption of her announcement on Instagram.
They weren't trying to get pregnant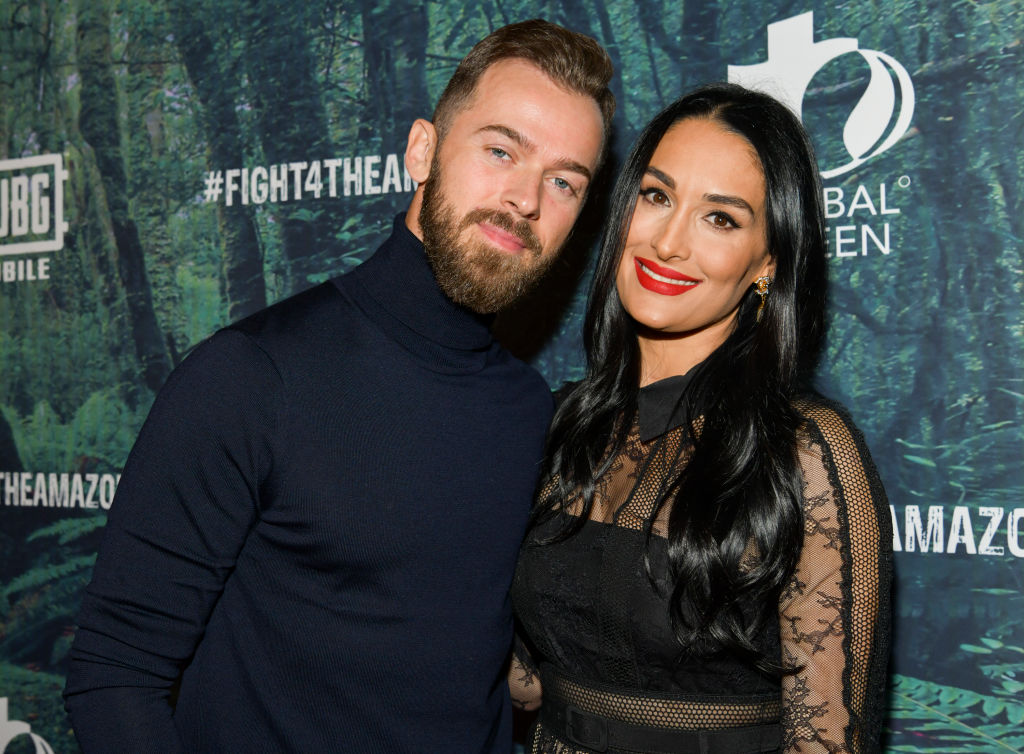 The reality star revealed that she wasn't actually trying to get pregnant. That was a big reason for their reaction to the news.
"We both had [to] digest," she told People. "It took us both a good week. We both were shocked. Artem was immediately so happy — it was really cute. Scared, but I can't believe this because it's not like we were trying or, 'Hey, we're married, let's have a baby.' That wasn't it at all."
The couple announced they got engaged in early January. She revealed why they decided to wait before announcing it.
"We live in these shadows and I get protective of him because he constantly gets compared," she told People. "And the engagement made me — I didn't announce it right away because I just didn't know. I wasn't ready for the backlash. I knew there'd be a lot of positivity, but I wasn't ready for even that small amount of backlash. It really just made me nervous about our relationship, about myself, about Artem, my family."
She didn't think she could get pregnant
There was another reason the couple was shocked by the pregnancy news. That's because the retired wrestler expected their journey to have a baby to be very different.
"I didn't think I could get pregnant. [I thought] that I'd have to have help, so I was in the process of going to freeze my eggs," she told People. Bella revealed to Health that she was diagnosed with polycystic ovary syndrome, or PCOS.
"I'm in this unfortunate situation where I'm 36 and everyone is reminding me, 'Your eggs, your eggs!'" she said. "So I'm freezing my eggs. I also found out I have PCOS—it kills your fertility. I'm getting brown spots all over my face, acne, weight fluctuations, and hair loss. I actually just found out and was devastated."
The sisters seem to be excited over their news. Nikki posted about their joint interview on Instagram.
"I can't even begin to describe to all of you how happy I am! I'M GOING TO BE A MOM!! It's something I have wanted to be my whole life. I was definitely shocked when I found out. And so nervous! I wasn't expecting it and felt I wasn't ready but this journey of life is unpredictable," read part of the caption.