Nikki Bella Says She Was 'So Broken' After Breaking Up with John Cena
Before we became consumed with all these present-day couples like J. Lo and A. Rod or Miley Cyrus and Cody Simpson, there was Nikki Bella and John Cena.
From the moment they got together in the early 2010s, fans were hooked. The wrestling stars seemed like the perfect match and shared a love that was inspiring to many. But their romance came to an end in 2018.
While Cena has generally kept quiet about their split, Bella has openly talked about it. Recently, she appeared to mention the breakup on social media, admitting that she was "so broken" after she and Cena went their separate ways.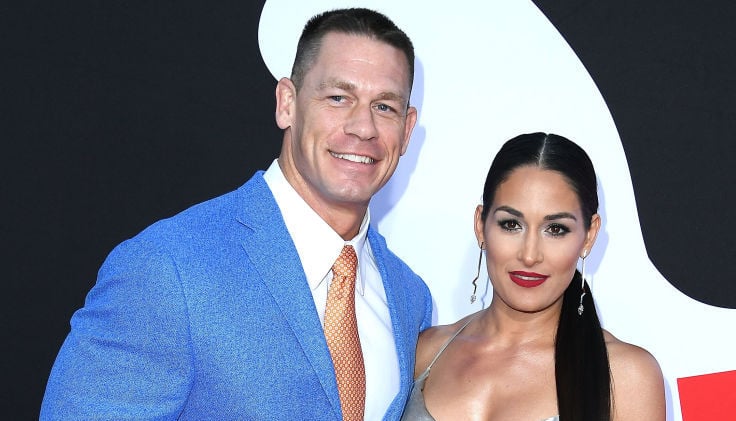 A timeline of John Cena and Nikki Bella's relationship
Cena and Bella began dating in 2012 after meeting earlier that year. Things seemed to be going great as their relationship progressed. But they eventually began to bump heads over the prospect of settling down and starting a family.
Even though there were concerns about their future, the couple went on to get engaged in 2017, with Cena popping the question at WrestleMania 33.
"I think the best thing about me being able to ask her hand in marriage was she doesn't need to question my commitment to our relationship. I am with her to death do us part," Cena said of their engagement in an April 2018 interview with E!.
But the couple called off their engagement and, well, their relationship just weeks later. Cena and Bella announced the news on April 15, 2018, with a statement posted to social media.
John Cena and Nikki Bella broke up for good in 2018
Cena and Bella reconciled a few weeks later but broke up again in July 2018. Bella said in a statement shared with Us Weekly that they had tried to work on their relationship "to get back to where it was in order to move forward with [their] wedding," but things just didn't pan out the way they had hoped.
"After much time and soul-searching alone, and together, we have decided to officially part ways," the statement continued. "I had a beautiful and loving six-year relationship with a wonderful man. I have the utmost respect for John, but I know this is what's best for me."
Multiple outlets later suggested that their split had to do with Cena's reluctance to get married. Bella's twin sister, Brie, later fueled the rumors when she told Health Magazine that "they both wanted different things."
Nikki Bella took the split hard
Bella wrote in a March 28 Instagram post that she was "so broken" following her split from Cena. Because of that, she said, she tried to fight her eventual feelings for dancer Artem Chigvintsev, whom she met in 2017 and began dating following her split from Cena. But she ultimately chose to trust her gut and go with her instincts. The pair is now engaged and expecting a baby, who is due to arrive in August 2020.
"They say love conquers all … and it sure does. So many people in the beginning said it was just lust, my feelings weren't real, it was just the dance, the infatuation, the mystery of this person, but I knew & felt it was always more. I listened to my heart, my soul, my body, I knew deep down that this was God's gift, his answered prayer," she wrote in the post, which features photos of her and Chigvintsev dancing together.
"When I finally got the chance, & maybe because I was so broken, I tried to fight a very powerful love, deny it, walk away from it, & yet this beautiful gift of love wouldn't let me walk away, this love that I always wanted," Bella continued. "Now I didn't expect to get so much of what I had been praying for in a year lol but I finally opened up my eyes, my heart, & accepted this beautiful gift."
She went on to say she is "so glad [she] took the chance" on Chigvintsev, telling him he is "brave enough to show the world our love, our ups & downs, & all the beautiful imperfections in between." She then encouraged her fans not to give up on love, adding: "Imagine if I did."
The dance pro responded in the comment section with a red heart emoji.
Although both parties have moved on, Bella has made it clear that there is no love lost. She continues to speak highly of Cena and will always cherish their time together.
Read more: Does John Cena Still Have Feelings for Nikki Bella?