'Nintendogs' and 3 Other Nintendo DS Games That Absolutely Need Switch Ports
With handheld mode and touch screen capabilities, the Nintendo Switch's closest relative (besides the Wii U) would be the ever-popular Nintendo DS system. And yet, very few Nintendo DS games have gotten Switch ports or remaster treatments. Now that Nintendo Switch Online houses game libraries for other classic systems like Nintendo Entertainment System and Nintendo 64, many fans wonder if and when Nintendo DS will have another chance to shine. Here are some Nintendo DS games that deserve new life in Nintendo Switch ports, including Nintendogs and other hits.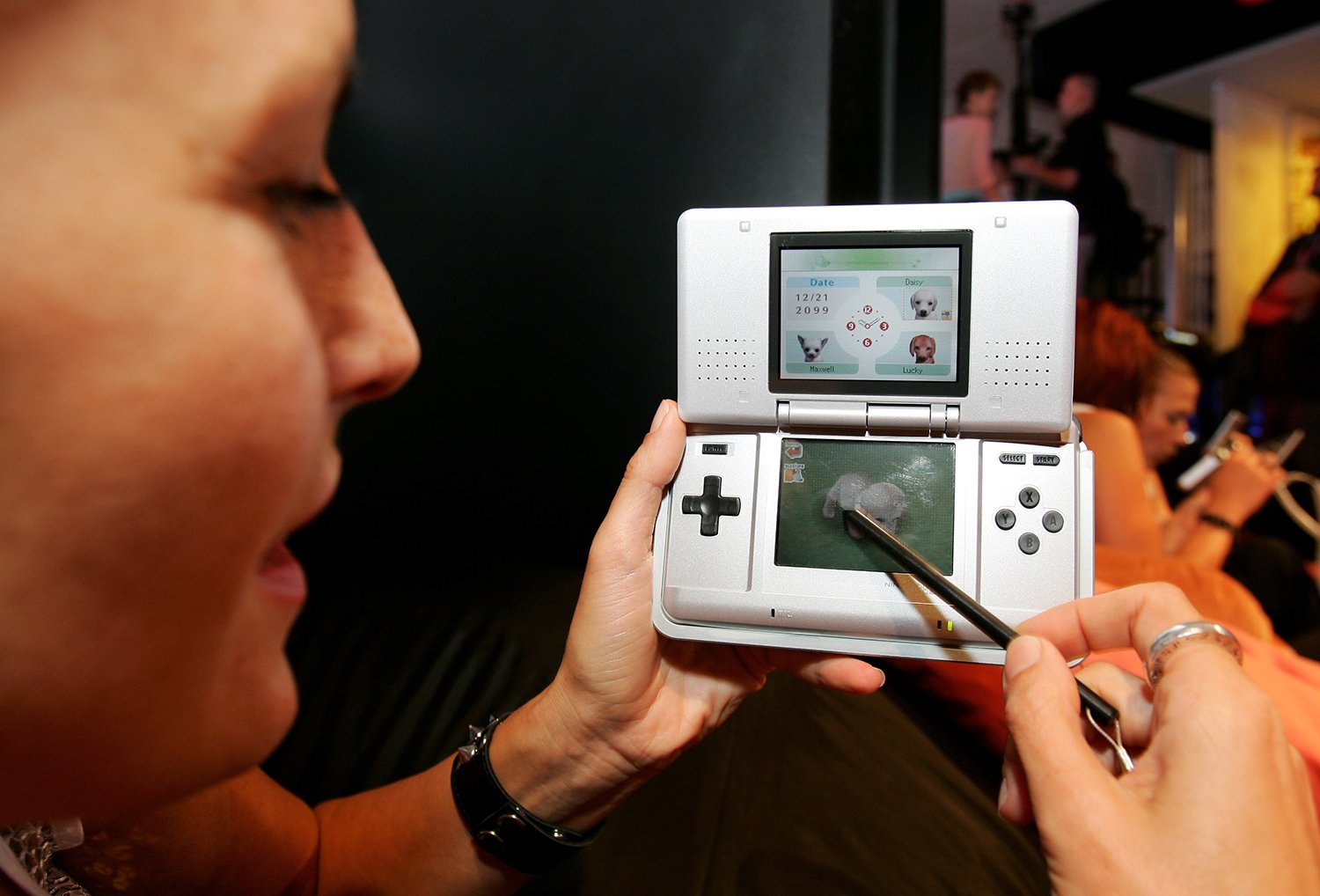 'Nintendogs'
Many former Nintendogs players would probably give anything to see their virtual pets one more time on Nintendo Switch. The best-selling 2005 pet simulator gave players the chance to raise several puppies in various breeds across three different game versions: Dachshund & Friends, Lab & Friends, and Chihuahua & Friends.
Care included playing with the dogs, going on walks, bathing them, and training them. And the best part? The dogs never aged, so they remained adorable puppies forever. Nintendogs' popularity led it to receive two additional versions and a sequel, Nintendogs & Cats, on the Nintendo 3DS.
Many Nintendogs fans have asked for a remaster of the game for years. The game would need some adjustments on Switch since the console doesn't have a microphone, but a new installment or even some kind of remaster would undoubtedly fly off the shelves.
'Rhythm Heaven'
Rhythm Heaven, a sequel to the Japan-exclusive Game Boy Advance game Rhythm Tengoku, was released on Nintendo DS in North America in 2009. As the name suggests, the game focused on rhythm in a massive collection of mini-games. Using buttons and the touch screen, players had to keep up with the rhythm of the music in order to receive a high score. Rhythm Heaven had two follow-ups — Rhythm Heaven Fever and Rhythm Heaven Megamix — on Wii and Nintendo 3DS, respectively.
According to Nintendo World Report, Rhythm Heaven composer Tsunku expressed interest in a Nintendo Switch installment in 2020. The series has a successful track record with Nintendo's wide variety of past consoles, so a Switch version might not be impossible to make.
'Professor Layton and the Curious Village'
Gamers who love a good puzzle likely grew up playing the Professor Layton series on Nintendo DS. It all started with Professor Layton and the Curious Village. The puzzle adventure game followed Professor Hershel Layton and his young apprentice, Luke Triton, on a mystery in a small village. Layton and Luke needed villagers' help to find an ancient artifact, but they only received cooperation by solving brain teasers.
The action-packed, intriguing story led to several sequels and prequels, all on the Nintendo DS and 3DS. One successor, Layton's Mystery Journey: Katrielle and the Millionaires' Conspiracy, did receive a Switch port. However, the story followed Layton's daughter, Katrielle.
Many fans would love to start at the beginning and relive Layton's original journey. And if Katrielle's story is any indication, a Nintendo Switch port should be no problem.
'Pokémon Platinum'
Finally, we have the hit 2008 game Pokémon Platinum Version. In this fourth-generation Pokémon adventure, players explored a unique realm called the Distortion World. The Pokémon Company saw Pokémon Platinum Version as an enhanced version of Pokémon Diamond and Pearl, a set of widely popular Nintendo DS games.
Pokémon Platinum Version would be especially relevant as a Switch port today. Nintendo released remakes of Pokémon Diamond and Pearl on Switch in November; it only makes sense to do the same for the games' enhanced successor.