Nipsey Hussle's 'Victory Lap' Goes Platinum; His Family Reacts
Late rapper Nipsey Hussle's critically acclaimed album 'Victory Lap' was certified platinum. Hussle was recently nominated for three Grammy awards.
It's been 10 months since the heartbreaking death of rapper and entrepreneur, Nipsey Hussle. While the world continues to mourn, Hussle's legacy and the groundwork he laid during his life in music and in business continues to grow. Along with his successful clothing company and various partnerships in fashion and finance, Hussle's first and only album, Victory Lap, was just certified platinum. His fans and family couldn't be happier that's he's receiving the payoff he deserves.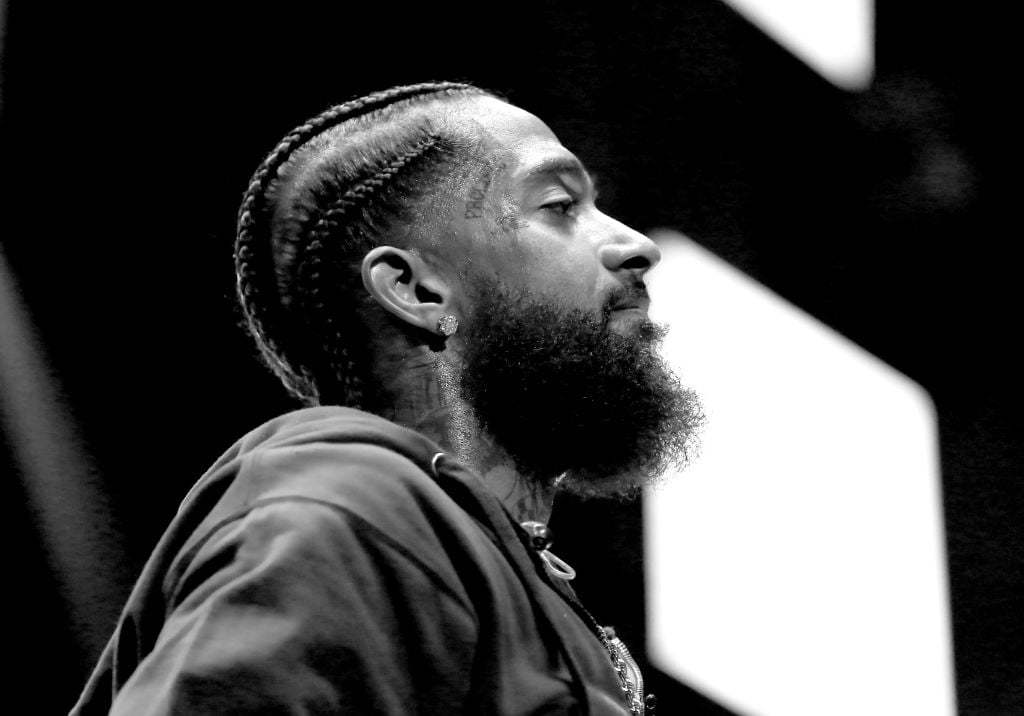 Nipsey Hussle's first album 'Victory Lap' is released
Victory Lap was Hussle's long-anticipated debut album. He'd released several popular mixtapes leading up to Victory Lap but never a full-length project. The album didn't disappoint. 
After over a decade in the music business and a rise from an underground street rapper to a prolific artist, Victory Lap was officially released in February 2018 and debuted at No. 4 on the Billboard 200. Hussle's longtime love, actress Lauren London, posted a heartfelt tribute to the rapper and businessman celebrating its release. An official album release party was held in its honor.
An independent artist, Hussle partnered with Atlantic Records to distribute the project. It was nominated for a 2019 Grammy but lost to Cardi B. 
Nipsey Hussle's 'Victory Lap' is certified platinum
Following Hussle's death in March 2019, the album peaked at No. 2. with over 66,000 album-equivalent units sold. According to Hip Hop DX, his streams also increased. His streams sat at about 2 million prior to his death and shot to 10 million audio streams – while his video streams also saw an increase and jumped from 900,000 to 9.7 million on the actual day of his death.
As his fans mourned and more learned of the amazing work Hussle did in his community, interest rose. His clothing company, The Marathon Clothing, spiked in profit. Fans flocked to the company's website to purchase merchandise to support his growing legacy. PUMA also released their collaboration with the mogul that was in the works at the time of his death. 
In a time where music isn't selling traditionally as it once was, the same isn't true for Hussle. Victory Lap was recently certified platinum by the RIAA, selling over one million copies. 
Nipsey Hussle's family and fans respond to 'Victory Lap' going platinum
While Hussle's music and various businesses continue to be supported by fans, his closest family and friends are still grieving from their loss. His recent accomplishment of going platinum, however, has made them beyond proud. 
"Ain't nothing like you f***in rap n*****" his sister Samantha captioned under a photo of the album she posted to her Instagram account. The caption contains the lyrics to one of Hussle's songs on his Victory Lap album. 
London also shared the photo to her Instagram story, writing "Period."
The excitement from fans also poured in. 
"Victory Lap Platinum -He left us with A blueprint here -I say this should've went DIAMOND," wrote one fan.
"@NipseyHussle you platinum big bruh," wrote another.
The platinum certification comes just weeks after it was announced that Hussle is nominated for three awards at the upcoming Grammys.