'Nirvana Baby' Sues Band Amid 'Nevermind' Cover: The Baby Appears 'Like a Sex Worker', Lawyer Claims
It's been nearly 30 years since Nirvana's album Nevermind was released, but the iconic songs are just as popular today. Their meteoric rise to fame and in-your-face anthems changed the way artists and fans view music forevermore. Now, the man photographed for the cover of Nevermind is suing with claims of child sexual exploitation.
Kurt Cobain's fascination with water births inspired the 'Nevermind' cover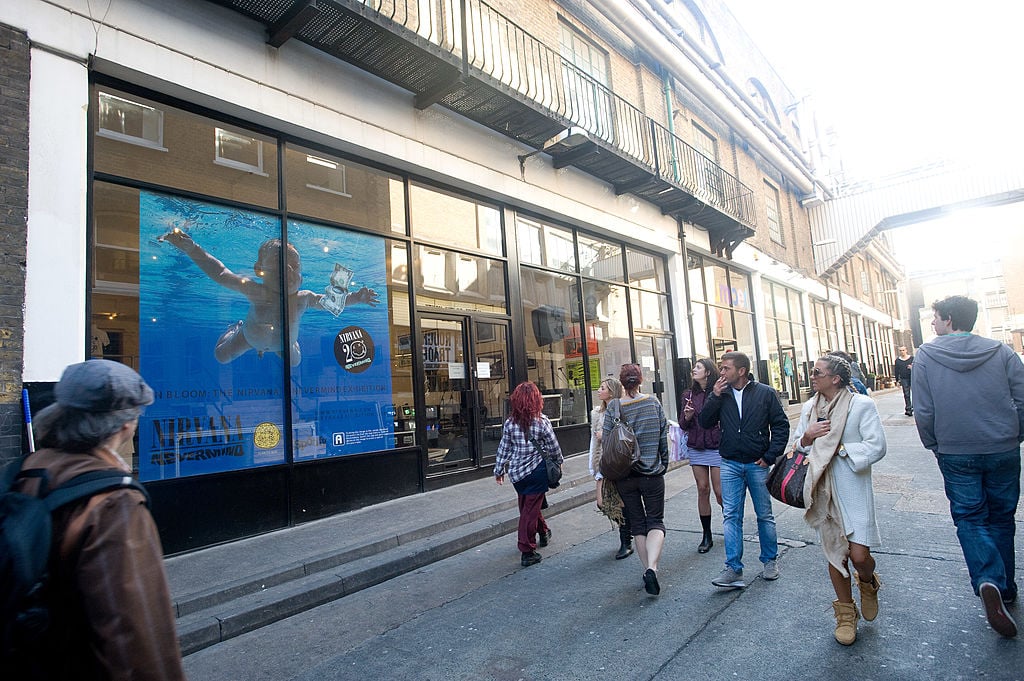 Over the last 30 years, Nirvana's Nevermind has held steady as one of the best-selling albums of all time. The debut LP might've been the band's first album, but it paved the way for a bevy of grunge, punk, and alternative rock bands to follow suit.
With frontman Kurt Cobain's powerful, achingly haunting voice and lyrics, Nevermind was bound to be a hit for decades to come. The album, produced by Butch Vig, took over a year to record. In 2019, more than 30 million copies had sold worldwide. So, where did the cover idea come from?
Cobain documented his endless fascination with water births and pregnancy in journals and other albums (In Utero). According to Rolling Stone, Cobain and drummer Dave Grohl watched a documentary on water births. This lead to Cobain's insistence they use a similar photo on the cover.
The label wouldn't go for it, stating it was too graphic. Photographer Kirk Weddle and the band went to a pool for babies where they shot the now-infamous photo of the four-month-old naked baby, Spencer Eldean. The photo caused a stir with some because Cobain refused to edit out the baby's nudity.
Spencer Elden is suing Nirvana and Kurt Cobain Estate, claiming child exploitation
Eldean is now suing the band for child sexual exploitation despite three decades of success, claiming it is child pornography. He claims not he nor his parents signed a release authorizing the use of the photographs taken. However, Time Magazine reported in 2016 that Weddle asked Eldean's parents for permission. NPR noted in 2008, the shoot lasted 15 seconds and Eldean's parents reportedly made $200.
The lawsuit was filed in the United States District Court in the Central District of California "for damages arising out of each of the Defendant's violations of federal criminal child pornography statutes," per court documents, via Pitchfork News.
Those damages amount to $150,000 in addition to the cost of the lawsuit. "The Court may also award punitive damages and grant such other preliminary and equitable relief as the Court determines to be appropriate," the documents added.
Those listed in the suit include the Kurt Cobain Estate
Also noted is that Nirvana and affiliates had direct intent to distribute the album with no actions taken to prevent "widespread sexual exploitation and image trafficking."
Elden's attorney, Robert Y. Lewis, said the money in the shot makes the baby appear "like a sex worker," Variety reported.
"The permanent harm [Elden] has proximately suffered includes but is not limited to extreme and permanent emotional distress with physical manifestations, interference with his normal development and educational progress, lifelong loss of income earning capacity, loss of past and future wages, past and future expenses for medical and psychological treatment, loss of enjoyment of life, and other losses to be described and proven at trial of this matter," the lawsuit said, in part.

Those affected by the suit include multiple record labels, the Estate of Kurt Cobain (including Courtney Love), and bandmates.
Elden recreated the 'Nevermind' cover in 2016
RELATED: Nirvana: Why Kurt Cobain Didn't Like to Play 'Smells Like Teen Spirit'
The suit itself is curious, considering Eldean's previous support of the cover. In 2016 (and in 2011), Eldean re-created the album art to celebrate the 25th anniversary. Although he is fully clothed in the re-enactment, he appeared to praise Nirvana and the album.
"The anniversary means something to me," he told The New York Post in 2016. "It's strange that I did this for five minutes when I was 4 months old, and it became this really iconic image. It's cool but weird to be part of something so important that I don't even remember."
Photographer John Chapple paid Eldean $200 for the fully-clothed shot.
Elden is a little salty about how much Nirvana's made from the album
During the same 2016 interview with Time, Elden revealed his complicated feelings about Nevermind. After numerous attempts to meet the surviving band members " with tons and tons of money" to no avail, he said he was "living in my mom's house and driving a Honda Civic."
"I got a little upset for a bit," he said. "And I was trying to reach out to these people. I never met anybody and didn't get a call or email. I just woke up already being a part of this huge project. It's pretty difficult — you feel like you're famous for nothing, but you didn't really do anything but their album."
However, he noted that he thinks the album art concept is "genius," adding, "Nirvana's cool, I guess — it's just weird being a part of it."