Nirvana Faces Lawsuit for a Famous Image Used on the Band's Albums and Merchandise for the Last 32 Years
Chances are you're either a huge fan of Nirvana, know their songs, or at the very least — know the name. Their name, music, and incredible designs are literally everywhere you look. In fact, even people who don't listen to Nirvana wear their merchandise on the regular.
This fact will actually be a problem for Nirvana in their legal battle. It seems a particularly famous design that has covered more merchandise than can be counted is being claimed as 'infringement' by someone close to the alleged original artist. They aren't the first to be hit with a copyright lawsuit, either.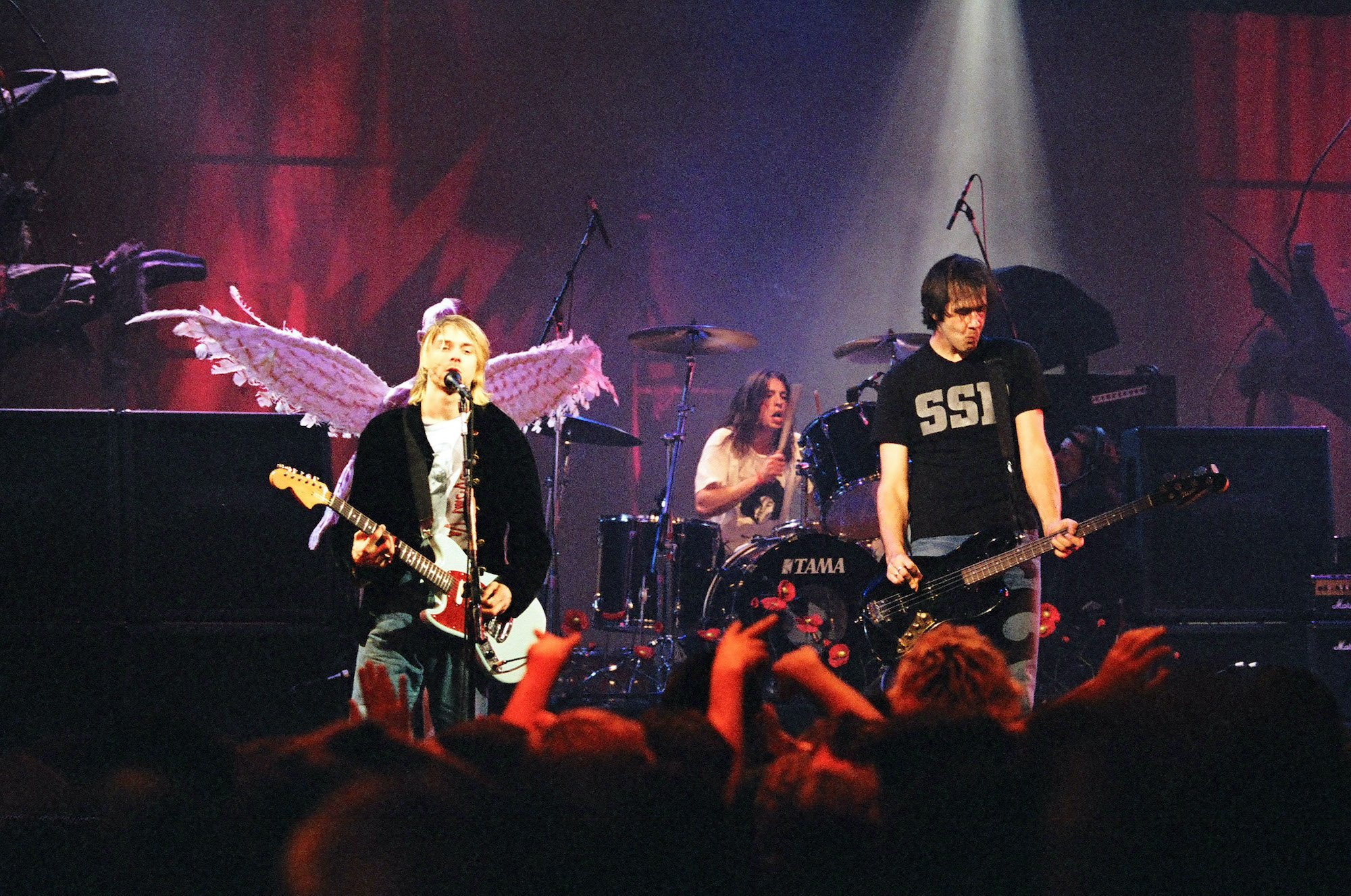 Nirvana's most famous songs, album covers, and imagery
Formed in '87, Nirvana became one of the most iconic American rock bands in the industry, maintaining that status and popularity among fans even today. Their biggest hits include "Smells Like Teen Spirit," "All Apologies," "About a Girl," and "The Man Who Sold the World."
RELATED: Kurt Cobain Died 25 Years Ago. How Old Would the Nirvana Singer Be Today?
Some of their most famous album cover designs include a naked baby in Nevermind, the Kurt Cobain painting on Insecticides, and the angel woman with her anatomy showing on the album In Utero.
As for their famous imagery, there was no shortage of that either. There's the smiley face logo that was used on Nevermind's launch promotions, the Nirvana 'Vestibule' design, and nearly everything that showcased the wonderful Kurt Cobain who died in 1994 at the young age of 27.
When and why they've received this lawsuit
On the other end of the lawsuit that recently hit Nirvana is Jocelyn Susan Bundy, a person who claims Nirvana knowingly stole a design from one of her family members and has used it on merchandise without permission for 32 years.
RELATED: Nirvana: Why Kurt Cobain Didn't Like to Play 'Smells Like Teen Spirit'
According to Rolling Stone, the granddaughter of C.W. Scott-Giles filed the lawsuit in January because Nirvana has been using a 1949 diagram her grandfather drew of Upper Hell since 1989.
"The drawing in question is a diagram of Upper Hell — the first five circles Dante ventures through in the Inferno with his guide, the Roman poet Virgil. Scott-Giles drew this piece and nine others for Dorothy L. Sayers' translation of Dante's Divine Comedy, which was first published in the United Kingdom 1949."
The 'Vestibule' design has appeared on Nirvana's merchandise for decades and even display copyright notices credited to Nirvana. The amounts sought for damages, infringement conduct, and more won't be determined until trial.
Other bands that have experienced copyright lawsuits
When it comes to a creative place like the music scene, it's not uncommon for bands and artists to get hit with copyright lawsuits. Whether done intentionally or on accident, the industry is often full of several collaborations and contributors — making it all too easy for infringements to happen and fall through the cracks for a little while.
RELATED: Nirvana Once Botched a Live Performance on Purpose for This Hilarious Reason
According to Mojo, there are at least 5 famous legal battles in music that you might've heard about already. They include Ray Parker Jr. Vs. Huey Lewis,  Eazy-E Vs. Death Row Records/Dr. Dre, David Bowie/Queen Vs. Vanilla Ice, Roger Waters Vs. Pink Floyd, Rolling Stones Vs. The Verve, and Paul McCartney Vs. Michael Jackson/Sony/ATV Music Publishing.
As you can see, Nirvana is far from the first band to experience copyright lawsuits, and likely won't be the last either. The most surprising thing about it all is that C.W. Scott-Giles granddaughter didn't sue earlier — after all, who on earth hasn't seen Nirvana's 'Vestibule' design a million times since it made its appearance in the '80s?