Nirvana: Kurt Cobain Was a Notorious Prankster
Nirvana's Kurt Cobain helped pioneer grunge music in the 1990s. His lyrics resonated with a generation of fans who felt hopeless and unheard. But Cobain never wanted to be a famous rock star and cringed when he saw someone wearing a Nirvana shirt. Outside the gloom, he had a wild sense of humor and loved pranking people. We can't imagine him doing such things, but that doesn't mean they didn't happen.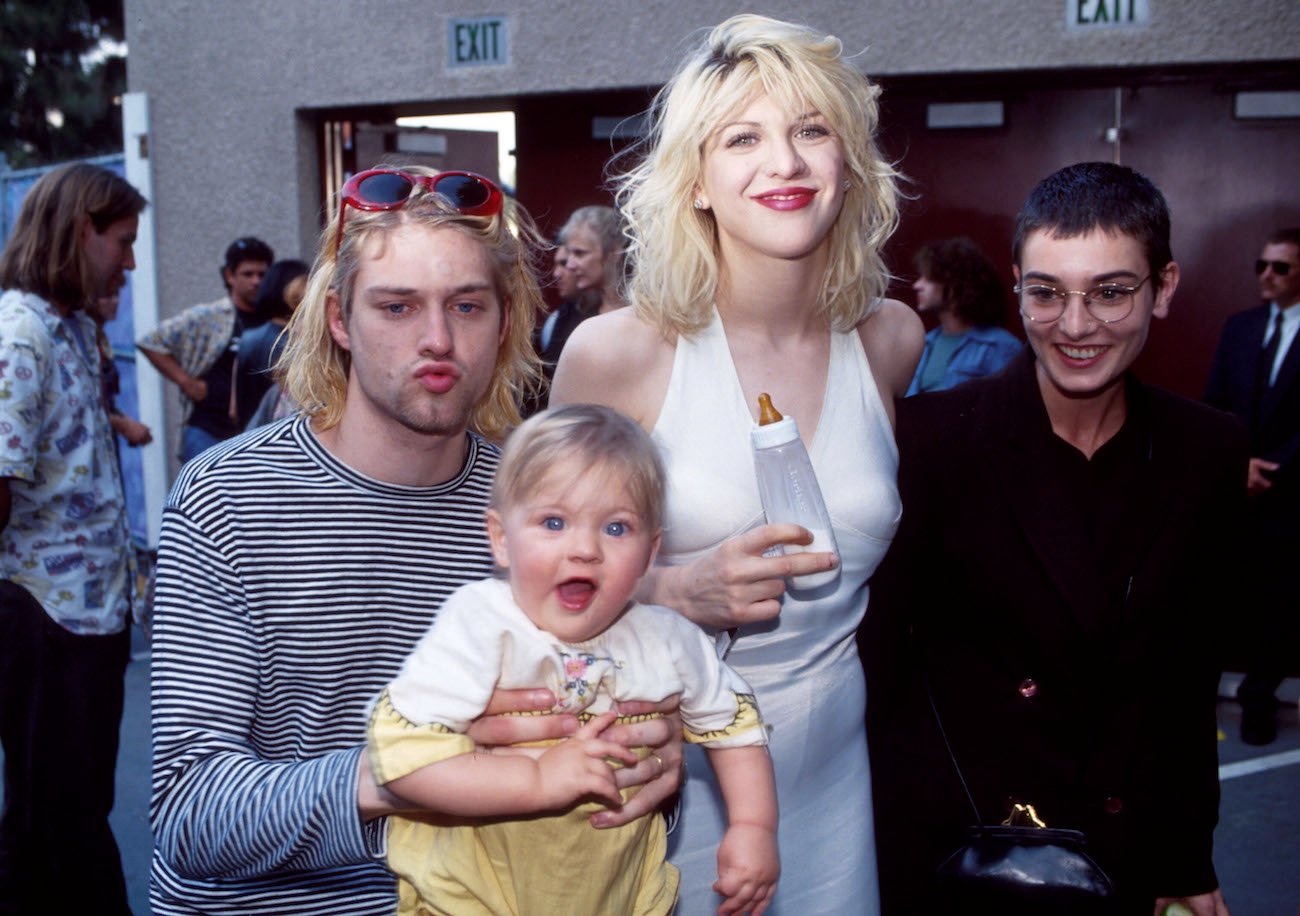 Cobain and Nirvana liked pulling pranks on people
As many bands do, Nirvana had a history of off-stage shenanigans, but as Spin magazine wrote in 1992, they didn't do crazy things to get media attention. It was just who they were. Yet everything they did seemed to get a headline, even if it was for providing roast beef sandwiches at a record signing event.
Cobain loved to mess with people. He constantly confused his record label by changing the spelling of his name; "Kurdt, Curt, and Kurt; Cobain or Kobain." The pranks were the fun bit, however.
"Real and imagined stories run rampant of tour bus curtains being lit on fire, drunken backstage debaucheries, Grohl giving out Chris Cornell's (actually Sub Pop's) phone number during an on-air interview, their road manager's being questioned in Pittsburgh because of a torched couch in the club, the band inviting hundreds of audience members onstage during a St. Louis show to escape the violent bouncers, and on and on," Spin wrote.
HuffPost writes that the pranks got bigger and bigger as the band grew more rich and famous. Krist Novoselic famously trashed multiple hotel rooms with MTV News' Kurt Loder, for instance. But one of the weirder pranks happened when the band was still young.
"Kurt liked Chicken Little's fried chicken. We went through the drive through to get the order and Kurt took electrical tape and he put an upside down cross on the window, so where they'd have to come out of the building to take the tape off," musician Aaron Burckhard recalled. "He'd do weird s— I remember he had a Sister Mary statue out in the yard and he'd whack its head off and put red paint down it. Just odd."
Kurt Cobain famously pranked Kiss' Gene Simmons
In 1994, a Kiss tribute album called Kiss My Ass: Classic Kiss Regrooved was released with contributions from well-known artists. According to Alternative Press, Gene Simmons asked Nirvana to appear on the record, but he got a prank call instead.
They didn't want to appear on the record, so they got their producer, Steve Albini, who was helping them with In Utero, to prank call Simmons.
"They didn't want to do it," Albini told the Whatever, Nevermind podcast. "But they didn't particularly want to talk to Gene Simmons so they had me call and pretend to be Kurt. That was pretty funny. Basically, I sort of bumbled through an excuse that would allow them to not do it without having to say they didn't want to be on a KISS tribute record. They were very fun-loving people. I enjoyed that session, they were fun to hang around with."
Kurt Cobain was humorous most of the time
Contrary to popular belief, Cobain's life wasn't always moody. While he loved to prank people, he also enjoyed his own sense of humor.
In a 2014 interview with Nirvana News, Burckhard said, "[Cobain] wasn't always depressed. He was never depressed, he was always pulling pranks and funny stuff. Everybody portrays him as this depressed, hating life type of person."
Burckhard continued to tell HuffPost that Cobain was fun-loving, but heroin changed that about him. "Everyone paints him as sad, but he wasn't, he was happy," he said. "He just got a hold of a whole lot of heroin and that f—ed him up. I'm a recovering addict myself, I've been clean almost five years. When you're on that s—, you don't even want to live."
Over time, Cobain has become a legend, but that doesn't mean we have to believe all the myths about him. He wasn't exactly what people painted him as; he was much more.
How to get help: In the U.S., call the National Suicide Prevention Lifeline at 1-800-273-8255. Or text HOME to 741-741 to speak with a trained crisis counselor at the free Crisis Text Line.
How to get help: In the U.S., contact the Substance Abuse and Mental Health Services Administration helpline at 1-800-662-4357.
How to get help: In the U.S. and Canada, contact the National Council on Problem Gambling helpline at 1-800-522-4700.