No, a BTS Member Is Not Enlisting in the Military This Year
Ever since BTS reached their worldwide success, western media has placed a focus on BTS's impending military enlistment. Perhaps this is because western artists do not have a mandatory military enlistment. Or maybe people wonder if enlistment will slow down BTS's success. Regardless of the reason, questions of enlistment always follow BTS.
Recently, rumors spread that a member of BTS would enlist in the military this year. Big Hit Entertainment quickly denied the rumors. As of right now, no BTS member will enlist in the military this year.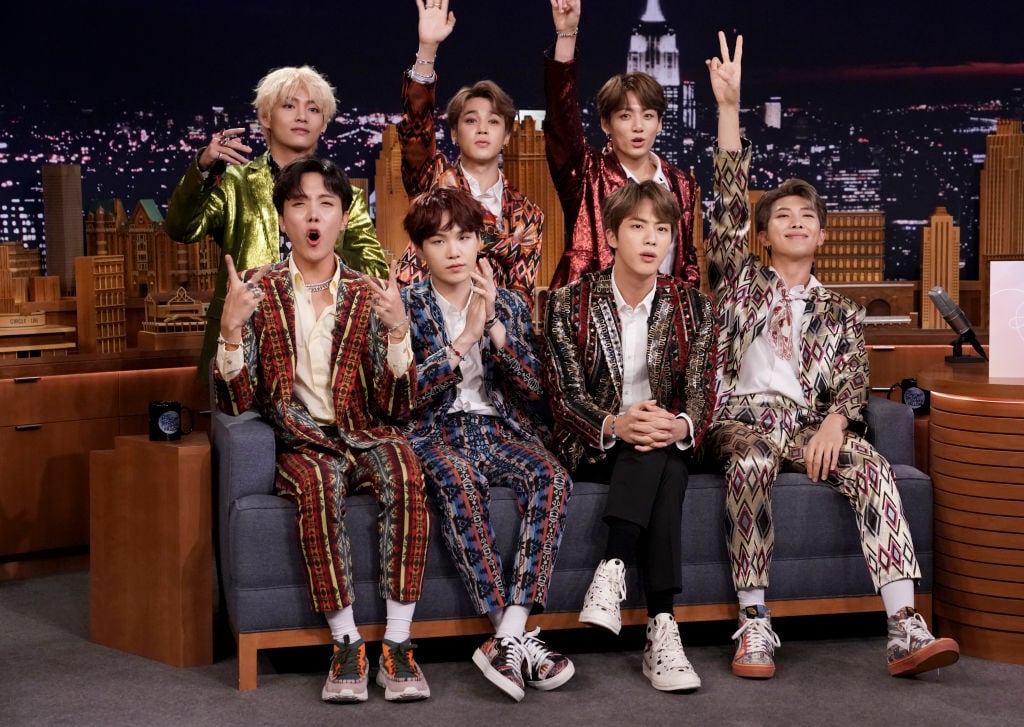 Rumors about BTS's military enlistment restarted
Rumors of BTS's military enlistment rekindled when National Assembly member and chairman for the Ministry of Culture, Sports and Tourism, Ahn Min Seok, claimed a member would enlist at the end of 2019.
"I think one of the BTS members is going into the military this year. It seems like it has been decided that they will not get any special treatment relating to military service for pop culture artists," Ahn Min Seok said in a recent meeting.
Park Yang Yoo, the Minister of Culture, Sport, and Tourism, also commented on the possibility of BTS receiving special treatment like artists and athletes. According to him, discussions about pop culture artists receiving special treatment and exceptions occurred before BTS rose to fame.
"There have been many varying opinions on if pop culture artists should be able to receive special treatment for their military service, even before BTS, so we have been discussing this for a long time. But the Military Manpower Association and the Ministry of National Defense believe that special treatment in general should be reduced wherever possible," he said.
Big Hit Entertainment denied the recent military enlistment rumors about BTS
After rumors began to spread, Big Hit Entertainment released a statement. The statement shut down the rumors that any BTS members would enlist this year.
"We aren't sure why such a story was reported, but those reports about BTS enlisting in the military this year are not true," said Big Hit Entertainment.
Whenever reporters ask BTS about military service, the members of BTS repeatedly say they will serve when called to duty.
"Nothing is set in stone, obviously, regarding military duty, but the most important thing would be [that] it's our duty to serve and when we're called we'll serve in whatever capacity we can, and until that time we just perform as hard as we can and as much as we can," Jin said in a recent interview with Rolling Stone.
BTS is living in the moment
In South Korea, all male citizens enlist in the military between the ages of 18 to 28 years old. Currently, the length of service is two years. However, under the Defense Reform 2.0 plans, South Korea could reduce the service to 18 to 22 months by 2022.
Right now, no one knows what will happen when the members of BTS enlist. K-pop groups are often strategic about the order of members enlisting. While members serve, the remaining members focus on solo projects or perform in a smaller unit to stay in the public eye.
"As a Korean, it's natural," Jin said in an interview with CBS. "And someday when duty calls, we'll be ready to respond and do our best."
RM followed up with, "We just enjoy the ride, live in the moment, and that's all we can do."
BTS fans do not appreciate the enlistment rumors
The only thing fans know for certain is that Jin is the oldest member of BTS. At 26 years old, Jin nears the age of mandatory enlistment. Because that is the only thing known for sure, the speculation surrounding the group's enlistment tires BTS fans.
"Can they leave Bts alone like why are they so much interested in their military enlistment," one fan wrote on Twitter.
"Imagine how tired we are. Literally nobody says anything about military yet politicians keep getting us, BTS and Bighit into this mess," a fan tweeted.
"its crazy cause bts have yet to say anything about wanting military exemption yet they're the face of it for kpop idols im so tired ," a fan wrote on Twitter.