'No Demo Reno': 3 Design Tricks Jennifer Todryk Uses on Her New HGTV Series
Jennifer Todryk is quickly becoming the most popular new host on HGTV with her new series, 'No Demo Reno.' Here's how she turns those "befores" into "afters."
HGTV fans are falling quickly in love with No Demo Reno, a new series that puts a unique spin on renovation reality shows.
The show offers homeowners an alternative to expensive, time-consuming layout changes and major demolition. Yet somehow host Jennifer Todryk manages to serve up that dramatic big reveal that viewers love so much.
Like with any HGTV shows, No Demo Reno relies on a few tried and true techniques to achieve the wow factor during the big reveal. Here's how Todryk makes the unveiling magical even without making major structural changes.
Jen Todryk of 'No Demo Reno' is already Instagram famous
Like so many other HGTV hosts, Todryk was discovered for her talent even though she wasn't seeking fame at the time. Producers found her thanks to her popular Instagram account, The Rambling Redhead.
The new renovation show host has more than 700,000 followers there who adore her energy and obvious talent. Todryk works out of North Dallas, transforming houses from impractical to practically perfect. She does it all by using a few clever tricks over and over.
The Rambling Redhead always does 1 cheap upgrade on 'No Demo Reno'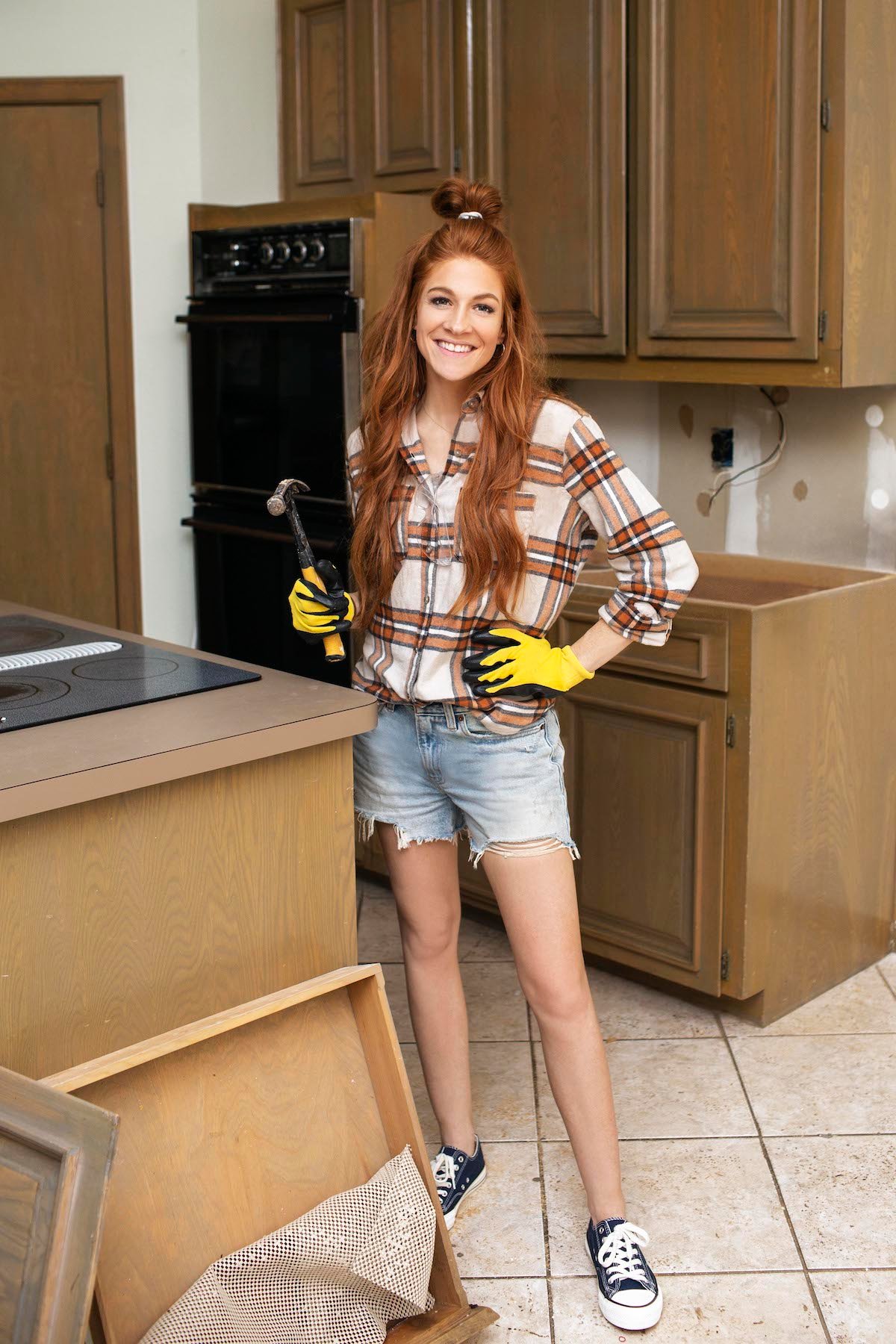 Fans are quickly devouring new episodes of No Demo Reno, and it's giving them inspiration to plan simple projects in their own homes. One thing that viewers may notice is that while Todryk doesn't swing a sledgehammer very often, she is likely to use the same techniques in every episode.
First up: the No Demo Reno host almost always changes the paint color. Most HGTV hosts from Fixer Upper's Joanna Gaines to Home Town stars Ben and Erin Napier use paint as the cheapest, easiest way to update everything from interiors to exteriors.
Any renovation reality show fans know that the simplest solution to any design problem is a gallon (or 10) of paint.
Jen Todryk makes easy updates in kitchens and baths
Besides painting, the No Demo Reno star is likely to remove two tiered countertops in the kitchen. For some reason, many Texas builders incorporated this feature into their kitchen plans, which makes entertaining awkward and breaks up the room too much. Todryk is always taking out the second tier in these countertops and creating one large serving and dining area.
The experienced Texas designer knows that kitchen and bathrooms are the most important aspects of any renovation. For that reason, she frequently rips out large corner tubs that were so popular in the late '90s and early '00s, especially when her clients say they never use them. The No Demo Reno star then replaces the unused tubs with large, modern tiled showers with glass walls. And she always incorporates a convenient built-in shower ledge for shampoo and conditioner.
The final quick upgrade Todryk makes is replacing oversized fireplace mantels. To save money on the renovation, she keeps the existing stone or brick intact. But upgrading the mantel changes the whole look of the room — especially with a paint color swap.
Thanks to her skill and charisma, Todryk is quickly becoming a darling of the HGTV lineup. And it's all thanks to some quick, demo-free renovation ideas anyone can copy.
Catch new episodes of No Demo Reno on Thursdays at 8 p.m. on HGTV and streaming on discovery+.