No Watching TV and Other Wild Parenting Rules Kylie Jenner Has for Stormi
The Kardashians don't approach life the same way the rest of us do and that extends to their parenting styles, too. None of the Kar-Jenners had a traditional upbringing and they are passing on some strange traditions to their kids as well.
Some of the most egregious examples of unique parenting come from how often Kylie Jenner and her sisters shower their young kids with expensive presents. Recently, Jenner caught flak from fans who couldn't understand why she'd buy her 22-month-old toddler a real diamond ring for Christmas.
But even though Stormi has diamonds under the tree, it doesn't mean she gets away with everything. Jenner has laid down some unique rules at home that some fans might find surprising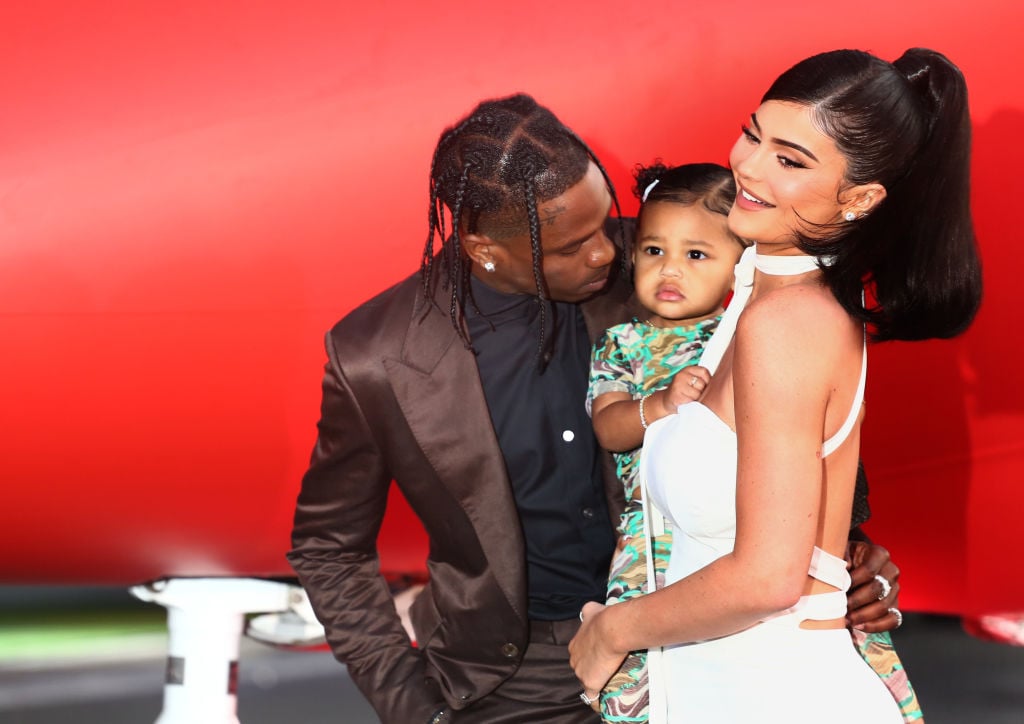 Stormi isn't permitted to watch the TV
The Kardashians arguably became famous because of their television presence and the massive success of their hit reality show, Keeping Up With the Kardashians. But even though television is part of the family history, Kylie doesn't think her little girl should be entertained by it.
"Today kids are on iPads. There's so much technology, they don't play outside anymore. With Stormi – no TV. That TV [stuff] is out," Travis Scott, Stormi's dad said during a Rolling Stone interview in 2018.
No one knows for sure if Scott and Jenner have stuck to that promise. But since they're committed to peaceful co-parenting even after their split, it's unlikely they'd violate each other's wishes while the other isn't around.
Kylie Jenner controls images of her daughter
According to Baby Gaga, visitors to Jenner's home must hand over their phones at the door. It's all because snapping secret photos of Stormi is always a threat that's on Jenner's mind. And thanks to prior betrayals in the beauty mogul's life, Jenner learned the hard way that you cannot trust anyone.
As for appearing on KUWTK, Jenner stated she isn't comfortable making that call for Stormi. "I am going to wait until she is old enough to make that decision for herself," Jenner told E Online.
Stormi gets to travel with her parents
Jenner employs a nanny who can stay home with the toddler while mama travels the world. But instead, the 22-year-old billionaire entrepreneur opts to bring Stormi along on private jets. Obviously.
"Even with me on tour, Stormi pulls up. She'll travel," Scott said during the Rolling Stone interview. "She got more stamps on her passport than a lot of [people]."
She can't be around germs
Rumor has it Stormi's visitors had to wear surgical masks when they came to visit her right after she was born. It's all thanks to Jenner's obsession with cleanliness and not allowing her precious daughter to come in contact with germs.
We have to imagine these rules have loosened up over time — the KUWTK star even took Stormi to the park and posted on Instagram about it. No even Jenner can't make a park germ-free and no one can keep their kid in a bubble forever.
Still, we wouldn't want to see Jenner's wrath if a friend knowingly came over to visit Stormi while they were sick.
Stormi lives life to excess
From private jets to diamond rings, exotic vacations, and mini Lamborghinis with personalized plates, Stormi only gets the best of everything. We can only assume that will become more extravagant the older she gets, too. With a successful rap artist for a dad and a billionaire beauty mogul for a mom, there's zero chance of Stormi lacking for any material possessions in life.
This approach to parenting is not uncommon in the celebrity world. Will Stormi grow up as a spoiled brat or will she truly appreciate the many luxuries she has? We'll just have to wait and see!