Noah Cyrus Turns 20: Sister Miley Cyrus Celebrates Her Music (Including 1 'Controversial' Choice)
Singer-songwriter Miley Cyrus comes from a very musical family. In fact, her younger sister, Noah Cyrus, has been carving out her own career over the past few years. On the latter's birthday, the former is celebrating by highlighting some of her biggest hits. Here's why she's calling one of her selections a bit "controversial."
Miley Cyrus and Noah Cyrus are sisters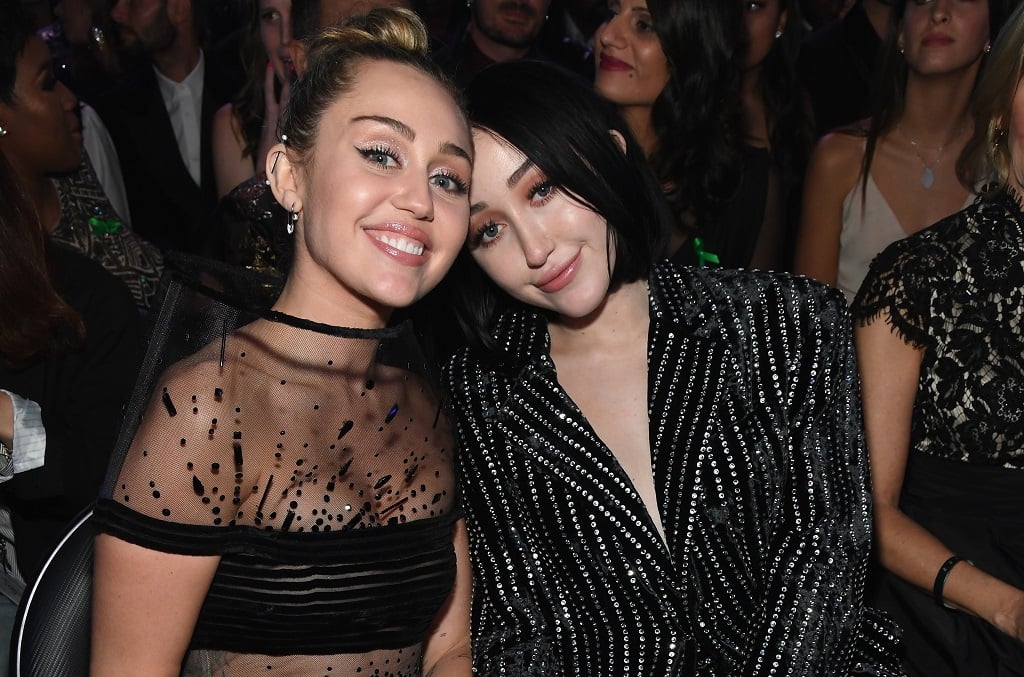 You've undoubtedly heard of Miley Cyrus. The musician/actress got her start on the Disney Channel in the sitcom Hannah Montana, playing the titular character opposite her real-life father, Billy Ray Cyrus. She's since gone on to appear in films like The Last Song and put out several albums.
However, you may be less familiar with her younger sister, Noah Cyrus. Noah has done a little acting, appearing in Hannah Montana a few times, but is primarily a singer-songwriter. She began putting out music at the age of 16 and has released an EP, several singles featuring well-known artists, and even opened for Katy Perry in 2017.
The whole Cyrus family is very close
Clearly, this is a talented family. And, if you can believe it, there are even a few more notable members. Noah and Miley have a brother, Braison, as well as two half-siblings, Brandi and Trace, from a previous relationship of their mother, Tish's. However, Billy Ray Cyrus adopted the two eldest when they were young, so all grew up together (and with the Cyrus family name).
Brandi is a DJ and has a podcast with Sarah Hyland's fiance (and former Bachelorette contestant), Wells Adams. Trace is a member of the band Metro Station, though they have not put out new music in quite some time. Braison, who got married in late 2019, has also been pursuing a music career.
Noah Cyrus celebrated her 20th birthday
Noah Cyrus is Billy Ray and Tish Cyrus' youngest child. She celebrated a milestone birthday, turning 20 on Jan. 8, 2020. Naturally, her father, who often shares throwbacks of his kids, posted a sweet photo on Instagram, in which he's holding his daughter as a toddler. He wrote simply, "Happy Birthday Noah Cyrus!!! Love you so much and so proud of you!"
Miley Cyrus mentioned Noah Cyrus' relationship with Lil Xan
Noah's big sister, Miley, also celebrated her big day. The "Slide Away" singer took to her Instagram Story to show her off her new mullet, as well as showcase an array of little sister's music, writing, "only playing the queen on her birthday."
Miley went back in time through a number of Noah's singles, including her 2018 collaboration "Team," her debut single, "Make Me (Cry)," and several others. But she piqued the most interest when she shared the artwork from "Love or Die," Noah's 2018 song with Lil Xan, her then-boyfriend. Over it, Cyrus wrote, "Controversial to still love this song? Might delete later."
What are the Cyrus sisters working on in 2020?
Both Miley and Noah are going to be very busy in 2020. The elder Cyrus is headed to a couple of music festivals: BottleRock in Napa Valley and Bonnaroo in Tennessee. And with her vocal cords on the mend, we're crossing our fingers for her anticipated seventh album She Is Miley Cyrus.
Meanwhile, Noah has quite a bit going on herself. She just announced her Not So Tour, Tour, in which she'll travel to London, New York City, and Los Angeles in February and March.