North West Got Called Out for Copying Viral Rap Performance — Kim Kardashian West Responds
Kanye West kicked off Paris Fashion Week with a presentation of his Yeezy Season 8 collection, but it was his eldest daughter, North West, who stole the show.
North appeared onstage at the March 2 event and showed off her apparent rap skills in a brief performance, prompting thousands of reactions online. But not all of them were positive.
Some fans felt that she was copying popular kid star ZaZa and quickly called out North and her parents for "stealing" the material. Amid mounting backlash, Kim Kardashian West finally spoke out and tried her best to clear things up. Here's what happened.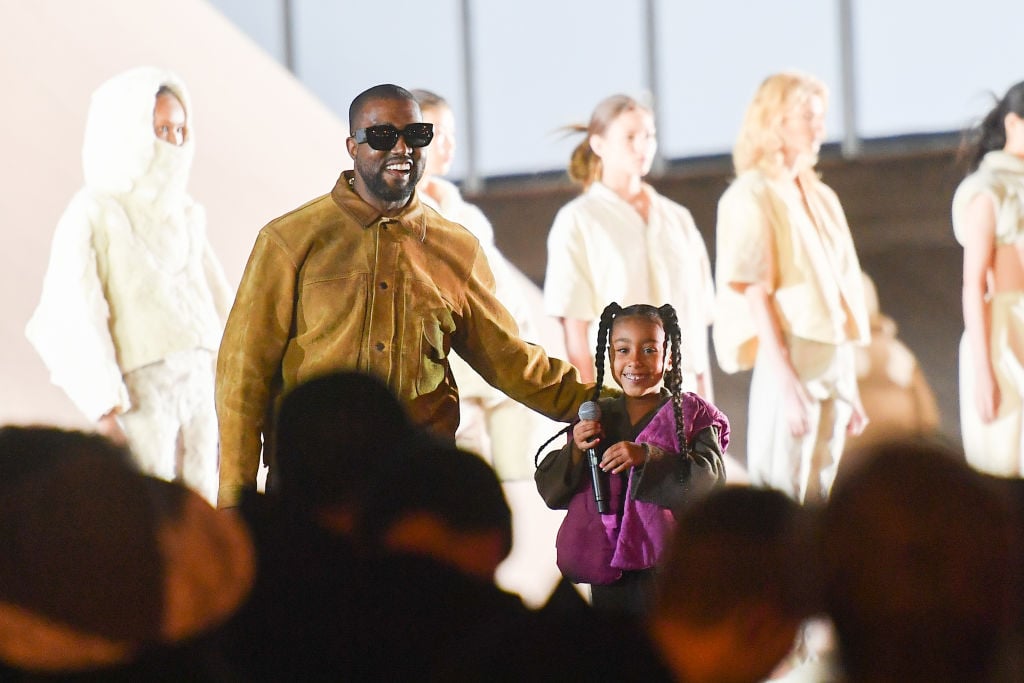 Watch North West's rap performance
In videos circulating social media, North, 6, can be seen taking the stage and rapping as models walk the runway. Her dad, Kanye West, proudly watches and supports her from the sidelines.
It can be hard to hear exactly what North is saying at points, but she raps over a trap beat before ending the set with a loud scream. Kanye then welcomes North into his arms and escorts her off the stage.
Many fans rushed to social media and gushed over North, calling her adorable and creative, among other things. But some people claimed that her song wasn't so original. The track, they say, is actually ZaZa's hit single "What I Do?" ZaZa, 5, released the song back in 2019.
Fans urged North's parents to give the rapper her credit, with one person tweeting: "Please show the original creator of this song Zaza!"
Another shared a tweet that said: "The fact that they took a beat/song from someone and didn't credit them is wack. CREDIT ZaZa!"
"Kim would have sued with a quickness if it was the other way around," someone else tweeted.
ZaZa's mom reacts to the performance
As the backlash swirled, ZaZa's mother opened up about the drama on Instagram, where she reflected on the song.
She went on to admit that she was not mad at Kim or Kanye — but called on them to "show love and support" to their daughter.
"in July of 2019, ZaZa & her dad went into the studio for the ultimate experience! To finally begin making the music she wanted to make. We take PRIDE in creativity, and believe whether a child's involved or an adult… creativity deserves RESPECT/homage!" the post read.
"What @kimkardashian (Kanye west) are doing with their daughter… with the inspiration of ZaZa & our family in mind is okay… we not mad BUT PLS SHOW LOVE AND SUPPORT TO THE ORIGINAL FIRST!!!" the message continued. "We admire Kanye west, and adore his journey. However, we don't wanna feel like our daughter's journey in the world of entertainment is being STIFLED. THANK YOU! 💕"
Kim Kardashian West speaks out
Kim reacted to the message in the comment section. In remarks captured by the entertainment blog The Shade Room, she wrote that North is a huge fan and that she "didn't mean to not give credit where credit was due."
"Would love for the girls to meet soon," she continued, adding a heart emoji.
It's unclear whether ZaZa's mother responded to the comment. But we hope they do get to hang out. Imagine what that performance would look like.
Read more: The Real Reason Kylie Jenner's Show 'Life of Kylie' Ended