North West's Behavior During the Coronavirus Quarantine Has Fans Feeling So Bad for Kim: 'I Bet Kim Can't Wait Until the Nannies Come Back'
North West's behavior during the coronavirus quarantine seems pretty wild, TBH.
It seems like no one is having a better time during this coronavirus quarantine than North West. She gets to spend plenty of time at home and has done all sorts of things while in lockdown — from making slime with her siblings to building forts out of household items. But while she appears to be having the time of her life, her mom, Kim Kardashian West, seems 100% over it.
In recent weeks, the KKW Beauty star has vented about not being able to escape her kids and repeatedly freaked out over certain behaviors, which has the Internet feeling really bad for her.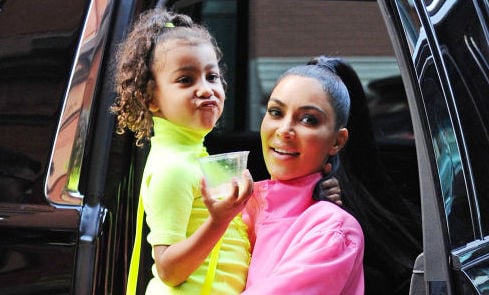 North West has made headlines due to her behavior a few times in recent weeks
West, 6, first made headlines earlier in April when she reportedly ran out to the pool by herself while Kim was inside on a video chat. According to The Blast, the reality star had been talking to Georgetown University students about matters related to prison reform when she noticed that North had wandered off and was heading towards the water.
Visibly stirred, she interrupted the conference and said: "My daughter just ran outside near the pool and I have to grab her … one second." As The Blast notes, Kim "turned and ran outside so quickly that her ponytail whipped behind her."
About a week later, Kim noted in a makeup tutorial that things had become so overwhelming that she was hiding from her kids. She told the camera: "I'm hiding in the guest room, you guys. I'm hiding in the guest room because my kids will not leave me alone." Overhearing the remarks, West shouted from the background: "Hey, that's mean!"
After West continued to chime in, Kim begged her for just a moment of privacy. "North, can I please just do my little tutorial? It's all I want to do—is one little fun thing for myself," she said. But it appears that North never went away.
Four days later, West was in the news again after crashing her mom's social distancing PSA. In a video shared on social media on April 13, Kim urged fellow Californians to stay inside to help curb the spread of the coronavirus but faced nonstop interruptions from her daughter.
At one point, West starting jumping on a nearby bed and popped up behind her mom while she was recording. Going on about the need to stay home, Kim said with an annoyed look on her face: "Trust me, I want to get out — more than you know."
Fans react to the videos of North West and Kim Kardashian West
After seeing the videos, fans are feeling so bad for the beauty mogul and how overwhelmed she seems to be.
"BABY NORTH WEST IS WEARING KIM KARDASHIAN OUT!" read one tweet, while another Twitter user said: "North is never taking her foot off Kim's neck."
"I know she miss them damn nannies chile," another said of Kim in an Instagram comment.
A fourth fan mused: "I feel her pain, everybody getting on my nerves during this quarantine. Hell, even I been getting on my own nerves."
Other fans are just amused by it, with one person tweeting: "[The best] part of the quarantine is @KimKardashian and North's random moments!"
Kim Kardashian West has seemed to love this time in quarantine just as much
Even though things can get wild and hectic at times, there's no doubt that Kim has overall loved being at home and having even more time with her children.
She recently posed for photos with her kids for Vogue magazine and talked about all the things they have done during the quarantine. She noted that they have spent a lot of time in their home theater and have even had a couple of slumber parties together.
An insider told People the same say that Kanye West had been a huge help during the lockdown. He even took their kids to Wyoming at a point to give the reality star a "break."
"They have been taking turns caring for the kids," the source shared.
All things considered, we're sure Kim appreciates the help.