Novi Hopes To Spark Positivity With Her New Single 'Electricity'
There is a good chance you have probably already heard one of Novi's songs. The synth-pop singer's songs have appeared in multiple TV shows including Netflix's Jessica Jones and The CW's Roswell, New Mexico.
Carolyne Neuman, who is professionally known as Novi, has garnered over 1.7 million streams on Spotify. She released her newest single "Electricity" on Nov. 20, and Showbiz Cheat Sheet recently caught up with the singer-songwriter over email to discuss the song.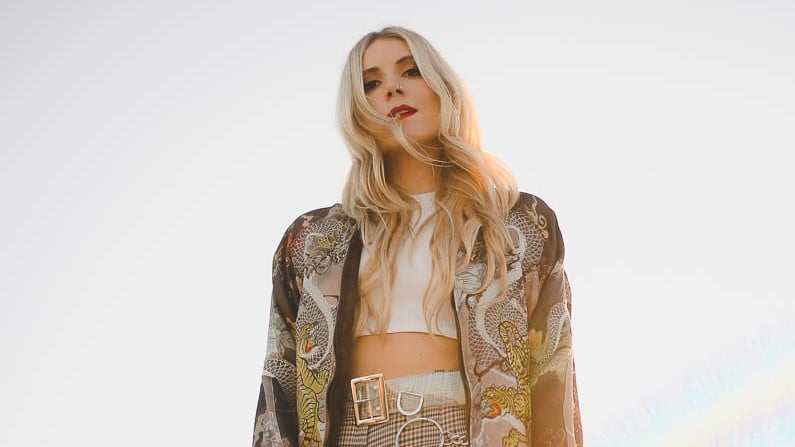 Getting to know Novi
Showbiz Cheat Sheet: Is there anything in particular that made you interested in pursuing a career in music?
Novi: Funny enough, It wasn't something I really sought to do originally but the small wins kept adding up, enough to keep me going. I love the process of creating songs, using my imagination in lots of new ways, giving a song a mood, and a personality is just so fun to me.
Showbiz Cheat Sheet: What is the biggest challenge you have faced throughout your career?
Novi: I face this challenge every day, and that is "How the heck can I take it to the next level." There will be dry spells, that I have to then create myself out of. It's a constant decision to keep forging on in this biz. I still have major doubt that sets in, but I choose to ignore it and keep going. haha.
Showbiz Cheat Sheet: What is your favorite part about being a singer-songwriter?
Novi: The process!! I just love singing! I love mixing the organicness of a written song with electronics and technology… there's just nothing like it.
Novi's process as a singer-songwriter
Showbiz Cheat Sheet: Your songs have been featured in TV shows like Fakin' It, Charmed, Roswell, New Mexico, The Punisher, and Jessica Jones. What is it like hearing your song play on TV in that way?
Novi: It's so rewarding, I am so grateful whenever that happens! It's really such a motivating force for me to continue creating and making music.
Showbiz Cheat Sheet: How would you describe your sound?
Novi: It changes a lot, because I change a lot. :) recently I'm feeling a sort of dream pop, meets synth-wave vibe. Can you believe these new genres???
Showbiz Cheat Sheet: When you sit down to write a song what is your process like?
RELATED: Exclusive: Aria Wunderland on Her New Single 'I.J.W.Y.L.'
Novi: I typically write to tracks, so I'll find one I connect with in that moment and start improvising ideas and melodies over it. Once I lock in a melody I like, I puzzle piece in lyrics that fit the melody I'm digging and go from there. After I have it all laid out and written, I play with stacking cool harmonies and effects to create more mood and vibe. Then I'll normally cut final vocals with the producer of the track. Or cut my own and send them over to the producer to mix.
Novi on 'Electricity'
Showbiz Cheat Sheet: What served as the inspiration for "Electricity"?
Novi: I really just wanted to release a song that was fun and uplifting. The world is so crazy right now… So that was truly motivation.
Showbiz Cheat Sheet: Do you have a favorite lyric from the song?
Novi: "Your like Electricity that surging through my veins, all the complexities something I can't explain, you set my should on fire. Now I feel so alive with you"
Showbiz Cheat Sheet: What do you hope fans take away from "Electricity"?
Novi: I hope fans will dig the groove of that beat, and feel a little happier having listened to it.
Her future plans and goals
Showbiz Cheat Sheet: Are there any upcoming releases that fans can look forward to?
Novi: Yes, in January I'll be releasing a full EP. :))
Showbiz Cheat Sheet: Do you have any goals not related to music?
Novi: I do! I love studying, and growing in my spirituality. I intend to keep reaching new levels of awareness and just keeping learning as much as possible about life. I also want to build a house this next year, oh and become a really good tennis player… hehe!