'The Office' and 'Parks and Recreation': These Actors Appeared In Both Shows
Two workplace comedies, The Office and Parks and Recreation, are compared frequently. And with good reason. However, you may notice that few actors overlapped. Here's a look at those who appeared in both NBC sitcoms.
'The Office' and 'Parks and Recreation' have a lot in common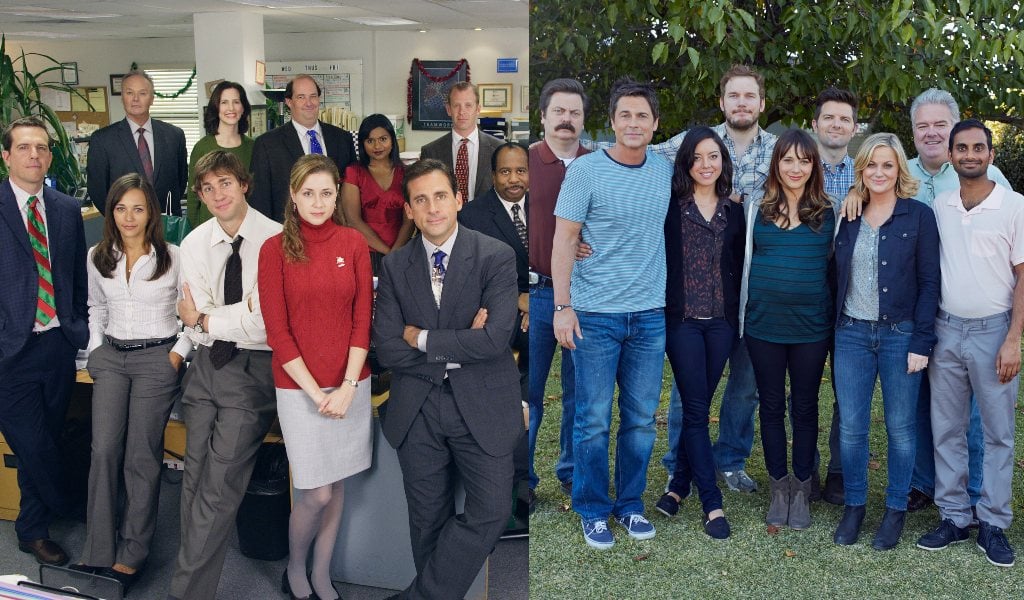 It's understandable that if you like one of these shows, you like the other. Greg Daniels, who developed The Office from the original U.K. series, went on to create what was supposed to be a spinoff with writer Mike Schur. They eventually decided the two were separate, but both were filmed in a documentary style and centered around an office in a small town.
Though Schur has gone on to include many actors from the two shows in subsequent programs (like Brooklyn Nine-Nine and The Good Place), there is very little overlap between those who appeared on this The Office and those who starred in Parks and Rec. But there are some exceptions to the rule below.
Rashida Jones
The most popular and obvious example here would be Rashida Jones. Jones first appeared in Season 3 of The Office as Karen Filippelli, an employee at the Stamford office who Jim meets (and later dates) when he transfers there. Jones appeared in a total of 26 episodes of the series from 2006-2011.
When she left The Office, Jones quickly became employed once again on Parks and Rec. She portrayed Ann Perkins, a nurse who befriends government employee Leslie Knope in the pilot. Jones was a main cast member until Season 6 but came back for the series finale.
Will Arnett
One good way to get on a TV series? Date (or be married to) the star. Then again, actor Will Arnett is very famous, so maybe it's more accurate to say that that's how you get a big name on your show. Whatever the case, he first appeared on Parks and Rec as Chris, an MRI technician who Leslie (Amy Poehler, Arnett's then-wife) goes on a very bad blind date with in Season 2 Episode 13 "The Set Up."
Arnett then later appear in The Office Season 7 two-part finale, "Search Committee." He plays Fred Henry, who interviews for the position of manager at Dunder Mifflin after Michael leaves. Fred is very sure of himself, saying that he has plans, but won't reveal them.
Rob Huebel
Actor Rob Huebel first appeared in The Office in 2009. He portrayed A.J., the boyfriend of Holly, who Michael has an on-again, off-again relationship with. Michael meets A.J. in the Season 5 episode "Lecture Circuit" We see him again in the Season 5 finale, "Company Picnic," and once more in Season 7's "Classy Christmas."
Huebel also appeared in the Season 6 episode of Parks and Rec titled "Galentine's Day." He plays Harvey Spielyorm, who owns multiple tent rental businesses and tries to jerk Ben and Tom around. But they get the last word in the end.
Eugene Cordero
Clearly, comedic actor Eugene Cordero is one of Schur's favorite actors to have in a guest role, because not only has he been in both The Office and Parks and Rec, but also Brooklyn Nine-Nine and The Good Place (he plays Jason Mendoza's best friend, Pillboi, in a recurring role on the latter.
Cordero portrays the gas station attendant who Michael talks to in The Office Season 7 Episode 15 "The Search." In Parks and Rec, he is the minister who officiates Jerry's funeral in the series finale "One Last Ride."