The Official 'Halo' Cookbook Is Coming Soon, Featuring Everything from Churros to Stacked Burgers
343 Industries has announced 'The Official Halo Cookbook,' arriving in August. The book will feature more than 70 recipes for burgers, churros, and more.
Even Spartan super-soldiers have to eat sometimes. Halo fans can now whip up Master Chief-worthy dishes thanks to The Official Halo Cookbook from Insight Editions, arriving this summer. The book announcement has come just a few weeks after 343 Industries and Paramount+ kicked off the Halo TV series, which offers a unique look at Master Chief's battle against the alien Covenant. Here's more on the cookbook and what to expect.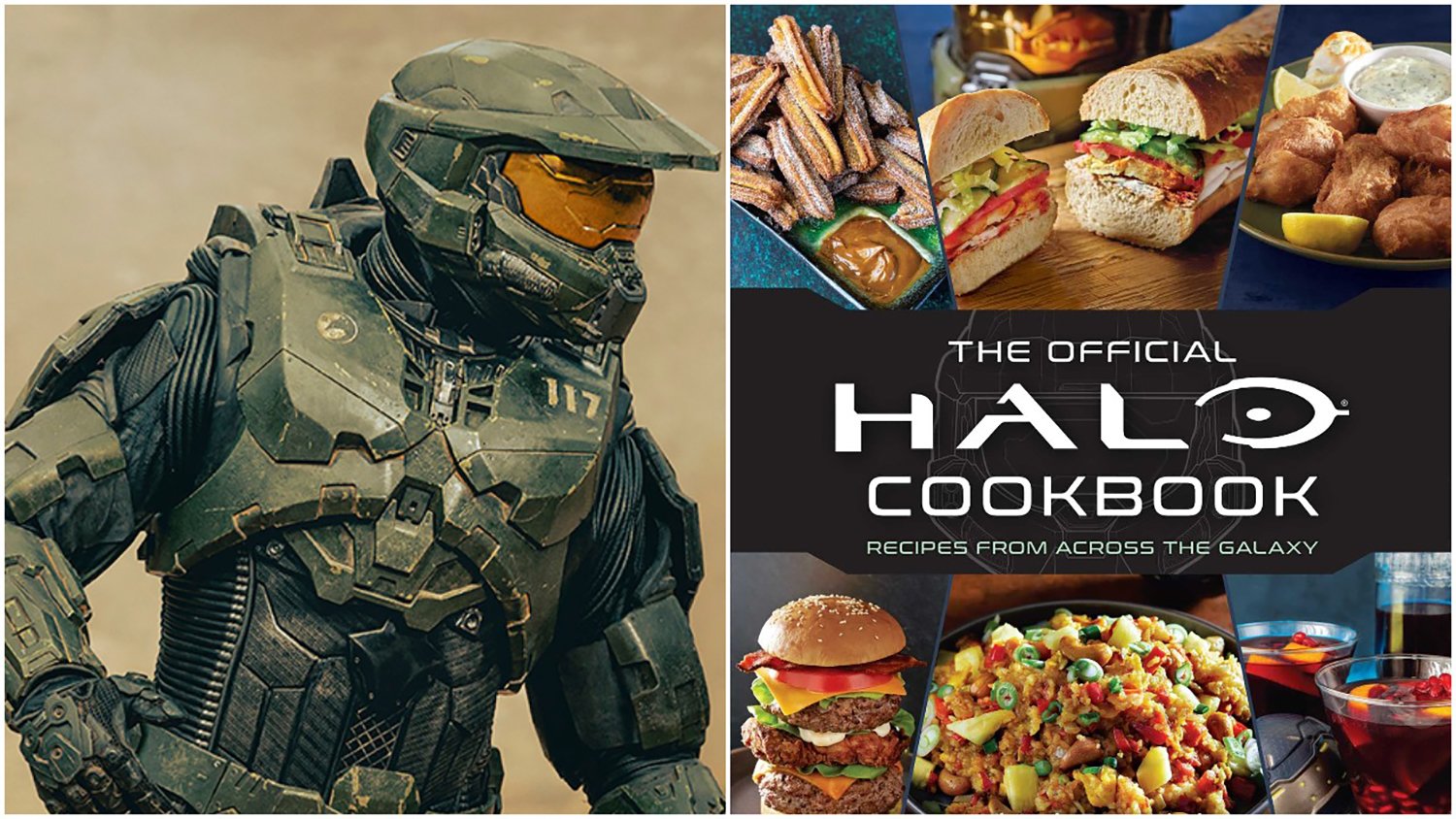 Paramount+ launched the 'Halo' TV series in March
The new Halo TV series follows the super-soldier Master Chief (Pablo Schreiber) and his mission to defeat the Covenant in a 26th-century war. However, when Master Chief finds a strange artifact, he questions everything he knows about his humanity. He also finds an unexpected ally in a young rebel named Kwan Ha (Yerin Ha).
Despite mixed reviews from critics and audience members, Halo had quite a successful start on Paramount+. As Deadline reported, the Steven Spielberg-produced project set a record for the streaming service's most-watched premiere in a 24-hour period.
"Bringing Halo to life as a streaming series has been one of the most rewarding efforts for Paramount+ to date and we could not be more thrilled at the massive fan response to the series' debut," said Paramount+'s Chief Programming Officer, Tanya Giles. "Along with our phenomenal partners at Showtime, 343 Industries, and Amblin Television, we cannot wait for fans to experience more of this incredible universe."
The 'Halo' official cookbook features recipes from the show and the 'Halo' universe
The Halo franchise has now expanded even further with the new official cookbook. Game developer 343 Industries announced the book on Twitter on April 5 (seen above).
"Time to upgrade your armory right alongside your pantry," the tweet read.
According to the Amazon listing, author Victoria Rosenthal penned The Official Halo Cookbook. Interestingly, Rosenthal has plenty of experience with gaming cookbooks. Some of the author's other works include cookbooks for Fallout, Final Fantasy, and Street Fighter.
The description boasts over 70 recipes "from portable snacks you can take with you in the Warthog to decadent spreads to feed the entire squadron." The recipes are designed for any cooking level.
Unfortunately, there are no teasers for any recipes, but the front cover gives an idea. It includes delicious-looking photos of churros, towering burgers, some kind of red drink, and more. And for those who have watched Halo Episode 2, it seems the churros are an ode to the churro stand at The Rubble.
The Official Halo Cookbook is available to pre-order now. It will launch on Aug. 16, 2022. Here's more from the description:
"They say an army marches on its stomach, and the UNSC is no exception! Learn to make awesome appetizers, sumptuous snacks, decadent desserts, and main dishes to fuel even the hungriest of Spartans on the longest of missions. With step-by-step instructions and beautiful photography, this book gives you everything you need to go from Master Chief to Master Chef."
Eager fans can start cooking early with Steve Downes' Master Chief Chili
Those who want to jump into the kitchen as soon as possible can start with the official Master Chief Chili recipe. Steve Downes, Master Chief's voice actor in the Halo games, shared it back in February. However, it's not clear if it will be included in the Halo cookbook. In addition to the recipe listed above, Downes also shared a YouTube video detailing some of his chef secrets.
Halo fans can enjoy their Master Chief Chili while catching up on the Halo TV series. New episodes drop on Thursdays on Paramount+.