Who's Older Britney Spears or Christina Aguilera?
Britney Spears and Christina Aguilera are two of the biggest pop stars in the world. Since the women burst onto the music scene around the same time and had so much success many fans have always compared them, and wondered how they feel about each other. Aguilera made her feelings known in June 2021 when she tweeted her "love and support" to her fellow pop idol amid Spears' conservatorship battle with her father.
Other questions fans have had about the ladies over the years are who's older, who came out first, and who has a higher net worth. Here are the answers to each of those questions.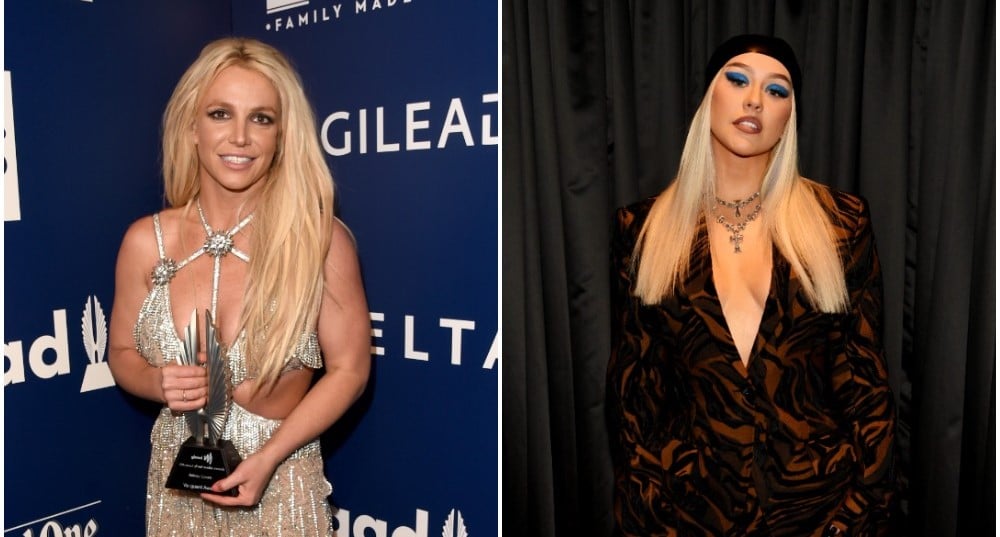 Who released their debut album first?
Most people remember Spears and Aguilera hitting the airwaves in the late '90s, but they were actually introduced to the public much earlier when they were cast on the Disney channel's The Mickey Mouse Club in the early 90s. The series was a variety show that featured a cast, known as Mousketeers, singing popular tunes in front of a live studio audience.
Spears and Aguilera joined The Mickey Mouse Club in 1993. Their fellow castmates included Ryan Gosling, Justin Timberlake, and JT's future bandmate JC Chasez. Aguilera also appeared on TV sets as a youngster when she competed in Star Search.
Following their time on The Mickey Mouse Club, Spears and Aguilera signed deals with record companies and each released their debut albums to global success. Spears' first single was "…Baby One More Time," which was released by Jive Records on Sept. 28, 1998. Aguilera's first track off her debut album was "Genie in a Bottle." It was released after Spears' hit on June 1, 1999. Prior to her self-titled album, Aguilera did enjoy success in 1998 when she recorded the song "Reflection" for Disney's Mulan soundtrack.
Britney Spears' age
RELATED: Inside Eminem's Feud With Britney Spears
Spears was born on Dec. 2, 1981, to parents James "Jamie" Spears and Lynne Bridges in McComb, Mississippi. Her family later relocated to Kentwood, Louisiana where she grew up.
In 2004, Spears married her childhood friend Jason Allen Alexander while the two were in Las Vegas together. Their marriage was annulled 55 hours later. A few months after that she met dancer Kevin Federline and they tied the knot. The couple had two children together and divorced in 2007.
Some publications have reported that the Princess of Pop's net worth is between $70 and $100 million. But as Celebrity Net Worth noted, other outlets may report a lower number of around $60 million which is just the value of the assets under the conservatorship with her dad. 
Christina Aguilera's age
Xtina is a year older than the "Oops… I Did It Again" artist.
Aguilera was born in the borough of Staten Island in New York City on Dec.18, 1980, to parents Shelly Loraine Kearns (née Fidler) and Fausto Xavier Aguilera. The singer's father is from Ecuador and her mother is of German, Irish, Welsh, and Dutch ancestry.
Aguilera married marketing executive Jordan Bratman in 2005 at an estate in Napa County, California. Three years later, the pair welcomed a son together, however, she and Bratman ended their marriage in 2011. She later became engaged to Matthew Rutler who she met while filming the movie Burlesque. They have one daughter together.
When it comes to Aguilera's net worth, the "What a Girl Wants" songbird has amassed a fortune of around $160 million, according to Celebrity Net Worth.