Who Is Olivia Rodrigo's Best Friend, Iris Apatow?
Singer-songwriter Olivia Rodrigo is one of the biggest names in music right now. But the friendships she maintains come from before her 2021 breakout success. Who is Rodrigo's best friend, Iris Apatow? And is she also famous like the multi-hyphenate celebrity?
Olivia Rodrigo hangs out with other celebrities
As her debut album, Sour, came out during the coronavirus (COVID-19) pandemic, Rodrigo isn't frequently photographed with big stars. She met one of her songwriter idols, Taylor Swift, at the BRIT Awards in February 2021, as well as other celebrities in attendance.
However, Rodrigo's been rubbing shoulders with entertainment industry players for some time now. In fact, her first single, "Drivers License," sparked rumors regarding her relationship with her High School Musical: The Musical: The Series co-star Joshua Bassett and his rumored girlfriend, Sabrina Carpenter, known for another Disney show: Girl Meets World.
Rodrigo got advice from a past Disney Channel star, Selena Gomez, who she called "so kind." "She talked to me a lot about prioritizing mental health, which I think is really important in this industry. All of us were in the limelight very young," Rodrigo told Variety.
Her best friend is actor Iris Apatow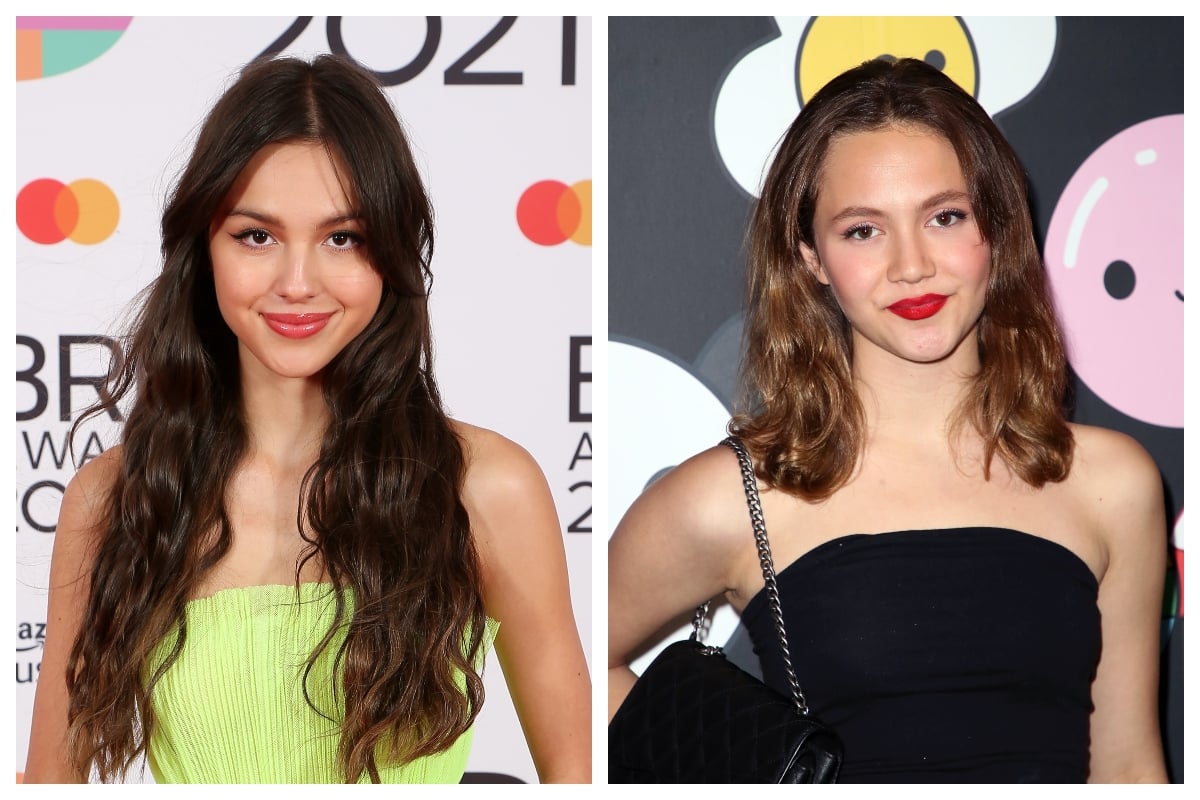 Rodrigo cites Apatow as her best friend. She told Vice they're like Sex and the City characters Carrie and Samantha, adding, "We are dramatic, fiercely loyal, and we both love going to brunch." Rodrigo told GQ they're "obsessed with early-2000s culture," like The Simple Life.
Speaking of the aughts, that's when Apatow began her career as a child actor. She appeared in Knocked Up as Charlotte, the youngest child of Leslie Mann and Paul Rudd's characters (a role she reprised in its sequel, This Is 40). How did she get the part? She's Mann's daughter in real life, and calls the film's director Judd Apatow "Dad." Some may also recognize her from Love, a Netflix series her father produced.
Despite her upbringing, Apatow attended high school. After her graduation in 2021, she lent her BFF, Rodrigo, her cap and gown for a photo that made Instagram. "I was homeschooled, and we don't have a graduation, so I just stole hers and took a picture in it," Rodrigo said in her GQ Actually Me interview.
Rodrigo's other best friend is also an actor
Apatow attended Rodrigo's Sour Prom event, as did another of the pop star's best friends. She told Elle her Bizaardvark co-star Madison Hu, who she met when the series began in 2016, is "literally [her] soul mate," noting that they connected on set and have remained close ever since.
Their social media interactions prove this. "happy birthday bestie," Rodrigo captioned a June 2021 Instagram of Hu holding a cake. "don't know what I would do without u. love u more than anything! And Apatow is a part of their trio, as evidenced by a set of photos Rodrigo shared just before that.