Olivia Rodrigo Is Definitely Not Your Disney Darling
It's a big day for Olivia Rodrigo. Her debut album, Sour, has finally released and fans are already dissecting the lyrics and ranking their favorite songs. And while most artists may feel an abundance of nerves when they release their first body of work, Rodrigo has already proved that she knows how to make a hit. The Disney star broke tons of records with her debut song, "Drivers License" and her follow-up song, "Deja Vu" made the Billboard Hot 100 as well. Now, Rodrigo is gearing up for a three-peat as her third single, "Good 4 U" is currently on track to chart following her performance on Saturday Night Live.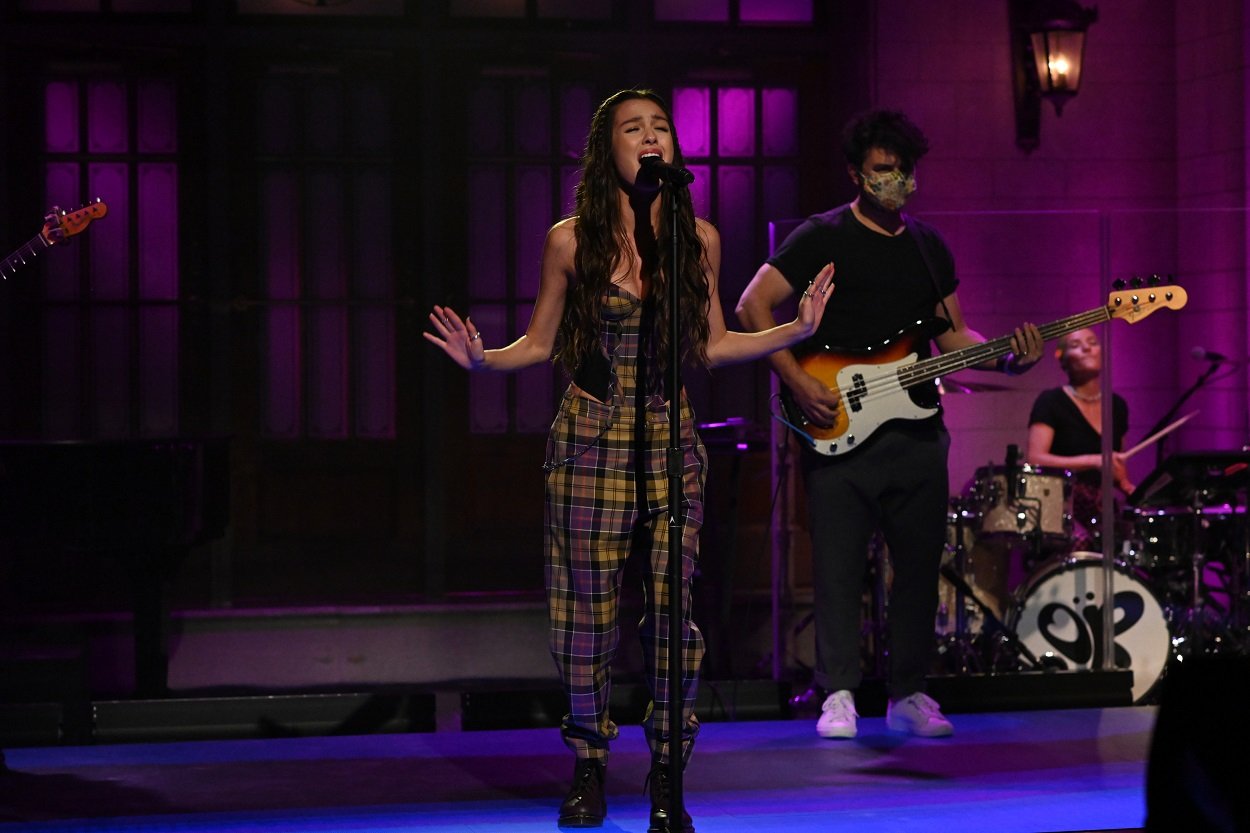 Because Rodrigo has found early success with her music, it's easy to forget that she's got Disney roots. The singer starred in the comedy series Bizaardvark before landing a leading role in High School Musical: The Musical: The Series. Of course, Rodrigo is hardly the first Disney star to find mainstream success. People like Zendaya, Selena Gomez, Miley Cyrus, and Demi Lovato have all found extreme success following their stint with Disney.
Olivia Rodrigo's songs are completley independent of Disney
But unlike the Disney darlings that came before her, Rodrigo's singing and acting careers seem to be deliciously divorced from one another despite singing on High School Musical: The Musical: The Series. This is something that the Sour artist has done strategically. For example, after two songs Rodrigo wrote for the show blew up and music labels began reaching out to potentially sign her, she went with the one who took her seriously as a songwriter.
Separating her music career from the almighty Disney machine was a wise choice on the part of Rodrigo. In an interview with, Nylon the songwriter got candid about the freedom of keeping the different facets of her career independent of one another.
The 'Sour' artist is thrilled that people are championing her songwriting skills
"I'm very aware of that classic 'Disney pop girl' archetype," Rodrigo shared. "My music is definitely separate from my acting in a way I always dreamed would happen. When 'Drivers License' came out, everyone was like, 'I have no idea who this Olivia Rodrigo girl is, but I love this song.' That is the absolute dream for me because I've always wanted to be taken seriously as a songwriter."
Of course, Rodrigo can't shed her Disney skin completely. The Sour artist still fields questions about some of her lyrics. "And people always ask me, 'Oh, did you say fu*k in 'Drivers license' to show that you aren't just a Disney star?' It's cool that people might think that, but I'm just making music that I love and that I feel passionate about. It's who I am. I have a dirty mouth. It was what felt natural and good to me, and people resonated with that. If I am ushering in a new generation of pop stars that aren't afraid to speak their mind, that's so cool. I'm just doing my thing, though."
What's next for the 'Good 4 U' singer?
Clearly, doing her thing seems to be working out well for Rodrigo. We're interested to see what's next for the young star with Sour and beyond.