Olivia Rodrigo Doesn't Let Gossip Get to Her; 'It's None of My Business'
It's hard to find a singer who is having a better year than Olivia Rodrigo. After her debut single "Drivers License" broke numerous records, she wisely chose to release her first album, Sour. The album, which released on Friday, May 21, 2021, is already performing well and is currently on track to debut at number 1. Furthermore, Rodrigo recently scored her second number 1 hit with her third single "Good 4 U."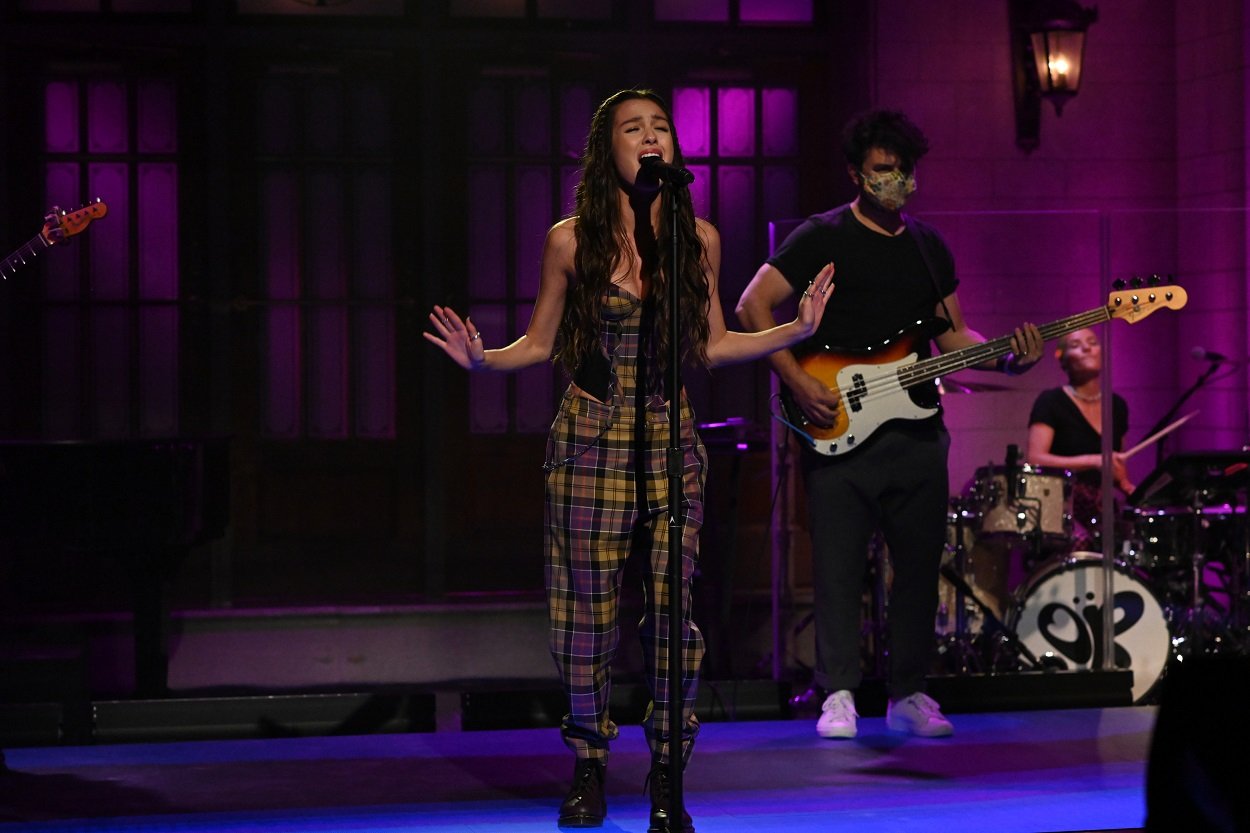 Considering, the songwriter is only 18 years old, the success that she's gained in the past few months alone has been impressive. But fans of the High School Musical: The Musical: The Series star aren't just obsessed with her songs, they also seem to be obsessed with her personal life. In fact, there is much speculation that "Drivers License" is about Rodrigo's ex-boyfriend and fellow co-star, Joshua Bassett.
Olivia Rodrigo fans are interested in the drama that inspired her songs
Bassett is said to be dating another Disney Channel star, Sabrina Carpenter, and is rumored the subject of a lot of the songs on Sour. But while fans may be fixated on the drama that inspired Rodrigo's highly personal lyrics, the "traitor" singer seems hellbent on focusing on her artistry. In an interview with NYLON, Rodrigo shared that while the drama takes away from her songwriting, she doesn't mind if fans speculate about events from her personal life that may have inspired her music.
RELATED: Olivia Rodrigo May Be Paying Tribute to Taylor Swift With Her Album, 'Sour'
"I'm a super-specific songwriter," Rodrigo confessed. "I always have been. I think the most impactful songs are specific. Broad storytelling just isn't fun in any art medium. So yeah, there have been some songs where I've gone back and made revisions to make it a little less specific because sometimes, I think, the drama takes away from the songwriting. I completely understand people's curiosity."
The 'Sour' artist doesn't concern herself with gossip
Another thing that the Sour artist seems to understand is that living life in the public eye will always come with a fair amount of speculation, gossip, and negativity. But how does Rodrigo combat the gossip? One way is limiting the amount of time that she spends on social media and trying not to dwell on any rumors that may arise.
"I don't take it personally, really," Rodrigo declared when asked if the gossip ever gets to her. "I understand. I completely understand. And you know, lots of times, it isn't malicious. Most of the time, I guess. It's none of my business. I write my songs and people can say whatever they want to say about it. [They can] think whatever they want to think about my life and that's just part of it. It doesn't really bother me. I also try to stay off of social media and not look at that stuff."
Rodrigo may only be 18, but thus far her decision-making skills are proving that she's wise beyond her years. To that we say, Good 4 Her.