Is 'Once Upon a Time in Hollywood' the First Time Leonardo DiCaprio and Brad Pitt Have Starred in a Film Together?
A-list actors Leonardo DiCaprio and Brad Pitt have an enviable friendship. Starring in Once Upon a Time in Hollywood together brought them very close. But have they been in films together before? Let's find out.
Brad Pitt and Leonardo DiCaprio star in 'Once Upon a Time in Hollywood'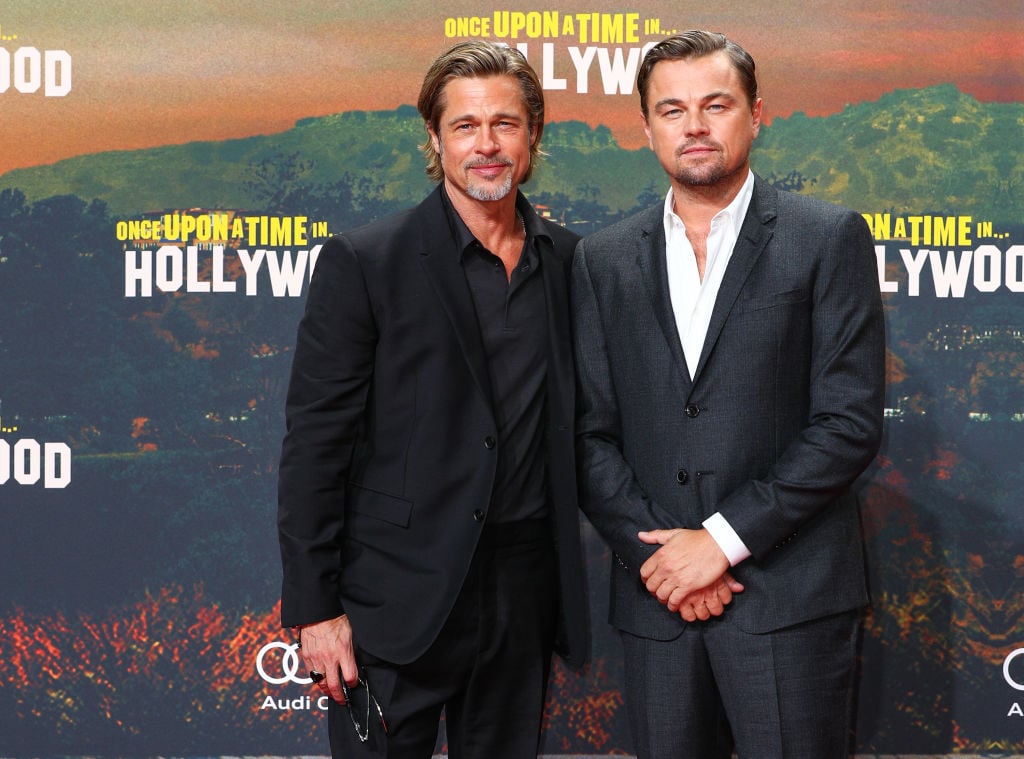 Pitt and DiCaprio are the stars of Once Upon a Time in Hollywood. The Quentin Tarantino film premiered in 2019, and has gone on to become one of the most acclaimed movies of awards season. It's up for an impressive ten nominations at the Academy Awards this weekend.
In the movie, DiCaprio plays Rick Dalton, star of a popular Western TV series who is looking to make his next move. His best friend is his long-time stunt double, Cliff Booth. While both are fictional characters, the film is also framed around the real death of Sharon Tate and the cult of Charles Manson, though it takes many liberties.
The actors grew close during filming
Throughout filming, DiCaprio and Pitt appear to have become quite close. They appeared together at many promotional events and in interviews, and seem to like on another very much. But most of us didn't know just how fond they were of one another until Pitt started to win awards.
At the Golden Globes, Pitt took home the award for Best Supporting Actor in a Motion Picture. When he took the stage, he thanked his "partner-in-crime, LDC," revealing a nickname for DiCaprio no one knew of. Pitt continued, "He's an all-star. He's a gent. And I wouldn't be here without you, man. I thank you." He then made a Titanic joke.
DiCaprio and Pitt became famous around the same time
Speaking of the movie that made him famous, DiCaprio and Pitt shared very different but often criss-crossing career paths to fame. In fact, they began acting around the same time, despite the fact that Pitt is more than ten years older than DiCaprio. Both received their first Oscar nominations in the mid-1990s.
Another thing they share? Pitt and DiCaprio have both been nominated for more than 150 awards each. They've even been up for the same one at the same time before (see the above video from the 2012 Golden Globes). And each has won exactly one Oscar — though Pitt's was not an acting award.
They share one other acting credit
Both DiCaprio and Pitt were on the TV show Growing Pains. DiCaprio began to star on the sitcom in 1991, during the final season. He portrayed Luke Brower, a homeless teenager who comes to live with the Seaver family in Season 7. This is considered one of DiCaprio's breakout roles.
As for Pitt, he appeared in Season 3 Episode 9 "Who's Zoomin' Who?" in 1987 as Jeff, a new student who Carol falls for. (If you have Amazon Prime, it's free — Pitt enters around 1:30.) He then appeared in a Season 4 episode as a different character: a rock star named Jonathan Keith. So their time on the show never overlapped.
Pitt and DiCaprio both worked on this movie
There's one other credit Pitt and DiCaprio share. You likely know that DiCaprio starred in the Martin Scorsese crime thriller The Departed, which earned him an Oscar nomination. However, what you may not know is that Pitt's Plan B Entertainment is responsible for purchasing the script to be made by Warner Bros.
Because of this, Pitt is credited as a producer, though he wasn't directly involved in the making of The Departed. The movie went on to win Best Picture, which could be foreshadowing — will their next project together, Once Upon a Time in Hollywood, do the same?