One Direction's Louis Tomlinson Helped Harry Styles Feel Comfortable Wearing Nail Polish
Harry Styles is known for wearing nail polish on red carpets and in his daily life. Turns out, One Direction's Louis Tomlinson helped him feel comfortable wearing nail polish initially.
When One Direction started, Harry Styles was only 16 years old, and Louis Tomlinson was 18. The teen boys clearly did a ton of growing up while part of the band. They found their own identities as well as their style and fashion tastes. Even though many know Styles now as a gender-bending fashion trendsetter, there was a time when he was scared to wear nail polish. Turns out, Tomlinson helped Styles feel comfortable wearing nail polish in the first place.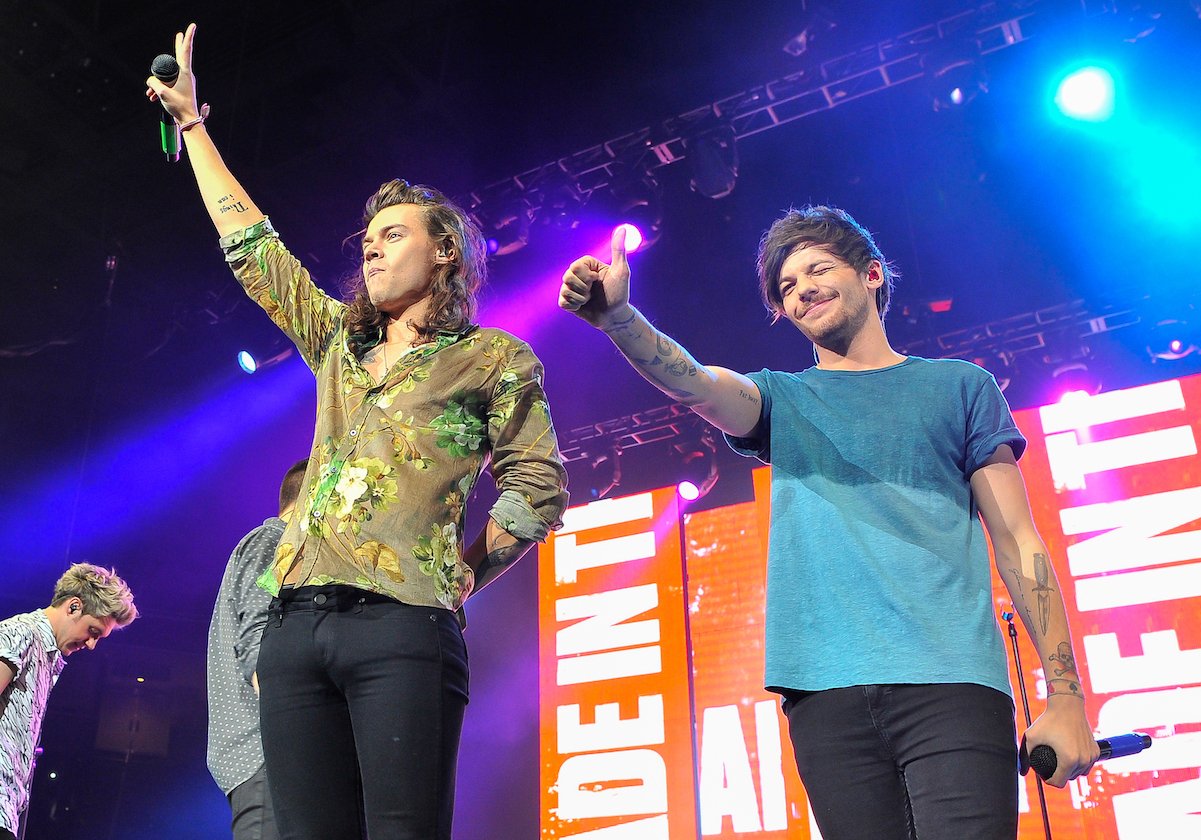 One Direction's Harry Styles and Louis Tomlinson had a close bond
Early on in One Direction, it was clear that Tomlinson and Styles shared a connection within the band. The two joked around in interviews, showing support to one another while both becoming huge stars in their own right.
One way Tomlinson supported Styles was by encouraging self-expression. This was on full display in one interview specifically regarding nail polish. Tomlinson's vocal persona helped Styles do something he wanted: wear polish on his nails.
Louis Tomlinson helped Harry Styles be comfortable in nail polish
In an interview at the start of One Direction, Tomlinson encouraged Styles to "do the whole nail" when he was apprehensive to paint his nails. "Embrace it," Tomlinson said, supporting his fellow band member.
While Styles still seemed nervous, Tomlinson got out of his chair and held Styles' hands and arms while someone painted them. Later in the interview, Tomlinson said, "What about, 'Painted Nails Make Harry Beautiful'?"
This referenced their single "What Makes You Beautiful." The track was a Catch-22 hit about an insecure girl not knowing she's beautiful — and that's what makes her beautiful.
Styles smiled brightly at the end of the interview. The video showed a picture with all of Styles' nails painted a light pink color.
Harry Styles often wears nail polish on the red carpet and at events
Now, Styles is often seen with painted nails on red carpets, on tour, and in magazine photo shoots. He has come a long way since that interview when he was nervous to do something he clearly wanted that would show his self-expression.
Since One Direction, both Styles and Tomlinson have had their own music careers. Styles has released two albums, Harry Styles (2017) and Fine Line (2019). Tomlinson put out Walls in January 2020 and is rumored to be working on his second album after signing with record label BMG.
Many fans have been wondering when One Direction will reunite since the band went on "hiatus" in 2015 after five years and albums together. Tomlinson has expressed that he didn't want the band to go on a break because he felt most confident about his musical abilities at that time.
But for now, One Direction fans can still reminisce on old music and listen to the former members' solo songs.