One Direction 'SNL': This Is the Band's Most-Watched Sketch and It Might Surprise You Which 1 It Is
One Direction performed on Saturday Night Live — or SNL — many times during the band's reign from 2011 to 2015. The band members appeared as musical guests to promote albums to an American audience. One Direction, which got third place on The X Factor in 2010, was a band that benefitted from the rise of social media in the early 2010s. And along with that came viral videos online, including SNL sketches. Which One Direction SNL sketch has the most views online? The answer might surprise you.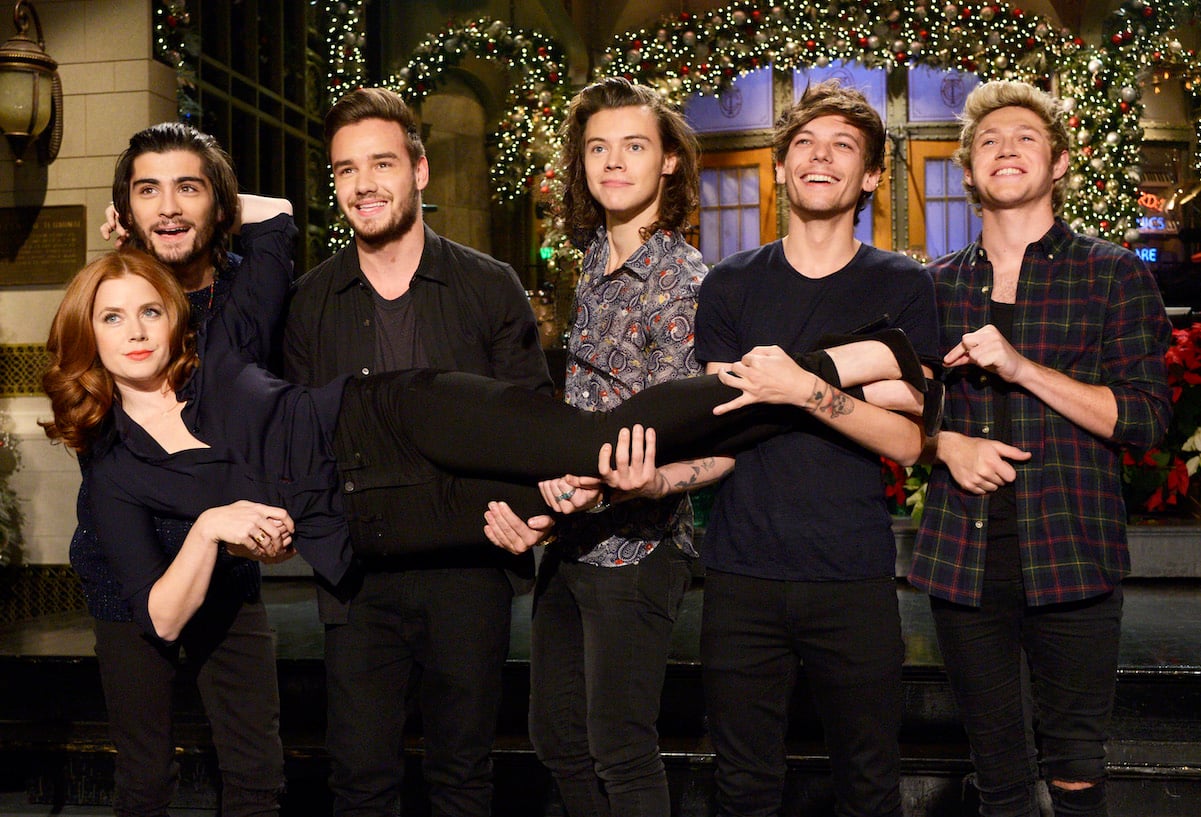 One Direction first went on 'SNL' in season 37 with Sofia Vergara
The band first appeared on SNL in 2012 as the musical guest when Modern Family's Sofia Vergara was the guest host. The band sang "What Makes You Beautiful" and "One Thing" from their first album, Up All Night.
Harry Styles, Louis Tomlinson, Liam Payne, Niall Horan, and Zayn Malik also appeared in a sketch. They acted in "The Manuel Ortiz Show: Father and Grandfather" alongside Vergara.
But the band's first sketch on Saturday Night Live is not the most-viewed one of theirs from the show online.
One Direction's most-watched 'SNL' sketch is with Amy Adams in 2014
While many fans might fondly remember the 2013 One Direction sketch with Paul Rudd, in which he played an obsessive 1D fan, that is actually not their most-watched SNL clip.
One Direction's most-watched SNL sketch is "Girlfriends Talk Show" from 2014 when they were musical guest hosts while Amy Adams was the celebrity host. Saturday Night Live regulars Aidy Bryant and Cecily Strong played dance squad captains. The One Direction band members played dancers in the squad, which contrasted their well-documented lack of dancing skill set as a group.
The band wore matching purple tracksuits and sunglasses. Horan's character asked Bryant's to dance, and then the sketch soon ended with everyone dancing together.
The SNL clip has more than 4.5 million views since it was posted on Dec. 21, 2014. The sketch and the boys' appearance on SNL was to promote their fourth album, Four.
While on SNL in 2014, One Direction also sang. The band performed "Night Changes" and "Ready to Run" from Four on the episode.
One Direction also went on 'The X Factor' and 'iCarly' on TV together
SNL wasn't the only television show that One Direction was on together. The band rose to fame while competing on The X Factor in 2010, making a name for themselves as a group who met on the show. They had all auditioned individually, but "The Powers That Be" of the television show decided they could be more successful together.
After The X Factor, in which they finished third, One Direction's first subsequent television appearance was on Nickelodeon's iCarly. The episode, "iGo One Direction," featured a sick Styles. In the end, the group sang their single "What Makes You Beautiful" together.
The band members, after taking a hiatus in 2015, have not done much work in television. However, Styles has pursued a movie career and appeared in Christopher Nolan's 2017 war film Dunkirk. He is slated to make his next movie role in Olivia Wilde's Don't Worry Darling.