Regina King's 'One Night in Miami' is Immaculate
Muhammad Ali, Jim Brown, Sam Cooke, and Malcolm X were towering men with different ideologies, but they were also good friends. In her feature film debut, One Night in Miami, Regina King reaches back some fifty-plus years in the past to extend her lens and capture these men at various points and stages in their lives. In a well-imagined, thoughtful, and beautifully shot movie, she pulls them inward toward one another on an ordinary evening just before everything changed. 
One Night in Miami opens in 1963. Ali — known then as Cassius Clay, is in the boxing ring in London raging against Henry Cooper. Halfway across the world, Cooke (Leslie Odom Jr.) can feel his star power starting to wane after a less than stellar performance at New York City's Copacabana. Down South, Brown (Aldis Hodge) has returned home to St. Simons Island, Georgia, to seek advice from whom he perceives to be an old friend. In Queens, X is trying to determine how to distance himself from the Nation of Islam and his mentor, Elijah Muhammad. 
One year later, all four men would come crashing into each other, perhaps for the very last time. Cast in a stunning tone that delivers a richness and realism on dark hues while capturing the electricity of the 1960s, King has these towering men meet February 25, 1964. It is the same evening Ali won his first match against Sonny Liston, and just a few days before he declared his allegiance to the Nation. 
'One Night In Miami' moves at a luxurious pace
We've all see that incredible photo of X crouching down and peering into his camera as the vibrant and young Ali grins into his lens. What King brings to life in the film and with playwright and screenwriter Kemp Powers' words is four Black men who are desperate to thrive, not merely exist while making a difference in their community. 
One Night In Miami moves at a luxurious pace that could use tighter pacing here and there. However, the tempo allows King to flesh out the world around the men. She shows the reverence and concern a pregnant Betty Shabaz (Joaquina Kalukango) has for her husband. There's the beautiful and ritualized act of prayer that Ali and X move through, and even the wandering eye of one of X's bodyguards as he shifts his gaze toward the swimsuit-clad women near the hotel pool. All of these small moments give the film a rich and striking texture.  
'One Night in Miami' is Malcolm X's story
The acting is phenomenal and generous. Odom Jr. swaggers as the soulful Cooke, who wants to sing his music and live his life lavishly without feeling forced to confront the racism, Jim Crow, and injustices that restrict his manhood. Goree is joyous as the then 22-year-old boxing icon, who had already taken hold of his identity but hadn't yet reached his peak. Likewise, Hodge — who frankly should be in more projects, is quiet and controlled as Jim Brown, the militant NFL star turned actor on the cusp of taking a major leap into Hollywood. 
As stunning as the cast is, One Night in Miami is Malcolm X's story. There have been many versions of the commanding leader on the big and small screens, but Kingsley Ben-Adir's Malcolm is vulnerable and haunted. He is a man running out of time, suspicious of the organization he once trusted most, and deeply frustrated by the lack of progress Black people have achieved in America. In one breath, he is exacerbated with his friends' lackadaisical approach to Black freedom, and in the next, he's deeply thoughtful and gentle as he converses with his young daughter.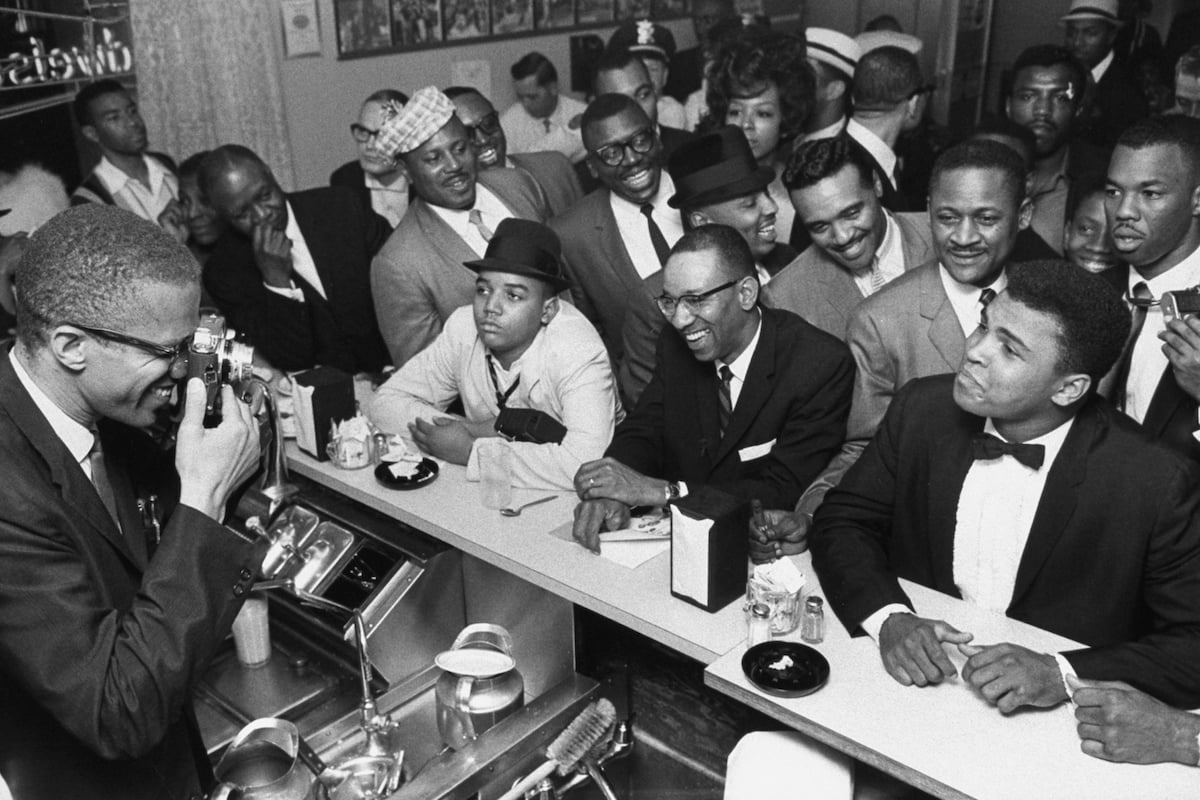 Regina King's One Night In Miami immortalizes four giants in time
In perhaps the movie's most pivotal moment, King addresses the duality and differences in the Black community. After all, we are not a monolith. After X's chastises Cooke for not using his platform for the revolution, he and Brown have a conversation — one so frank that it continues to echo in barbershops and on the streets amid the Black Lives Matter movement today. The men throw friendly jabs at one another; there is a quip about Brown liking white women and the fact that light-skin men like X never have to get a "real job." Then the conversation shifts as X implores his friend to become a weapon for the movement. Brown counters that he wants to live without constantly considering white people. 
The film has no thundering end, as history has already decided the fate of the men. Cooke would be dead less than a year later with Malcolm following him in 1965; Ali really would become the greatest, with Brown creating a whole new avenue for himself out outside of football.
Many aspects of One Night in Miami are heavy; it was a challenging world for Black people then, just as it is now. Yet, even as Ben-Adir's world-wary Malcolm rubs his temple and shut his eyes, as "A Change Is Gonna Come" floats in the background, King streams a beam of light across four giants, immortalizing them in time. 
One Night in Miami was reviewed for the 2020 Toronto International Film Festival.