One of Mark Hamill's First Dates with Marilou York Was a 'Star Wars' Movie
Mark Hamill may be known the world over as one of the most famous Jedi space warriors, but he couldn't have met his wife in a less glamorous way.
Mark Hamill may be known the world over as one of the most famous Jedi space warriors, but he couldn't have met his wife in a more everyday (and less glamorous) way.
He was a patient at a dental office, and she was a dental hygienist, which isn't exactly a scenario where sparks are usually flying.
Perhaps it was to make up for this particular meet (not) cute that Hamill decided his early dates had to be really impressive. 
What did he decide to do to set the tone of the relationship with his future bride? He took her to see a Star Wars movie, of course. 
Playing Luke Skywalker defined Mark Hamill's career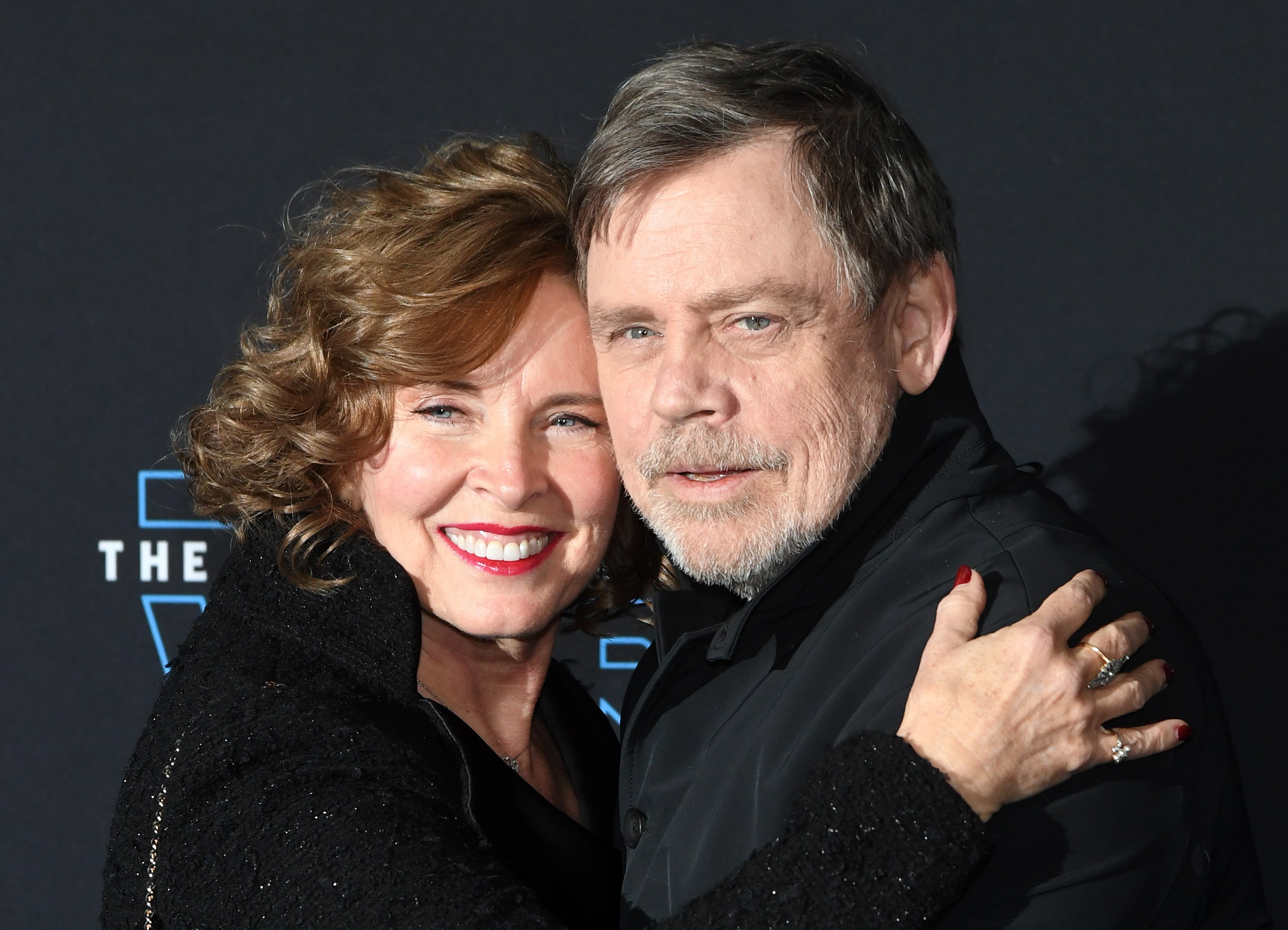 The rest of Hamill's life would be defined by the fateful decision to play the part of Luke Skywalker in the original Star Wars trilogy.
Prior to his most iconic role, Hamill — who was only 26 in 1977 when A New Hope premiered — had played in several small television roles. He had a small guest role on General Hospital when he was just a kid back in 1963, and by 1970, he was starting his acting career in earnest. Guest roles on shows like The Partridge Family and The Magician helped him secure a recurring role on The Texas Wheelers in 1974. 
What was a steady but not yet explosive career was lit on fire with his starring role as the young Jedi Luke Skywalker.
Hamill went on to play Skywalker in 1980's The Empire Strikes Back and 1983's Return of the Jedi. After his face became so famous, Hamill mainly focused on a career in voice work. He did occasionally lend his voice talents to his role of Skywalker, but he also voiced characters on video games and television shows including the 1990s Batman: The Animated Series (as The Joker) and Phantom 2040 (as Dr. Jak). 
This voice work has kept Hamill busy for decades, and more contemporary roles include voicing The Scientist in The Dark Crystal: Age of Resistance and Skeletor in the upcoming Masters of the Universe: Revelation. No matter what else he has done, though, Hamill will always be defined by his time as Luke Skywalker. 
Mark Hamill met wife Marilou York at the dentist
Hamill met his wife Marilou York at the dentist's office with a cringe-worthy pick-up line, according to Town and Country. "She came into the waiting room in jeans, white coat, breasts like melons, looking like a Vargas painting," he explained as he remembered the moment. "I said, 'They let you dress like that at work?' She said, 'Yeah. Next.'"
The pair is now one of Hollywood's great love stories, and they celebrated their 40th wedding anniversary in 2018. 
They were married in December of 1978 and have three children together. They bonded on their very first date over the humor in Annie Hall, and one of their earliest outings was to see an early screening of A New Hope. It wasn't entirely smooth sailing, however.
Hamill was gaining fame from the very moment they met, and it went to his head. "I had to taste groupies and fame," he admits, and he went to Las Vegas to chase after showgirls and explore that notoriety. It grew old in a hurry, and he realized he wanted a family. 
Luckily, York was waiting for him. "I ran my own life. But all the time I thought I was good for him, so I was hoping we'd get back together," she explained. 
'Star Wars' has punctuated their relationship milestones
In addition to being the setting for one of their very first dates, it was impossible for Star Wars not to have an outsized impact on the couple's relationship. They met just as the film was making it to the public, which means York was there for Hamill's entire rise to fame.
After their 1978 marriage, they couldn't go on a real honeymoon because Hamill was busy filming. Their first child — a son named Nathan — was born during the production of The Empire Strikes Back. 
That's a whirlwind way to start a marriage, but it worked out for the pair. These days, Hamill's company Amazing Invisible Inc. is the hub for his business adventures, and both York and their daughter Chelsea Hamill work for the company.
What started out as a date at the rise of Hamill's fame became something of an empire of its own as well as a romantic success story of a couple built to last.