'Only Murders in the Building': 4 Questions Fans Need Answered in Season 2
Only Murders in the Building Season 2 is officially on its way, which means fans will likely receive answers to their burning questions after the jaw-dropping season 1 finale. There's still quite a bit of mystery for the Hulu series to address. Unfortunately, with season 2 currently in production, it might be a while until it hits the small screen. For now, though, here are some of the questions that fans absolutely need answered in the new episodes.
[Spoiler alert: The following story contains spoilers for Only Murders in the Building Season 1.]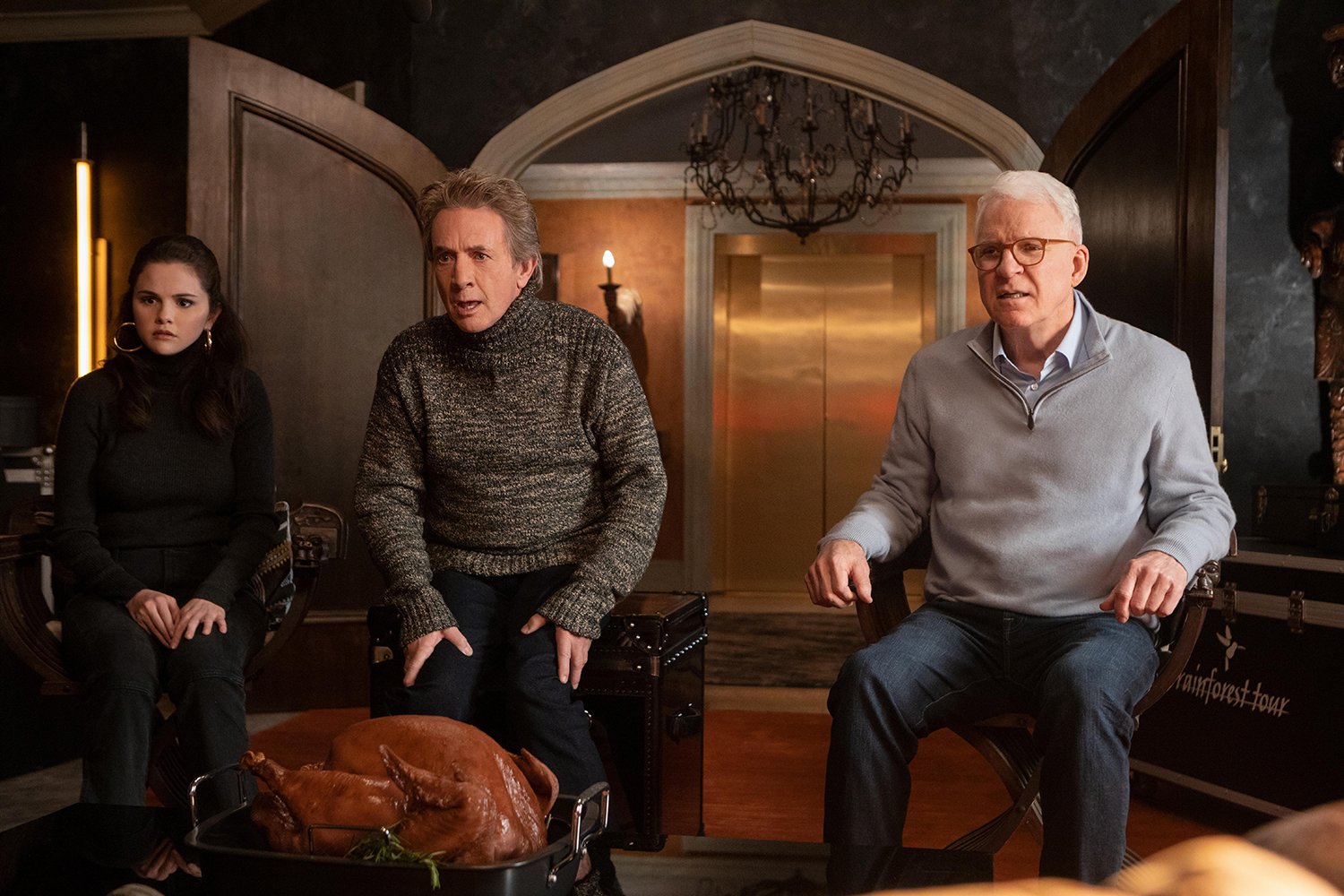 Who killed Bunny — and why did they frame Mabel?
The finale of Only Murders in the Building Season 1 revealed who killed Tom Kono (Julian Cihi), the season's big mystery. However, the story was far from over. In a major plot twist, Oliver Putnam (Martin Short) and Charles-Haden Savage (Steve Martin) found Mabel Mora (Selena Gomez) kneeling over the dead body of Bunny (Jayne Houdyshell).
One of Mabel's knitting needles stuck out of Bunny's back, and Mabel was covered in blood. Police arrived at the scene and arrested all three podcast hosts for the murder of the Arconia board's leader.
Things don't look great for Mabel, but she insisted the scene wasn't what it looked like. While it's possible she committed the murderous act, that doesn't quite feel like the direction Only Murders will go. But if she didn't kill Bunny, then who did?
Who was watching Jan?
Only Murders named Jan (Amy Ryan) as Tim Kono's killer, seemingly wrapping up his case. But, many fans are still wondering about one loose end involving Jan. Before the big reveal, Jan found a mysterious note on her door that said, "I'm watching you." She was then stabbed in her apartment.
Of course, it was later revealed that Jan stabbed herself to throw people off her scent. However, that didn't explain the note. Why would she write that to herself, knowing only she would see it? Perhaps she left it there just in case someone did happen to notice, which would make it more believable that she had been in danger.
On the other hand, someone really could have been onto her crimes. If that's the case, could this person be of assistance to Mabel, Charles, and Oliver in season 2?
How will Mabel, Oliver, and Charles get themselves out of jail?
Another big question going into Only Murders Season 2 is how the beloved trio will clear their names. When last we saw our protagonists, they were heading off the scene in police cars. It will be tricky for them to try to solve the murder from prison and even trickier to continue their Only Murders in the Building podcast.
Maybe someone from the Arconia will bail them out, like Oscar (Aaron Dominguez). He might be their only hope, as it seems most Arconia residents aren't happy with the trio.
Speaking to Deadline, Only Murders executive producer John Hoffman said Mabel, Oliver, and Charles will examine Bunny's case in season 2 and try to figure out how it relates to them.
"They have to reckon with their relationship with Bunny in the days prior to what happens at the end of the season, and there's a lot that went down," he said. "Mabel said some unkind things about her outside of the Arconia. Oliver had a long history of conflict with Bunny. And Charles was deeply offended at the idea of being evicted by her after 30 years. There's all that plus their connection to true crime and their respective histories, which we will learn more about."
Who warned Charles and Oliver to get out of the Arconia?
Finally, another mysterious message could prove to be a talking point in season 2. In the finale, just before Oliver and Charles found Mabel, they received a text urging them to leave the building. However, they didn't know who sent the text. Was it Mabel from an unknown number, trying to protect them? Or was it someone else? Hopefully, things will become clearer in the new episodes.
Only Murders in the Building Season 1 is now streaming on Hulu. Stay tuned to Showbiz Cheat Sheet for updates on season 2.
RELATED: 'Only Murders in the Building' Season 2: Steve Martin Shares Behind-the-Scenes Photo of Selena Gomez, Martin Short, and New Cast Member