'Only Murders in the Building': Selena Gomez Wanted to 'Throw up' on Set
Only Murders in the Building star Selena Gomez became known to fans during her Disney Channel days. Since then, her career has grown immensely. The actor mostly stuck to her music career but is slowly and successfully finding her way back to acting. Her 2021 return to TV has received praise, with critics lauding Gomez's performance.
With the COVID-19 pandemic, many shows have had to adhere to strict guidelines to ensure the pandemic is kept at bay, and Only Murders in the Building hasn't been left behind. Gomez recently said that some of the health measures undertaken on the show's set made her want to throw up. Find out why.
Gomez shares 1 thing with her character in the series
Gomez plays Mabel, a young apartment renovator living in the Arconia, a high-end apartment in the Upper East Side. She meets a washed-up actor and an out-of-work Broadway director played by Hollywood legends Steve Martin and Martin Short.
The trio ends up bonding over their shared love of true crime stories. When they learn that a gruesome murder has occurred in the Arconia, they set out to find out the cause of the victim's death, which the police ruled a suicide.
Mabel, Charles, and Oliver start a true-crime podcast called Only Murders in the Building to try and crack the murder case. Although the podcast is meant to solve Tim Kono's death, the trio also uses it as an excuse to spend more time together as they grow on one another.
The first few episodes of Only Murders in the Building dropped on August 31, 2021, to favorable reviews, with Rotten Tomatoes giving it an impressive 100% score. It was also the most-watched premiere comedy series on Hulu. Gomez told Glamour that she was drawn to the series and her role because of her love of true crime stories.
The singer said that when she met with the show's writers and they explained the series' concept, she accepted the role as she loves true crime and "the adrenaline of mystery." She also loved the prospect of working with respected actors like Martin and Short, calling their humor "timeless and crazy."
Gomez wanted to "throw up" on set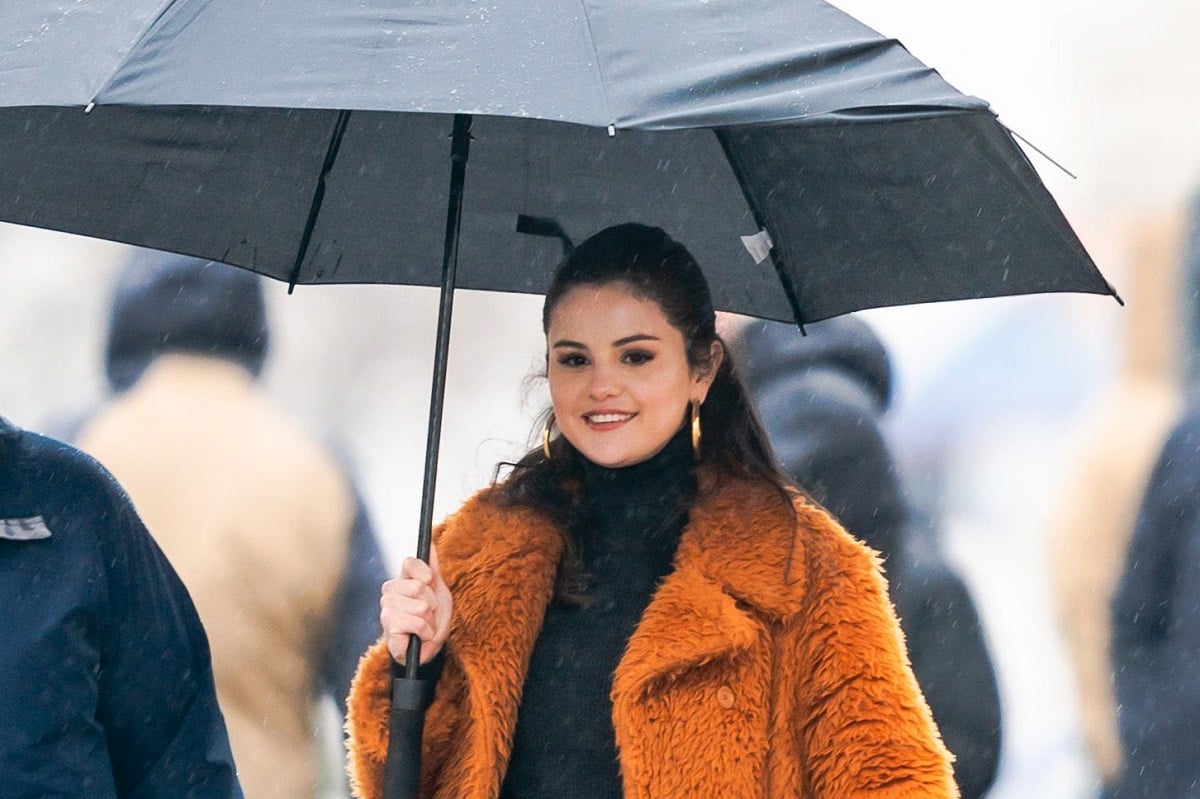 Gomez recently sat down with Elle to talk about her mental and physical health, life, and career. During the interview, she spoke about how excited she had been to start filming for Only Murders in the Building in November 2020. However, the actor said that COVID protocols in place made her time on set stressful.
She said, "No one was allowed to be on set. Everybody wore masks and shields." She also said that whenever anyone would touch anything, the prop had to get cleaned. The 29-year-old singer mentioned that she had to wash her mouth with Listerine many times for kissing scenes after each take. She said, "It burned my mouth. I was like, 'I want to throw up.' I've never experienced a set like that."
'Only Murders in the Building' didn't drop all of its episodes at once
The showrunners of Only Murders in the Building first announced Gomez's involvement in the project in August 2020. The singer joined the production as a star and executive producer and began shooting in December 2020. Filming wrapped up in April 2021.
The star shared a trailer for the series with her legions of fans on Instagram on July 26, 2021. The show had a three-episode release on its debut in August. But unlike some other shows on Hulu, Only Murders in the Building didn't drop all its episodes at once.
As we reported earlier, the rest of the episodes will be released weekly every Tuesday throughout October.
RELATED: Is 'Only Murders in the Building' Based on a True Story?