Which 'Only Murders in the Building' Star Has the Highest Net Worth: Selena Gomez, Martin Short, or Steve Martin?
Selena Gomez, Martin Short, and Steve Martin will soon join forces to solve a crime in Hulu's Only Murders in the Building. The actors play Mabel, Oliver, and Charles, three strangers brought together in their love of true crime. When someone is murdered in their Upper West Side apartment complex, the group sets out to find the killer in the building.
Gomez, Short, and Martin have become big names in the acting world and beyond. Which Only Murders in the Building star has the highest net worth?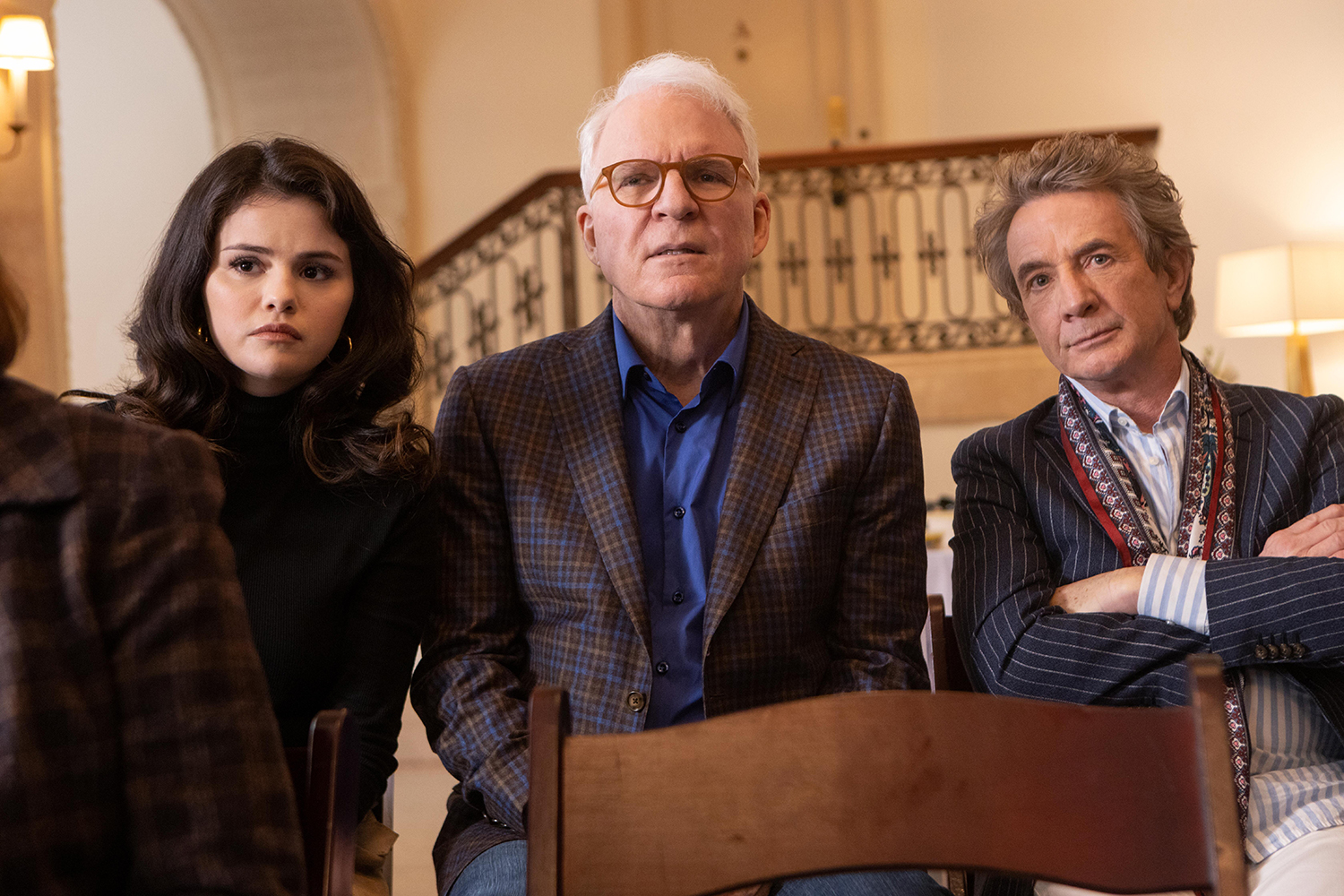 Steve Martin net worth
Martin plays Charles, an actor known for his roles as "America's favorite '90s TV Detective Brazzos." Charles has lived in the Arconia for nearly 30 years but never became friends with anyone in the building. Now, he's using his love for finding clues to solve the murder case.
Martin has done just about everything in the show business world, from directing and producing to writing and acting. He's also a musician with 10 albums under his belt. In total, Martin has acted in nearly 70 roles, including several popular movies like Parenthood, Father of the Bride, and Cheaper by the Dozen.
As a comedian, Martin has appeared in Saturday Night Live to host and guest star 25 times, according to IMDb. He also appeared in 56 episodes of The Tonight Show Starring Johnny Carson.
According to Celebrity Net Worth, Steve Martin has a net worth of $140 million, the highest of the Only Murders in the Building stars.
Selena Gomez net worth
Only Murders in the Building marks Gomez's return to scripted television since her days on Disney's Wizards of Waverly Place. She plays a twenty-something named Mabel with a habit of blending truth and lies. Mabel doesn't usually bond with her peers, but she finds friendship with Charles and Oliver.
Gomez might have left scripted television for a while, but she pursued plenty of film roles. On IMDb, she has just over 110 acting credits, having starred in films like Hotel Transylvania, Spring Breakers, and Monte Carlo.
Many of those credits also relate to her music career. Gomez has appeared in her own music videos, as well as that of artists like Charlie Puth and Taylor Swift. In 2017, she became Billboard Women in Music's Woman of the Year.
Celebrity Net Worth lists Selena Gomez's net worth as $75 million as of 2019. According to the publication, she earned $3 million from her work on Wizards of Waverly Place, averaging $30,000 per episode.
Gomez also became one of the highest-paid celebrities on Instagram with sponsored posts for Puma and Coach earning $30 million and $10 million, respectively. As of June 2021, she made $1.46 million per post for various brands, according to The Guardian.
Martin Short net worth
Short plays Oliver in Only Murders in the Building. The theater director once had a thriving career on Broadway, but a failed production caused it to plummet. While living at the Arconia, Oliver attempts to figure out his next move until he joins Charles and Mabel in solving the crime.
Like Martin, Short has built his career as an actor, producer, writer, director, and comedian. He's most known for his roles in films like The Santa Clause 3: The Escape Clause, Innerspace, and Three Amigos! Additionally, he appeared in 25 episodes of Saturday Night Live and hosted The Martin Short Show. He and Martin appeared together in 2018 in Steve Martin and Martin Short: An Evening You Will Forget for the Rest of Your Life.
Short also started a stage career in 1993 when he starred in Goodbye Girl on Broadway, which earned him a Tony nomination. He later won a Tony for Best Actor in a Musical for Little Me.
According to Celebrity Net Worth, Martin Short has a net worth of $40 million.
Only Murders in the Building premieres on Hulu on Aug. 31.
RELATED: 'Only Murders in the Building' Premiere Date: Will Selena Gomez's Series Air Weekly?