Oprah Could Release the Remaining 90 Minutes of Prince Harry and Meghan Markle's Interview
Prince Harry and Meghan, Duchess of Sussex's interview with Oprah Winfrey, sent shockwaves across the world and turned the British royal family inside out. Before the Sussexes exit from royal life in March 2020, fans knew that the former actor and the prince were having some issues adhering to royal life's traditions and regulations. However, …
Prince Harry and Meghan, Duchess of Sussex's interview with Oprah Winfrey, sent shockwaves across the world and turned the British royal family inside out. Before the Sussexes exit from royal life in March 2020, fans knew that the former actor and the prince were having some issues adhering to royal life's traditions and regulations.
However, it seemed that they left because they wanted a different and less visible life for themselves and their son, Archie Harrison. However, their March 7 interview with Oprah revealed that the royal couple felt that they were forced out of royal life due to the racism that Meghan experienced and the lack of support for the royal family.
Now, royal experts believe that Oprah could release the additional unaired 90 minutes from the interview.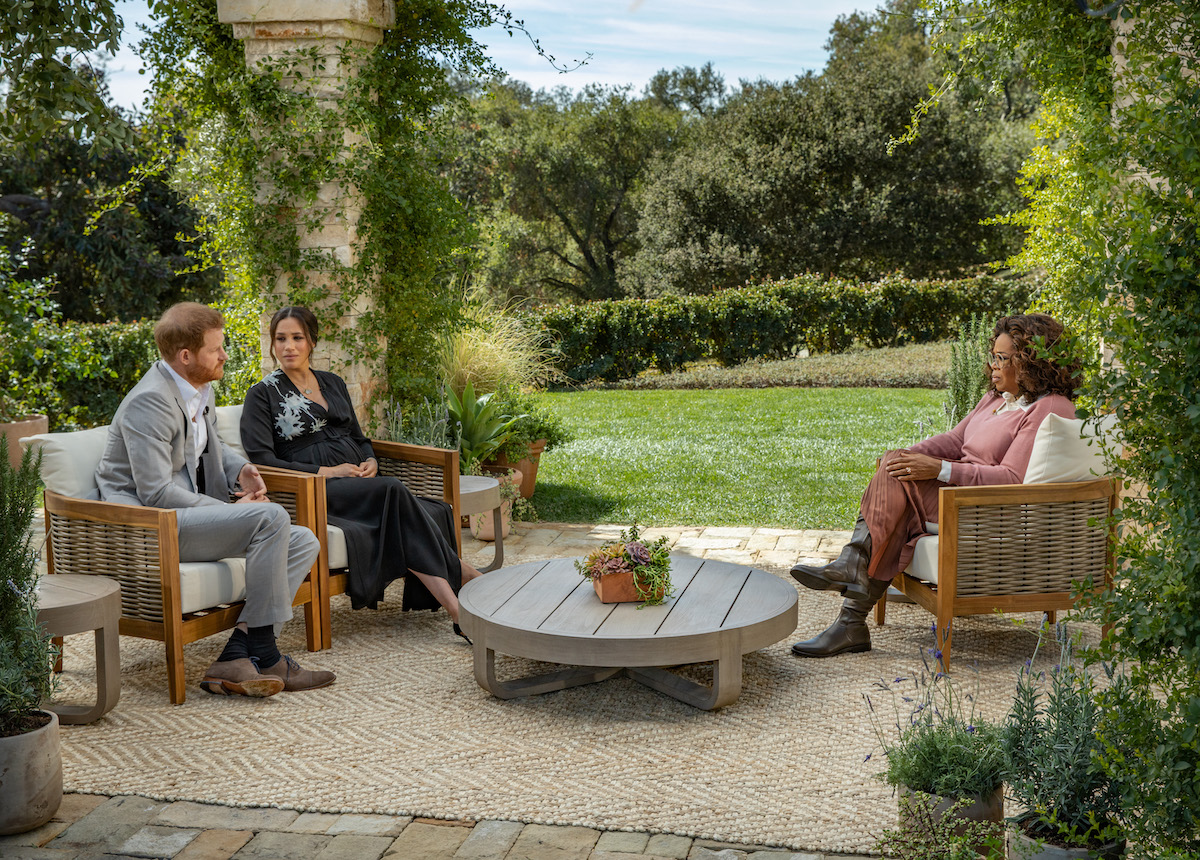 Prince Harry and Meghan Markle made some shocking claims about the British royal family
Prince Harry and Meghan made some jaw-dropping claims about their time as a couple in the royal family. Prince Harry claimed that the royals have an invisible contract with the racist British tabloids, and they've done nothing to combat the lies and racism aimed toward Meghan.
"There is this invisible contract behind closed doors, behind the institution and U.K. tabloids," he explained. "Well, to simplify it, it's a case of if you, as a family member, are willing to wine, dine, and give full access to these reporters, then you will get better press. I think everybody needs to have some compassion in that situation. There is a level of control by fear that has existed for generations."
Meghan explained that all of this took a horrible toll on her mental health and that the royals refused to help her when she asked for it. The pair also revealed a horrific conversation that the prince had with an unnamed family member over "concerns" about Archie's skin tone.
The Sussexes and the British royal family have a tense relationship right now
Meghan did not mince words when she spoke about her time in the royal family. She was extremely candid about her sole regret. "I regret believing that because I think had I really seen that that wasn't happening, I would have been able to do more," she told Oprah. "But I think I wasn't supposed to see it."
The royals have reportedly been stunned by the Sussexes claims with Prince William declaring they are not racist and Prince Charles reportedly being "distraught" over the ordeal. Prince Harry has reportedly spoken to his father and brother, but things did not quite pan out as they'd hoped.
"Well, I'm not trying to break news, but I did actually call them to see how they were feeling, and it's true, Harry has talked to his brother and he has talked to his father too," CBS This Morning's Gayle King revealed. "The word I was given was that those conversations were not productive. But they are glad that they have at least started a conversation."
Oprah Winfrey could release the remaining 90-minutes of Prince Harry and Meghan Markle's interview
Now that the Sussexes reportedly feel relieved by their interview with Oprah, royal experts are concerned that famed journalists might release the additional unaired 90 minutes of the interview.
"The appetite for Harry, Meghan and Oprah seems to be so insatiable that the word is now they are looking to put together like a director's cut," The Morning Show entertainment editor Peter Ford said via Express. He added,
Using a lot of the stuff that never made it first time around. There comes a point when Harry and Meghan have got to decide are they looking for their freedom, do they want to create a new life or do they want to have a war with the Royal Family. Because that is more and more what its looking like.
The Sussexes complete interview with Oprah was three hours and 20 minutes long. However, it was cut down to 90 minutes when it aired on CBS. Releasing the additional hour and a half would surely be a ratings hit.