Oprah Shares Idris Elba's Coronavirus Test Was Not Celebrity Vanity or Wealth Privilege
The public has gotten into the habit of turning to Oprah Winfrey for wisdom, support, and information during times of stress and uncertainty. From 1986 to 2011 Winfrey hosted a live audience talk show that featured celebrity guests and everyday stories. She won over fans everywhere with her intelligence, charm, and ambition. Over the years, …
The public has gotten into the habit of turning to Oprah Winfrey for wisdom, support, and information during times of stress and uncertainty. From 1986 to 2011 Winfrey hosted a live audience talk show that featured celebrity guests and everyday stories. She won over fans everywhere with her intelligence, charm, and ambition. Over the years, her reputation and fame skyrocketed and it still continues to grow. Amidst the global pandemic, Winfrey has found a new way to engage with the world. Take a look at what Oprah Talks COVID-19 is all about and find out more about her controversial interview with Idris Elba.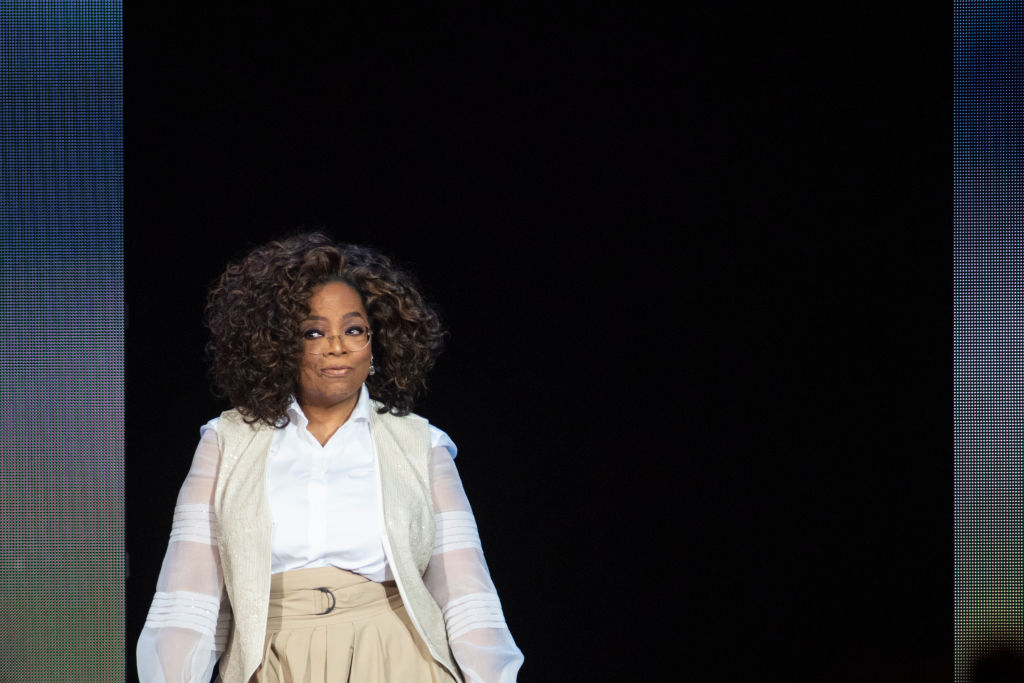 Oprah Winfrey releases a new show called Oprah Talks COVID-19
Winfrey was excited to announce that she was working on a new series called Oprah Talks COVID-19. The Apple TV+ series is Winfrey's way of providing people with valuable and real information in regards to COVID-19. In the introduction of the episodes, Winfrey sheds some light behind her intentions and hopes for producing the series. Winfrey's goal is for her fans and the viewers to find solace, comfort, and hope in her series amongst these uncertain times. Winfrey is encouraging the world and society to rise up to the occasion and be there for one another as the world works together to combat COVID-19. 
Winfrey's first episode of the Oprah Talks COVID-19 gives meaningful insight into her perspective of the global pandemic. Winfrey appears on-screen candidly stating, "This is a big test for our humanity." In the first episode Winfrey covers a lot of different topics that COVID-19 has stirred up, but some viewers have reacted negatively to Winfrey's first-ever interview she completed for the series. See why this interview has generated some controversy and negativity. 
Winfrey interviews Idris Elba about his positive COVID-19 results
In the first episode, Elba agrees to talk with Winfrey via FaceTime. Elba is a popular actor, writer, and producer in the film industry. From action to family movies, Elba has appeared in a variety of films over the years. He has become a beloved face and name in Hollywood. That is why his fans and the media were shocked when Elba shared with the public that he tested positive for COVID-19. In the interview, viewers learn that Tom and Rita Hanks inspired Elba to make the decision to share this personal news with the public. Though Elba admits to avoiding doing interviews since his medical announcement, he was happy to share his insight and experience with the well-trusted talk show hostess.  
Oprah Winfrey defends Idris Elba on Instagram 
Winfrey recently defended Elba on Instagram. Multiple comments on one of Winfrey's posts criticized Elba for getting tested when there are so many other greater needs that should be addressed during this global pandemic. Winfrey knew Elba's medical treatment and diagnosis were going to be a sensitive topic and made sure to take an ample amount of time to address these issues in the interview. Elba discusses how it came out that he had been in close contact with an individual who was diagnosed with COVID-19 and due to his exposed contact and the nature of the work it was the smart and responsible thing to get tested and quarantine.
Elba is fully aware of how lucky he was to be able to have received one of these tests. At one point during the interview, Elba compared film sets to incubators. There are a tremendous amount of people working together in close corners. When Winfrey saw the comments calling out Elba she made it a point to set the records straight. Winfrey reiterated that Elba got tested due to the fact that he could have contaminated an entire movie set.  Winfrey hopes her comments help the public understand that Elba's testing came from a place of safety and caution and not vanity or wealth. Hopefully, through Winfrey's new series and Instagram comments she will continue to share her wisdom with the world.