Oprah's Cookbook Reveals 1 Sneaky Way She Still Eats Her Beloved Carbs But Doesn't Gain Weight
It's the dream of any dieter — enjoying any food you want without gaining weight. Unfortunately, the rules of reality apply and the only way to maintain a healthy weight is by eating a balanced diet and getting plenty of exercise. That's a hard lesson to learn for bread lovers like Oprah Winfrey.
Oprah is no stranger to dieting and has been experimenting with different fad diets for decades now. Over the years, she's picked up some smart tricks that she incorporates into her lifestyle no matter what food regimen she's following. Fans were delighted to hear Oprah had a new cookbook that shared even more of these brilliant ideas.
Everyone knows how much Oprah adores carbs. Instead of giving up bread and pasta, she came up with a few smart tips for eating them without gaining weight.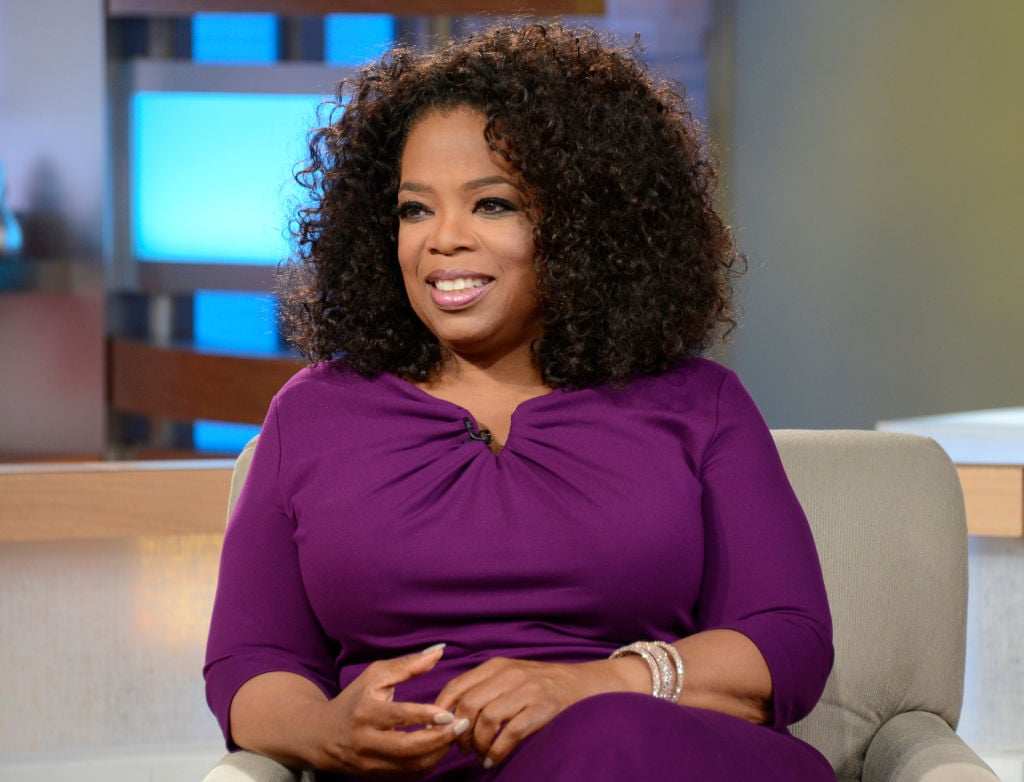 Oprah makes faux mashed potatoes
Anyone cutting carbs knows that potatoes are one of the first things to go. But Oprah isn't content to just leave one of her favorite side dishes behind. "I love potatoes so much that I once attempted to make a potato cocktail," she joked once (via Delish).
Low-carb dieters often swap cauliflower in for potatoes, blending it up to create creamy mashed cauliflower. However, Oprah is not a fan of the taste. "Everybody always says that whipped cauliflower tastes just like mashed potatoes. Well, guess what? Whipped cauliflower tastes just like…whipped cauliflower," she wrote in her cookbook, Food, Health, and Happiness.
To make the dish more palatable, she boils two Yukon gold potatoes and adds them into the cauliflower to give it a more authentic yet still low carb makeup. The result? It's about as close to the real thing as you can get.
She reaches for lettuce wraps instead of tortillas
There's no way Oprah would consider skipping Taco Tuesdays, but she knows that flour and corn tortillas pack a carb-filled punch she doesn't need.
Instead of making traditional tacos, Oprah chooses butter lettuce, which has a mild taste, to create a low-carb taco shell and fills it with grilled shrimp, shredded coconut, and diced mango, to name a few.
Oprah made her own cauliflower pizza crust you can buy
Oprah knew there was no way she wanted to give up pizza, but carb-heavy crust was a real problem. The media mogul came up with a new recipe and then released it for sale as part of her O, That's Good! food line with Kraft Heinz.
"Pizza is a favorite, fun and easy food to share with family and friends," Oprah said in a statement, as reported by Today. "I am always looking to add a nutritious twist to my foods, so we made part of the crust in my new pizza with cauliflower while maintaining that classic, cheesy pizza flavor you and your family love."
She swears that the pizza crust can fool even the pickiest palates. "Bet y'all didn't know I had hidden pizza talents! Been taste testing a lot of pizzas to get this just right," she said. "The crust is made with a twist of cauliflower but if I hadn't told ya, you'd never know," she shared on her Instagram post.