Who Were the Original Fab Five from 'Queer Eye'?
Before the Fab Five had the sass of Tan France or the gorgeous locks of Jonathan Van Ness, there was a different cast of queer people making over local heroes. This original series, entitled Queer Eye for the Straight Guy, featured experts like RuPaul's Drag Race judge Carson Kressley and Chopped's Ted Allen. Who else was on the original version of Queer Eye? Have the cast members ever met each other? Here's what we know about these Emmy-award winning personalities.
'Queer Eye for the Straight Guy' premiered in 2003
The original version of Queer Eye, which premiered in 2003, featured five gay men, some of whom became household names. Kyan Douglas was the original show's "grooming guru." Chopped and Chopped Junior cast member, Ted Allen, acted as the show's "Food and Wine Connoisseur." Carson Kressley, known for his work with the Emmy-award winning series RuPaul's Drag Race, was the fashion expert of this series.
The culture expert of Queer Eye for the Straight Guy was Jai Rodriguez. The fifth member, Thom Filicia, did interior design. This series went on to earn multiple award nominations, including the People's Choice Award for Favorite Reality Show. It lasted for almost a hundred episodes. Now, about 10 years leader, a new Fab Five has sashayed their way into people's hearts.
The spin-off series, Netflix's 'Queer Eye,' premiered during February 2018
Netflix's spin-off, entitled Queer Eye, earned praise from fans and critics alike. It even won the Primetime Emmy Award for "Outstanding Casting for a Reality Program" two years in a row. These queer personalities are considerably more diverse than the original Fab Five, including one member who identifies as non-binary and one who is Muslim.
The bubbly and outgoing Jonathan Vas Ness is Queer Eye's grooming expert. Tan France is the show's resident fashion expert. Antoni Porowski, the owner of New York City restaurant Village Den, is the food and wine expert.
Karamo Brown is the culture expert and Bobby Berk is the show's interior design expert. Together, this group travels across the United States and even overseas, to spread their message of self-love. The most recently released episodes, for the mini-series Queer Eye: We're in Japan, take place throughout Tokyo.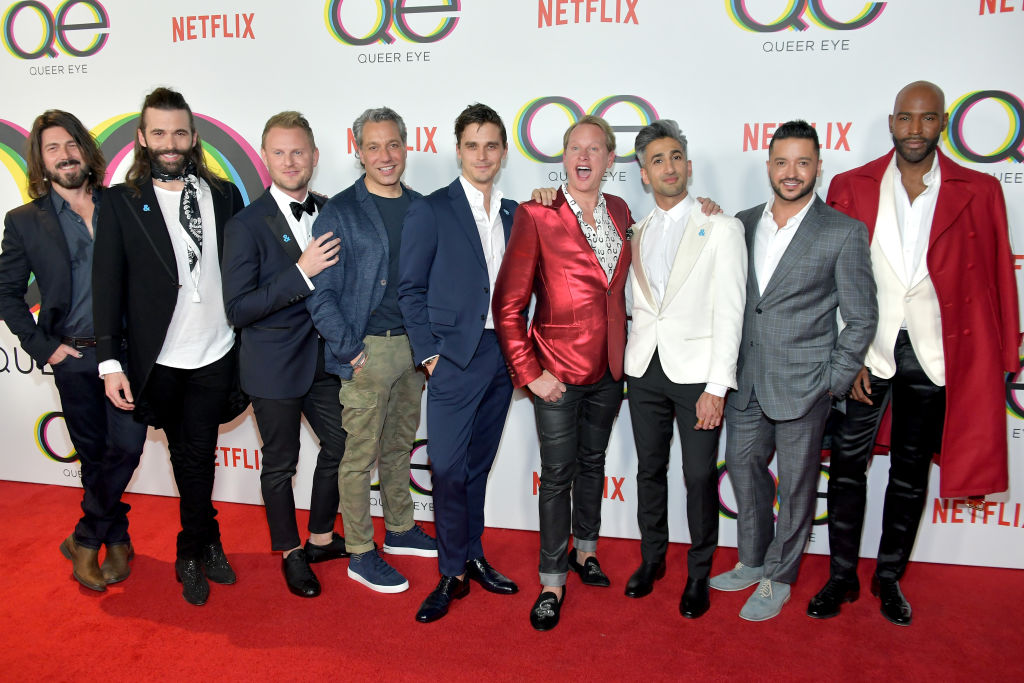 Has the original Fab Five met the cast of Netflix's 'Queer Eye'?
During February 2018, Netflix organized a kiki between the original Fab Five and the cast of their Emmy-award winning series. There, they discussed the cultural impact of the original series. Now, the cast of Netflix's Queer Eye has only opened the conversation more, featuring transgender people, women, and queer men as local heroes in their episodes.
"I was very out from a very young age, and we do need to be there showing those people that don't have exposure in the bubbles of the coasts, that there is a safe place and it will get better," Jonathan Van Ness said, the reboot's grooming expert.
Episodes of Queer Eye, including their recently released mini-season Queer Eye: We're In Japan, are available for streaming on Netflix.