The Original 'Let It Be' Director Doesn't Think Peter Jackson's 'The Beatles: Get Back' Erases His 1970 Film
The director of 1970's 'Let It Be,' Michael Lindsay-Hogg doesn't think Peter Jackson's upcoming documentary, 'The Beatles: Get Back,' erases his film.
When Michael Lindsay-Hogg entered Twickenham Studios in January 1969, he was ready to film The Beatles recording their new album, Let It Be. However, he had no idea what was going to happen. The band was already under intense pressure to produce new material for a proposed concert TV special that no one except Paul McCartney and John Lennon wanted. There were definitely some good and bad days, and Lindsay-Hogg captured it all, even George Harrison's brief departure from the band. 
Over the decades, Lindsay-Hogg's film has become shrouded in myth and misconception. Many believe Let It Be shows nothing but The Beatles breaking up. Even certain members of the band came to resent it. Ringo Starr calls it "joyless" while George said it "aggravated" him. Lindsay-Hogg is proud of Let It Be, though. He doesn't think Peter Jackson's The Beatles: Get Back is erasing his work whatsoever. "They're totally different films," he said. "They're not competitors."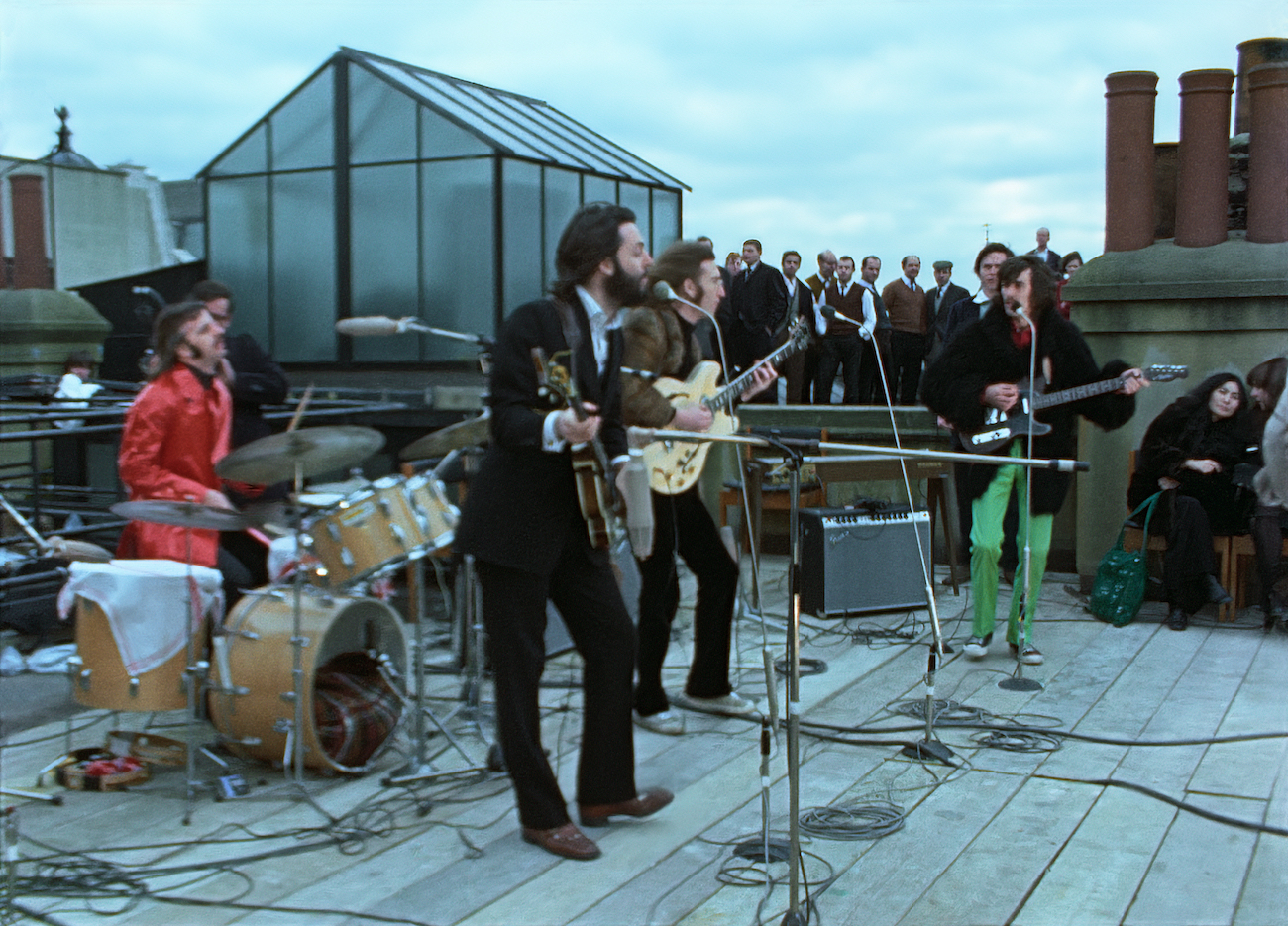 Michael Lindsay-Hogg doesn't think Peter Jackson's 'The Beatles: Get Back' is erasing his 'Let It Be'
During a recent interview with Rolling Stone, Lindsay-Hogg said he didn't think that Peter Jackson's highly anticipated upcoming three-part documentary, The Beatles: Get Back, would erase his 1970 film Let It Be. 
"The original thing exists," Lindsay-Hogg said. "And I know what I think of the original thing." The director has consistently defended his film. Some fans believe that he only chose to show the worst of the band, thus spurring on the myth that The Beatles broke up during Let It Be. The Beatles also released the album the year they broke up. However, the band recorded Let It Be before Abbey Road.
"I always wanted it to be a clear look at the Beatles because I had no agenda," Lindsay-Hogg continued. "I like Let It Be. And I always thought, for a variety of reasons which weren't its fault, it was positioned badly in the world of rock & roll documentaries, and even Beatles lore."
Still, the director is just happy that his 60 hours of unseen tape is finally getting to see the light of day. "I think they were expecting me to in English parlance, throw a wobbly," Lindsay-Hoggs said. "I said, that would be great. Because I didn't want to do it again. I did mine. I've seen those 56 hours [of footage] years ago. I love Peter's work. And so I thought, if it's going to go into any hands, he's imaginative, and he's tough, and, I learned, he loves the Beatles.
"I had to cut out certain things, which I always hoped would come to light again. Now he's going to release six hours versus an hour and a half. There was no way that we'd have had six hours of Beatles in 1970 as a movie!"
Lindsay-Hogg will continue to defend 'Let It Be'
Let It Be might have been joyless to some, but Lindsay-Hogg knows what he captured in those tapes. At least he didn't put in George's resignation, which will appear in Jackson's documentary. So, Ringo's past comments about the film don't bother him.
"Personally, I don't care. That's his opinion," Lindsay-Hogg explained. "And we all have them. I mean, the polite version is everybody's got elbows and everybody's got opinions. I like Ringo. And I don't think he's seen the movie for 50 years.
"And I think, if you haven't seen the movie in a long time, and you may not have the best memory in the world, all that kind of gets mixed up in your brain about what it was like. Because when I saw it last, I'm thinking, 'What is he talking about?' In fact, there's great joy and connection and collaboration, and good times and jokes and affection in Let It Be. It ends with the concert on the roof, which is the first time they played together in public for three years, when they are magical. And they're having such a good time.
"They realize, wow, we've been missing this. And through much of the picture, they're happy and they're trying to work things out. You don't always have a smile on your face when you're trying to work something out. You're thinking. So I just don't think he's seen it for a long time."
Lindsay-Hogg hopes to re-release 'Let It Be'
There was tension between The Beatles. Lindsay-Hogg saw it clear as day. Now, Jackson is saying that his documentary will show a different side of the band. So, Rolling Stone asked Lindsay-Hogg which was the full story.
"Well, it's like talking about any family: both," Lindsay-Hogg said. "Both are true. If it was Tuesday, they might not be getting on that well. They might be frustrated by the work. They might be frustrated by what was going on at home. George might be frustrated by the fact that he wasn't getting his due, as he thought … But also, they were there to work for the most part. These are human beings living their lives, good days and bad days … Peter has a bigger canvas, so he's going to paint a bigger picture."
The director hopes that Apple re-releases Let It Be one day so that fans can understand the differences between the film and the documentary. Either way, we'll be seeing six more hours of Lindsay-Hoggs' tapes than we thought possible. Hopefully, it dispels more than one myth that has circulated amongst Beatle fans for decades.