Oscars 2020: What Will It Take For Leonardo DiCaprio to Get His Second Academy Award?
Actor Leonardo DiCaprio earned yet another Academy Award nomination for Once Upon a Time in Hollywood. But the odds aren't in his favor this time around. Here's a look at his career, his past Oscar nods, and what we think it will take for him to get another statue in the future.
Leonardo DiCaprio began his career as a child actor
DiCaprio began acting at a young age. His first credited role was in the 1989 TV series The New Lassie, in which he appeared in two episodes. He was also in episodes of the soap opera Santa Barbara and the sitcom Parenthood before he landed his breakout TV role as Luke Brower in Growing Pains.
From there, his film career began to take off. Notably, DiCaprio's first major theatrical release was in This Boy's Life. In the film, he plays the stepson of Robert De Niro. While they have worked together minimally since, DiCaprio and De Niro, both of whom work with Martin Scorsese frequently, are set to star in the director's next film together.
He received his first Oscar nomination for 'What's Eating Gilbert Grape'
DiCaprio's second big film was What's Eating Gilbert Grape. In the film, he portrayed Arnie Grape, the mentally impaired younger brother of Johnny Depp's titular character. It was an incredible cast, also featuring Juliette Lewis, Mary Steenburgen, and Crispin Glover.
But amid these amazing actors and the film's critical acclaim, it was DiCaprio's performance that stood out. At just 19 years old, the actor was nominated for his first Academy Award. He lost to Tommy Lee Jones, setting the tone for many years to come.
How many Academy Award nominations does DiCaprio have?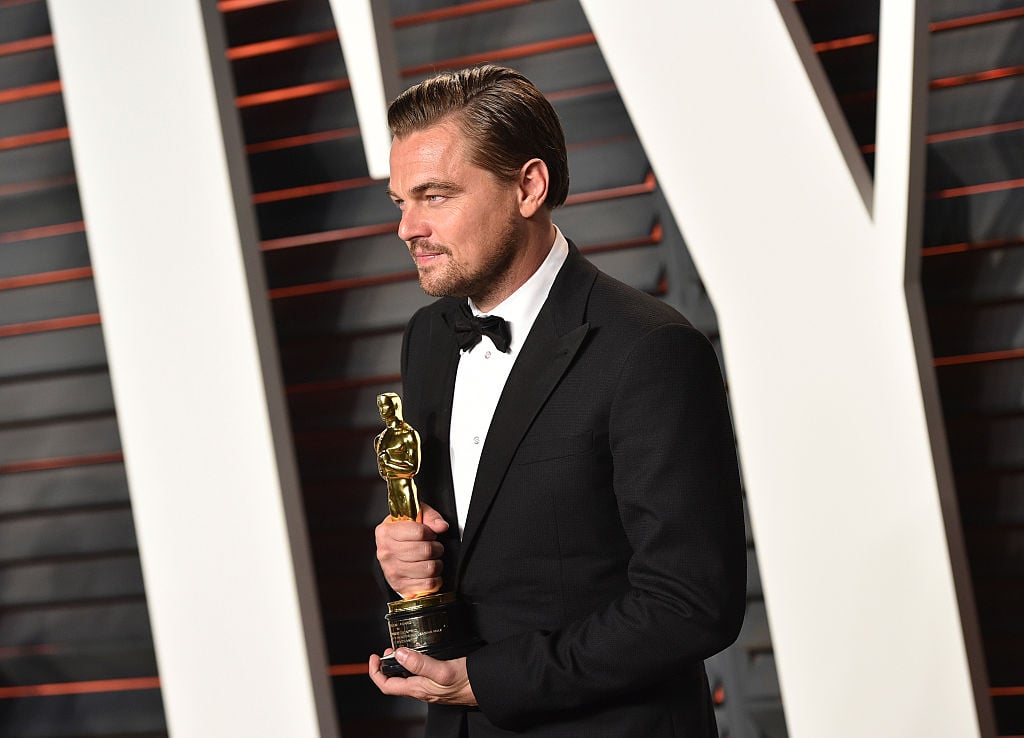 There are many actors who have been nominated repeatedly and never won. However, few have sparked the kind of internet chatter that DiCaprio has. In the years since his loss for What's Eating Gilbert Grape, he has continued to put on impeccable performances and receive plenty of acclaim.
But somehow, none of those translated to a win. Between 1994 and 2016, DiCaprio was nominated for the Best Actor Oscar three times — for The Aviator, Blood Diamond, and The Wolf of Wall Street. And though he continued to be nominated, many began to wonder if he would ever win.
He finally won for 'The Revenant'
Finally, in 2016, DiCaprio was nominated for Best Actor for his role in the drama The Revenant. And this was his year. As "the vengeful frontiersman portrayed by his companions," as Julianne Moore put it, he had finally found a role that stood out among all the rest.
DiCaprio took the stage to at the Academy Awards that year to thunderous applause and a standing ovation. Naturally, he thanked all of the requisite people, including those who helped him start his career, like Michael Caton-Jones, who directed This Boy's Life, and Scorsese.
Why DiCaprio won't win in 2020
Now, DiCaprio has earned his seventh Oscar nomination (sixth for acting) with Once Upon a Time in Hollywood. However, he is not expected to win. He didn't win at the Golden Globes, meaning his chances aren't high. What's more, many would argue this isn't a standout film in his amazing career.
The question remains: What would it take for DiCaprio to earn another Academy Award? The recipe is fairly simple. A character based on a real person, in a historical setting, with a renowned director. Scorsese's Killers of the Flower Moon fits this to a T. So we have a feeling we'll be seeing DiCaprio at the 2022 ceremony accepting his next Oscar.